If you weren't already excited for Electric Forest this year, then buckle up because Forest HQ just gave us 40 more reasons to get amped for the festival!
---
In a few short months, the lights will be lit in Sherwood Forest once again for two more weekends of Electric Forest! Weekend One is slated for June 21 – 24 in Rothbury, Michigan while Weekend Two is June 28 – July 1 and both are stacked with talent. The initial lineups got everyone talking with the announcement of TESTPILOT, The Glitch Mob, Get Real, REZZ, and more who would be playing the forest this year. Forest Family staples like Bassnectar, GRiZ, and The String Cheese Incident also fueled the fire.
Coming off the release of the curated event series that will highlight labels and brands that are renowned in the dance music community, Forest HQ has announced even more artists who will be taking the stage at Electric Forest this year. Notable names that were added today to Weekend 1 include Fury + MC Dino, Falcons, Fort Knox Five, and Tsuruda. Weekend 2 also received some solid additions with Claptone, Elderbrook, and Sasha Marie joining that lineup.
There will also be a few artists that are set to join both lineups as well like Dubtrio, Mt. Joy, and Kidswaste. Check out the full list of artists announced below and don't forget to grab your tickets as soon as possible, Good Life VIP packages are close to selling out!
Tickets are on sale now so review the phase two lineups below and pick your weekend, or if you are feeling indecisive, pick both!
---
Electric Forest 2018 Weekend 1 – Lineup with Additions: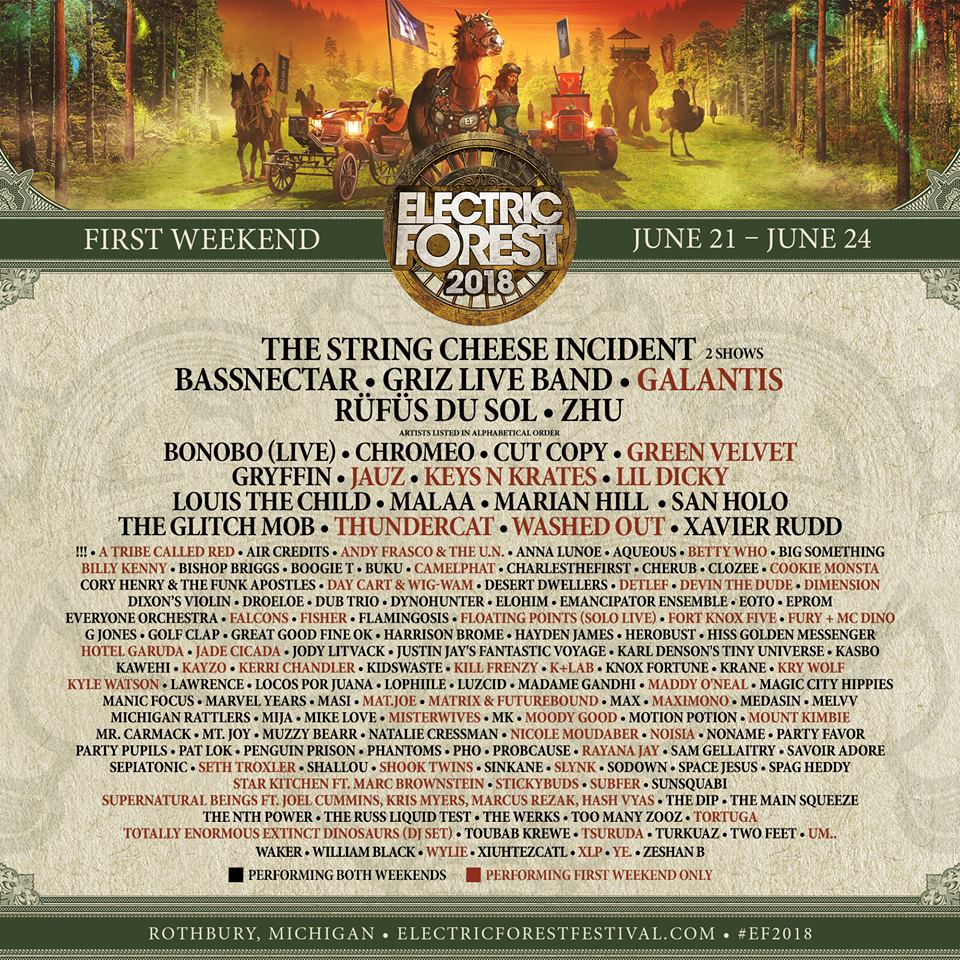 Electric Forest 2018 Weekend 2 – Lineup with Additions: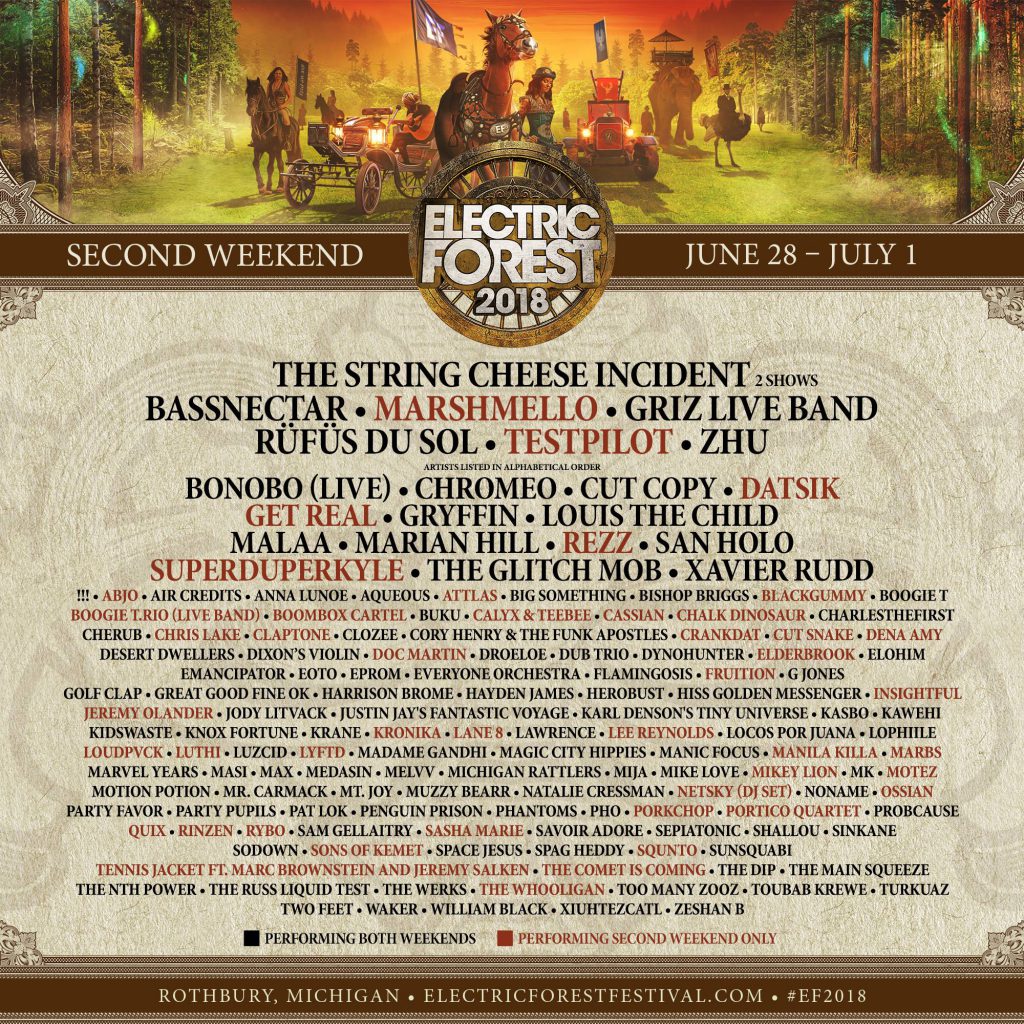 ---
Weekend 1 Lineup Additions By Artist:
Day Cart & Wig-Wam
Falcons
Fort Knox Five
Fury + MC Dino
K+Lab
Mount Kimbie
Slynk
Star Kitchen ft. Marc Brownstein
Stickybuds
Subfer
Supernatural Beings ft. Joel Cummins, Kris Myers, Marcus Rezak, Hash Vyas
Thundercat
Tortuga
Tsuruda
Wylie
XLP
ye.
Weekend 2 Lineup Additions By Artist:
Abjo
Boogie T.rio (Live Band)
Claptone
Elderbrook
Insightful
Kronika
LUTHI
LYFTD
Ossian
Sasha Marie
Sons of Kemet
Tennis Jacket ft. Marc Brownstein and Jeremy Salken
The Comet is Coming
The Whooligan
Both Weekends Lineup Additions By Artist:
CharlestheFirst
Dub Trio
DYNOHUNTER
Kidswaste
Masi
Michigan Rattlers
Motion Potion
Mt. Joy
ProbCause
Sepiatonic
---
Connect with Electric Forest on Social Media: