Now is your chance to immerse yourself in The Forest and get involved in a beautiful community experiment!
---
So you are making plans to head to Rothbury, Michigan for what is set to be the biggest and best Electric Forest celebration to date. But before we converge on the festival grounds for a wild weekend of sensory overload and tantalizing dance floor mania, why not take your experience one step further and get involved in the amazing opportunities that The Forest has laid out before us?
Setting the brand apart from many of the biggest events on the planet, The Plug In Program was created to offer creative opportunities to jump in on all of the action through contests, artistic projects, and so much more. With a deep yearning for us to "plug in" so that we can deepen the community and connection with Electric Forest, we have been gifted with a unique invitation to add another layer to the magic that awaits us all.
Electric Forest has always been an advocate for both women and education and the Plug In Program would not be complete without showing a little love to the people who make our community whole. Through Tickets For Teachers, The Brainery Workshop, and Her Forest, Electric Forest breaks down the boundary lines set in place by the cookie cutter events that have all but saturated the scene. Yes, Electric Forest has set the bar high, bonding the celebration of music, life, and love, with a beautiful nod to education and the empowerment of women!
Read on below to learn more about the Tickets For Teachers program, The Brainery Workshop, and Her Forest!
---
Tickets For Teachers
Let's show some love to the educators who are paving the way for the next generation, selflessly gifting their time, energy, and knowledge to the students who rely on them! As an integral part of the Forest Family, the Tickets For Teachers program has been established for full-time K-12 teachers in the Michigan counties of Oceana, Mason, Lake, Newaygo, or Muskegon. Teachers who apply to this program will be eligible to receive one complimentary GA wristband for the Electric Forest weekend of their choosing!
Submissions will be accepted through March 15, 2018, so if you are a teacher and want to immerse yourself in the magic of the forest, make sure you submit your application before time runs out!
---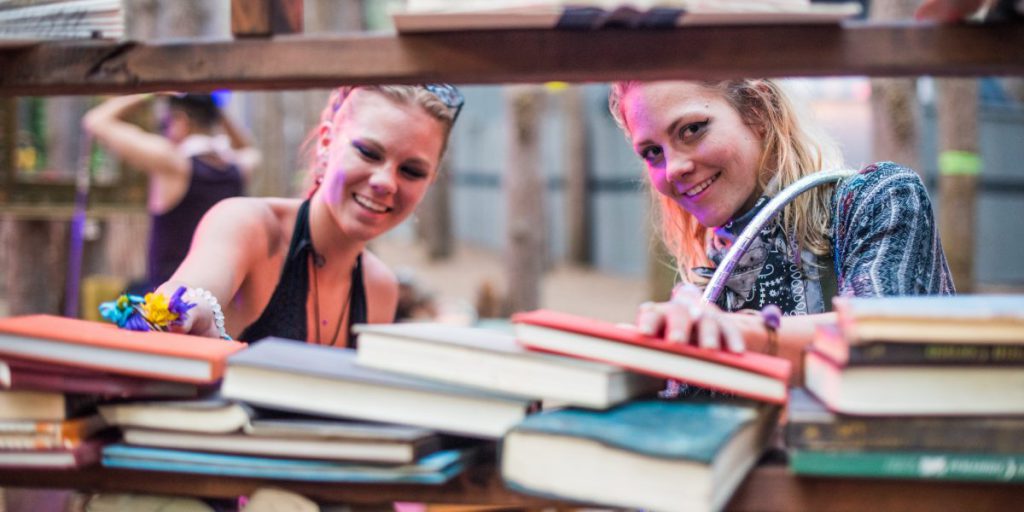 The Brainery Workshop Program
There is something very empowering that comes from the concept of learning from one another. And each year, the Festival Family comes together to nurture the idea of intentional learning at The Brainery.
The Brainery is seeking passionate minds with teachable skills to apply as instructors for this space during both weekends of Electric Forest. Programs that engage fellow Forest Family in active thought or action are especially welcome.
Examples of ideal presentations and activities:
Meditation
Non-asana yogas (bandha and pranayama)
Chanting or singing workshops
Special programming for groups of Men
Special programming for groups of Women
Active lectures that involve audience participation
Dance instruction (African, Line Dancing, Lindy, etc.)
Music instruction
Simple art classes (beading, origami, etc.,) for which the instructor must supply the materials
Activities that will not be accepted:
Asana-based yoga (if you need a mat, this isn't where it's at)
Hooping, Poi, or other Flow Arts instruction
Powerpoint-based lectures
Political or legislative advocacy
Food- or Drink-based classes
The Award:
Workshop instructors will be awarded one (1) GA Camping Wristband for themselves and one (1) GA Camping Wristband for a guest, for the weekend(s) of the Workshop. Up to ten (10) total instructors will be selected per weekend.
Food Vouchers: You will receive two (2) vendor meal vouchers per day that you teach a workshop.
Workshop Opportunity: You will receive at least one (1) opportunity to offer your workshop during a weekend, or both weekends, of Electric Forest 2018.
Check out the full list of entry details, selection process, and rules and become part of a positive teaching/learning experience!
---
Her Forest
Electric Forest's Her Forest Program uplifts the experience of women at Electric Forest. With a focus on connection, inspiration, and comfort, Her Forest is a collaboration between all who identify as women, and those who celebrate their enjoyment of and equality in the Forest Family. All Her Forest projects are intended to create the most supportive and empowering environment possible. So if you are a woman who is hungry to build everlasting bonds and memories that will last a lifetime, Her Forest awaits!
2018 Her Forest details are coming soon!
Stream the Her Forest Recap 2016 on YouTube:
---
As these are just three out of sixteen incredible Plug-In Program opportunities available, it's never too early to start planning!
So, stay locked in with us as we continue to highlight the most unique and immersive programs that Electric Forest has to offer. While you explore your options, make sure to check out the phase two Electric Forest artist lineup and get pumped for a weekend that just might change your life! Don't forget… tickets are still available for both weekends so make sure you grab yours before it's too late!
Which one of these three incredible Plug Ins will you be participating in this year? Let us know in the comments!
---
Connect with Electric Forest on Social Media: