Heading to a camping festival this year and wondering what to bring? Check out our Camping Festival Guide that has all the essentials!
---
Scoring your festival tickets is the first step towards having a great season, but the next step is figuring out what you need to bring with you when you're camping for the weekend. We all know how hard it can be to remember everything you need to bring and there is nothing worse than getting to the campgrounds and forgetting something crucial to your comfort, so having a camping festival guide handy is always a good idea.
Over the years, members of the EDM Identity Team have attended camping festivals all over North America and we've been taking notes on some cool items that we use or have seen. Check out the EDM Identity Essential Camping Festival Guide below, and let us know what you bring with you to camping festivals in the comments!
Related: Check out some of our favorite Hydration Pack picks and head over to our shop on Amazon for even more suggestions. 
Before we get any further, though, whether you're looking for some extra shut-eye or you are wearing them inside the festival itself… EARPLUGS are a necessity for festival season. Don't go deaf, check out our guide to pick out the best ones!
EDM Identity's Essential Camping Festival Guide
---
Tents To Sleep In:
People always seem to think that the stated size will fit everyone. From our experience, it's best to double the occupancy for better space and breathing room. That means if you're going solo, a 1 or 2 person tent is fine. For 2 people, we suggest a 4 person tent. A 6 person tent will fit 3-4 campers, and probably will be maxing out the rest of your camping space at the same time. If you have multiple campsites you can probably grab bigger tents but keep the size of your plot in mind!
Also, make sure your tent bag contains extra Plastic Stakes and a Rubber Mallet to hold your tent down in windy conditions. The support lines of your tent should be drawn taught and away from the tent at a 45-degree angle, and the pegs are pounded in the opposite 45-degree angle. This reduces the chance of getting them pulled out of the ground during wind gusts.
Finally, one of the most important things to keep your tent cool is a portable fan. Look, we know you can open some windows or hope that the heat will travel through the vents, but a fan is far superior to anything else which is why they're on the camping festival guide. They aren't that expensive and because they are battery powered you don't have to worry about keeping them charged!
EDM Identity Team Recommendations:
---
Sleeping Bag and Pillow:
Getting quality sleep at a festival is hard to come by, and what's even more difficult is being comfortable while sleeping too. If you are fine sleeping in the grass or on the floor of your tent with no padding, you might not need this, but why do that when you could have a better experience? We suggest grabbing a sleeping bag that fits you comfortably, many list the proper height range for each bag so make sure to check the details before you purchase!
The temperatures won't get too low, so a summer-rated sleeping bag is more than likely fine. Also, one of the most notoriously left-behind items is a pillow, so don't forget one. Bring it from home or get one specifically for festivals below!
EDM Identity Team Recommendations:
---
Air Mattress and Pump:
If you're using a 6 person or smaller tent, you can fit one queen size mattress, or 8+ person, 2 or more queen size mattresses. No one really enjoys sleeping on the ground, and so those who want more support should choose to grab an air mattress or sleeping pad. One of our personal favorites is the convertible couch to bed air mattress. You can go electric free or one that is rechargeable, but we prefer ones that you can use a standard pump with.
Make sure that you test it out before heading out to the festival!
EDM Identity Team Recommendations:
---
A Canopy For Shade:
While some festivals allow you to take up as much space as you'd like, many restrict you to plots that seem to hover around 30'x10′. So with that in mind, all of our suggestions will be in the 10'x10′ range. This will take up a third of your single campsite, the other thirds would be your tent and the car.
If you have the choice of choosing the color of the canopy top, pick black or the darkest color possible. Lighter colors tend to let a fair amount of light through, enough to not really be considered shade sometimes. You can also grab more than one for more coverage!
Straight leg canopies are our personal favorites because they fit perfectly with your site. If you can only grab a 12×12 slant leg version, make sure to ask your neighbors if it's cool to invade their camp space a bit. Most people don't care, but it's always polite to ask!
Don't forget to stake down your canopies if you are in a high-wind environment like Coachella or Dirtybird Campout!
EDM Identity Team Recommendations:
---
Tarps, Sheets, or Tapestries:
We tend to put a basic tarp down underneath our tents, but you can also use them as sides to your canopy to keep the sun out. The added bonus is extra privacy. If you do plan on going the shade-route, we suggest buying a cheap regular sheet to use or get a tapestry with a cool pattern. Also, make sure to grab some zip-ties so that you can hang them properly from your canopy!
EDM Identity Team Recommendations:
---
Headlamps, Lanterns, and Lightning:
First and foremost, it can become impossible to find your camp at night so placing these Solar Garden Lights towards the street side of your camp will help you find your way home in the dark. We also like to decorate our camps with some colorful lights at night too. It's a great way to set the mood or keep the party going all night long. These can usually be found pretty cheap at dollar stores, but these LED Christmas Lights have done us well over the past couple of years.
Have you ever attempted to use a porta-potty at night without a source of light? Perhaps you're one of the people who has used their cell phone only to have it drop inside. We all know how disgusting they can get, and you definitely don't want to be getting any "misses" from others on your clothes or body. We highly suggest grabbing a decent headlamp or small lantern so that you don't jump into any gross porta-potties. Aside from that, lanterns are useful for both inside your tent and also your campground area for extra visibility. Check out some suggestions below!
EDM Identity Team Recommendations:
---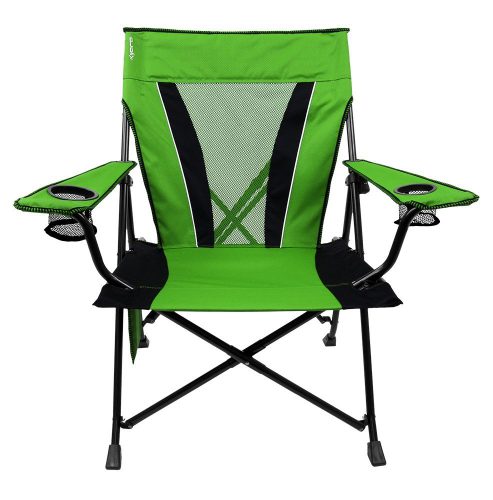 Folding Chair(s):
Sitting on the ground sucks, really it does. Get off the ground and get your booty in a seat okay? They take up next to no room and will definitely help your back during the weekend. There are plenty of different styles and types you can go with! If you're looking for a decently priced one that even has a built-in cooler check and the "Director's Chair" style has been popular as well. Looking for a larger chair? We also loved this one from Kijaro!
EDM Identity Team Recommendations:
---
An Electric Power Source:
Part of the festival experience for many is getting lost in the music. While we don't necessarily need to charge our phones or GoPros all the time, its good to bring an external power source just in case you do. Many cars are outfitted with plugs and you can grab AC adapters if you need more juice. Your car shouldn't take all the brunt of the work, though, and there is nothing worse than having to wait around for AAA to come by and jump your car because you forgot to let the motor run for a bit. Speaking of which, JUMPER CABLES are highly important!
For inside the festival, we would suggest the Anker PowerCore 10000. These are both small and will charge your device at least once while inside.
EDM Identity Team Recommendations:
---
Portable Folding Table and Wagon:
You really don't know what you're missing out on if you don't have a table at your camp. Whether you're keeping things off the ground, placing your cooler underneath to keep it in the shade, or playing some beer pong, this is one of the most forgotten about essentials at Coachella. You more than likely have a folding table at home to some degree or another, and I would definitely recommend grabbing one if you haven't already.
If you're not car camping at a festival and have to lug your gear to where you'll be camping, a collapsible wagon will definitely help cut down on the number of trips you'll need to take!
EDM Identity Team Recommendations:
---

A 5 to 7 Day Cooler:
There is nothing worse than a warm beer or soda while it's already hot outside. Honestly, cold drinks can become a hot commodity at festivals so a cooler is a must. Sure, you can grab a Day Cooler if you feel that will work best for you, but why not keep that ice as frozen as possible? That's why we would suggest springing for a cooler rated at a minimum of 5 days and have added a few selections to our camping festival guide.
If you're looking for some serious cooling, make sure to look into a marine rated cooler! Brands like YETI and RTIC both make fantastic coolers that will keep things chilled with proper usage. Make sure to keep the lid closed at all times possible, and you'll make your ice last far longer than with constant usage!
EDM Identity Team Recommendations:
---
Cook camp lunch on a portable butane stove:
If you want to cook your own food at the festival and save some money, you're going to need to bring a stove with you! Check the rules to see if it is allowed first, but if it is, bring it! A good, portable butane stove is good for food you can cook in a skillet. Something larger, like a portable grill, will serve you and your campmates anything you can BBQ up. They are compact, and the butane or propane cans are pretty inexpensive too.
Make sure to put the stove and butane cans away in the coolest possible place while you're gone. If you need to leave the grill in your car, leave it in the trunk!
Meal suggestions include the usual fare of hamburgers, hot dogs, and pre-prepared food. All of these are fairly easy to store, just make sure you keep perishables chilled in the cooler. Also, don't forget things like plates, napkins, and utensils!
EDM Identity Team Recommendations:
---

Find your camp when you're lost with a flag on a tall flagpole!
A flag and flagpole have been one of the best purchases that we've made in a long time, and that's why it's on our camping festival guide. At 14′ you can see the flagpole well from the ground if you feel you need more height you can always spring for a 20′ version. We have found that the 14′ works well enough, though.
You'll need to attach the flagpole to something, so if you have a strong enough canopy, that can work if it isn't too windy. We prefer to have our flagpole out of the campground for increased visibility so we use the "Under Da Tire" Flagpole Base. Definitely make sure to put a piece of foam or fabric between the car and flagpole so you don't scratch the paint!
Looking for a custom flag? Head over to University Customs to get your favorite unique design printed. Use code "EDMID" for a discount on your purchase!
EDM Identity Team Recommendations:
---
The most important items: a towel and toilet paper!
There is a reason this was dubbed as one of the most important items to own in A Hitchhiker's Guide To The Galaxy and why it has found its way onto our camping festival guide. Towels are legitimately one of the most useful but forgotten about items to use. You can use it as a blanket, to dry yourself off after a shower, or even use it as shade if need be. We suggest picking up at least one or two decent beach towels to use during the festival for maximum results.
Also, everyone should bring a roll of toilet paper with them to the festival. You never know when you'll find yourself in need, better safe than sorry.
EDM Identity Team Recommendations:
---
Did we forget your favorite item? What is an essential piece of festival gear for you? Let us know in the comments!