DELOS is making some serious moves in the San Diego scene both in the studio and with his event series too!
---
Danny Spainhour, aka DELOS, is one of the artists in the San Diego scene who is quickly rising to stardom. Making a name for himself behind the decks, in the studio, and as an event host, DELOS is a Swiss Army Knife in the local scene and has no plans of stopping anytime soon.
Further cementing his place as a figurehead of the local scene, DELOS has pressed on with his own weekly show at Avenue in Pacific Beach dubbed "Delos and Friends". Finding some of the future rising stars and coming together for an amazing night of music, this weekly is definitely one to check out if you're in America's Finest City.
Having ended 2017 in all the right ways with the release of "My House" on Tribe Out West, DELOS has already begun his journey into the new year with plenty of releases on the horizon. Looking to pick his brain before the year kicks into full gear, we sat down to chat with DELOS about his influences, the San Diego scene, and so much more!
Stream EDMID Guest Mix 104 || DELOS on Mixcloud:
---
Let's start things off by getting to know DELOS a bit deeper. When were you first introduced to electronic music, and was there a moment where you realized that you wanted to become a producer?
Producing was always going to happen. I've been playing instruments since I was a young kid and taught myself how to play guitar and drums, and I started writing songs and stuff in high school, so it was really just a natural progression once I got into electronic music. I hear the chord progressions and rhythms of my own ideas already. It's just a matter of getting what's in my head out into a computer now. [Laughs]
Who are some of your biggest influences both in your life both professionally and personally?
My Dad, first and foremost. He is one of the most amazing humans you could ever meet. He inspires me to be a better person and follow my heart and chase what I love every day.
My friends inspire me in so many ways too. I have the most talented, gifted, loving friends that anyone could ask for. They keep me motivated and support me so much.
Late last year you dropped "My House" on Tribe Out West. What was the production process like on the track and how did you first come to work with that crew?
I met Sam Wild randomly one night at Blonde Bar and he mentioned that he had the studio and invited me to come by. Then not long after that, I met Süsio and Donald Thump at a 12 hour rave last year where we were DJing. They also invited me up and one day I took them up on the offer. That day, I met Mitch Dodge and we began working on "My House".
When building a set or browsing through tracks to play out in the future, do you have a certain process that you follow in discovering new music?
I have certain artist and labels I follow and look for their stuff, but I also just like what I like. I think that having a diverse musical background and being from Florida, I have different grooves or sounds that appeal to me. I pass up many tracks on the search for the right ones.
As for building a set, I just have a few folders that I sort my tracks into and I freestyle through those different types of songs throughout the set, depending on the vibe of the crowd. We can get rowdy or we can get deep and sexy, or both if they're into it. They tell me where to go and they trust me to get them there.
With more electronic music nights popping up at local venues around the city, what are your thoughts on the current state of the scene in San Diego?
The scene in San Diego is incredible. I mean, Dance Klassique is bringing in Gene Farris tonight to celebrate 18 years of house music. I see a lot of people chasing their dreams both musically and artistically and it's encouraging to me.
It pushes me to make sure that I'm giving my everything every time I DJ or throw an event to ensure I'm providing the best experience for the people who come and support me time and time again. I am nothing without the support of my friends and family, and my label Detached Sounds. There are some really big shows coming up that I'm excited about.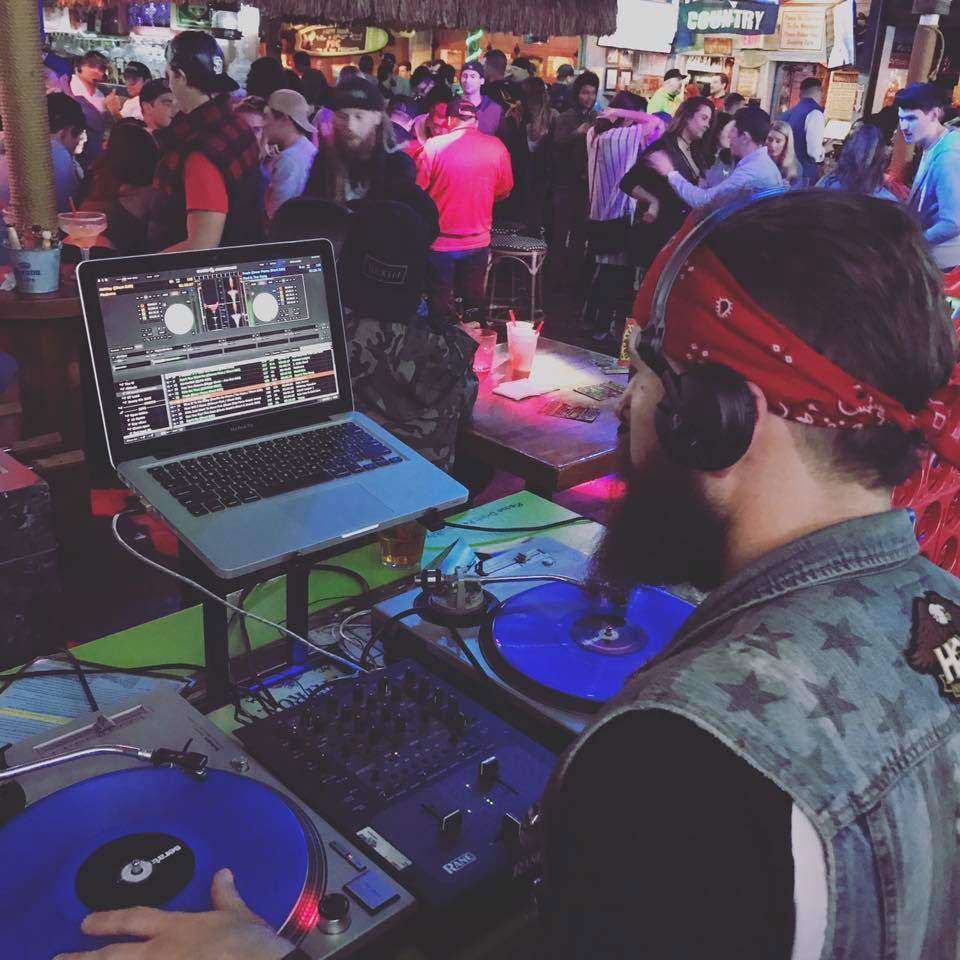 Not just working as a DJ and producer but also hosting your own local nights, what goes into your process of booking artists and scouting out new talent?
Thankfully I am surrounded by so many talented DJ's and the more I go out and meet the people they know. I am constantly meeting new DJs and producers. Avenue in PB has given me a weekly night on Wednesdays called Delos and Friends for me to DJ which provided me the opportunity to book my friends to come play with me.
We usually end up DJing at an after party or I'll have them send me a mix if I haven't heard them before and if I like what I hear then I'll ask them to come play. It's a combination of song selection and mixing technique. If they're dropping heat I've never heard before and weaving in and out of songs cleanly then I'm definitely asking them to come play. No one has failed to deliver.
Where has been your favorite venue or location to play so far, and do you have any dream venues you hope to play in the future?
My favorites so far have probably been Solset at Firehouse in PB with Jimbo James, and T is 4 Techno at Blonde Bar with Native Aliens. They both allowed me to be able to play different music for a different crowd than I usually would be able to, which was great.
Venue-wise, I would love to progress to a point where I am doing direct support for some of my favorite artists at Bang Bang, or one of the other bigger clubs in San Diego. Exchange LA and Sound Nightclub in LA are also goals.
I'm just going to keep producing and hopefully get invited to a festival like Dirtybird Campout, LIB, YOUTopia, Desert Hearts, something along those lines one day. I'm also planning a trip to Ibiza this summer, and I have some leads on a few places to play in Europe along the way.
Definitely a difficult question, but if you could only choose three artists to listen to for the rest of time, who would they be and why?
Jimi Hendrix – Do I really need to answer why for this one?
Bob Marley – He will always remind me of my father.
Jay-Z – One of my favorite rappers of all time.
San Diego is known for its Mexican Food, where is your favorite taco shop and what's your standard order?
Tacos El Paisa. I really like their Asada and Carnitas tacos.
Finally, what's in store for DELOS in 2018? Are there any shows, releases, etc that we can look forward to?
Absolutely. I have an EP coming soon with Tribe Out West and a handful of new tracks in development that I'll be releasing for download.
As for events, every Wednesday I am at Avenue in PB, but here are some upcoming shows!
February 22 – El Camino hosted by Tribe Out West (San Diego)
March 2nd – Techno Sabbath hosted by DIVINITY at Kava Lounge (San Diego)
March 3rd – Kitsch Bar (Costa Mesa)
March 4th – CHVRCH at Air Conditioned Lounge (San Diego)
Follow me on Facebook and Instagram, and also over at Detached Sounds Management to stay up to date on bookings and releases.
---
Connect with DELOS on Social Media: