Bamboo Bass Festival is packed with tons of fun activities, parties, and events this year, get all the details below!
---
Bamboo Bass Festival is returning for a third year, bringing bass music lovers to one of the most ideal locations imaginable. Though this event is still relatively young, its hard-working organizers understand the variety of features that make for an amazing festival experience.
Bringing messages of sustainability, conservation, and togetherness, Bamboo Bass ensures its guests will come out with more than whence they entered. Being prepared for all that this festival has to offer will undoubtedly ensure a more smooth, safe, and powerful experience.
Below is all the information you need to know before going into Bamboo Bass Festival. Don't forget to check out our top artists to catch at the event, or some activities to check out in Jaco!
---
Bamboo Bass Festival 2018 – Essential Info:
Dates: Feb 16 – Feb 18, 2018
Gates: 11:00am Friday, February 16 – 12:00pm Monday, February 19
Venue Address: Jaco Ropes Adventure Park – Costanera Sur Hwy, Provincia de Puntarenas, Jacó, 61101, Costa Rica
Ages: 18+
Tickets: Can be purchased via BambooBassFestival.com.
Tickets purchased online will be available for pickup at Will Call located at the front gate. Full Access weekend passes will get you into the festival for the entire duration of the event (February 16-19).
Day Passes will grant access from 1:00am until 6:00am on the day the pass is purchased. Guests without a camping pass will have access to the festival site daily from 11:00am until 6:00am.
Shuttle Schedule:
Arrivals: Monday Feb 12 to Feb 16 – 3 times daily – 11am, 6pm, 11pm
Departures: Monday Feb 19 to Wednesday Feb 21 – 3 times daily – 6am , 11am, 6pm
---
Bamboo Bass Festival 2018 Set Times: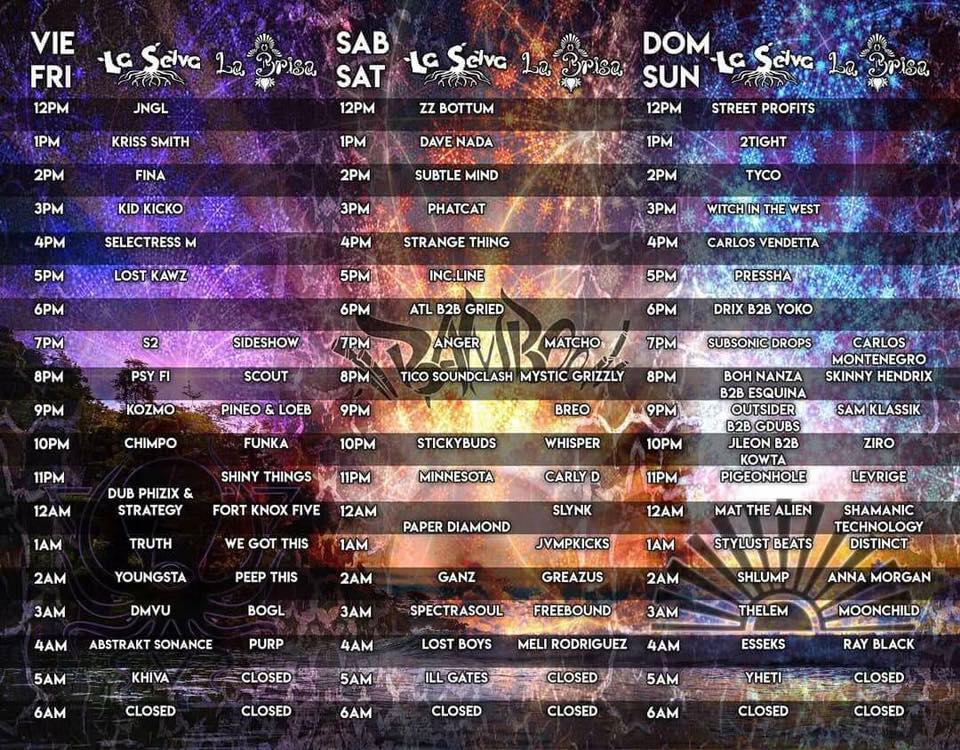 ---
Bamboo Bass Festival On-Site Amenities:
WATER ON SITE

: Your health and hydration is important to us! Please bring a refillable water bottle. Bamboo will be providing free water access at various filling stations on site. Please drink lots of water in preparation to your trip; and keep you body well hydrated during your stay.

FOOD ON SITE

: A variety of hot food choices are available on site. Vegetarian options available. Cooking is not allowed on site. Cold snacks & fruit are permitted.

BATHROOMS

: Bathrooms are available on-site. Please note that there are no showers.

WASTE DISPOSAL

: Bamboo is located in a beautiful natural environment. Please properly dispose of all trash & recyclables. We appreciate your effort in assisting us to keep this beautiful natural environment happy and healthy. Make an effort to clean up after yourself. Items that are easily lost in the jungle such as glitter, confetti and other small plastic pieces are not permitted.

BAR SERVICES

: Fully stocked bars will be available on-site with Costa Rica's best coolers and beers.

HARM REDUCTION

: Your safety is our main priority. We will have a fully functioning medical team and ambulance on site. See here for more details.
---
Bamboo Bass Festival 2018 Prohibited Items:
Weapons
Fire
Glass
Illegal Substances
Smoking
Cooking
Disposable Glow Sticks
Glitter, confetti or other small pieces easily lost in nature
MOOP (MATTER OUT OF PLACE)
UNRESTRICTED SALES: Vending/selling products of any type is not permitted on site without prior approval and documentation from Bamboo Bass Festival.
---
Big Ask From Bamboo:
We ask that everyone visiting Costa Rica while attending Bamboo be respectful and conscious ambassadors of Bamboo Festival during their stay. You'll find that Costa Ricans are extremely polite and quick to shake hands and greet you with a kiss on the cheek.The people here are very kind, please treat them and their land with the same kindness. Thank you.
---
Reminder To Mind Your Belongings:
Unfortunately, many people have reported pickpockets, bag slashings, and theft of wallets, smartphones, purses and other valuables during this festival season. While this small number of bad apples in the bunch doesn't define an entire crowd, there are opportunistic people who come to these events to take advantage of unsuspecting partygoers and it's important to be mindful of your valuables while at Bamboo Bass Festival.
Pay attention to who's around you and what's going on around you. Keep your wallet and phone in your front pocket(s) if you can. Treat your phone the same way you would treat cash; don't set it down on a table or bar and look away. If a friend isn't standing behind you in a crowd, be careful of your backpack or purse, and don't put valuables in a pocket that could easily be unzipped by someone behind in a crowded spot without you realizing.
---
Connect with Bamboo Bass Festival on Social Media: