Get to know multi-talented electronic artist Wishlyst as she talks about transformations, Britney Spears, "Distance" and more!
---
In the last year, Emily Davidson's transformation into Wishlyst has been remarkable. We first caught up with Davidson while she worked under her former moniker, Baroqueen, whose style relied on heavy bass and trap beats. While those genres are still present in her new style, she is infusing her music with lighter sounds as well.
Wishlyst has the whole package – she produces her own tracks, writes her own songs and includes her own vocals. Additionally, her extensive classical training aides in her ability to create a unique style. This summer she moved from the East Coast to sunny Los Angeles and made a few changes to her repertoire. She now effortlessly mashes pop, electronic an video games to create a unique mash of genre-bending sounds.
As she states in our interview, 2018 is going to be her year and she's already started it off with a bang. She's dropped three tracks and is relentlessly hustling to make sure the electronic world takes notice of her skills. Wanting more insight into her work, we caught up with Wishlyst for a chat about her transformation, musical stylings, and more, check it out below!
Stream Wishlyst's LADIES FIRST set from Party With Your Friends:
---
You performed under the moniker Baroqueen for years, but late last year made the switch to Wishlyst. What sparked the name change and is there a special meaning behind it?
Baroqueen (pronounced "baroque queen") always felt like a placeholder name. It was a cheeky reference to my other music career—classical cello player and baroque music specialist—but that music wasn't tied into my work as a DJ or producer. The name didn't really make sense, and almost no one knew how to pronounce it since "baroque" isn't really a household word. I wanted a name that I identified with; something feminine and catchy. Wishlyst felt perfect, as this project fulfills some dreams and wishes I've had for myself since I was a kid.
As there is not much information about you as Wishlyst online, you come off as a very mysterious artist. What do you feel fans, potential fans and those in the industry should know about you?
Do I? I feel like I'm constantly sharing myself on social media, haha. But I'd agree that because this is a relatively new project, there's not a lot of info out there yet. Because I produce my tracks by myself, write the songs myself, record the vocals myself, I want listeners to see the continuity in my work. While it's amazing to have a team of people create a great song, I hope the fact that everything about my song came from me has an effect on the audience.
Your style seems to have changed from more of the heavy bass to more pop with electronic elements. How would you describe your change in style and can fans still anticipate the hard-hitting bass-heavy sounds they were used to hearing?
I got into electronic music as a DJ, so future bass and trap are still a big part of my influences. When I started focusing more on producing my own music, it was hard to find enough time to work on vocals and songwriting as well as production.
It made sense to cut back on more production-heavy EDM styles to make the best use of my time as I learned to produce, write, and find my "voice," since I'm still somewhat new to singing. While I still love a big EDM track from time to time, I find a simpler production suits me better, and I love finding beauty in the details and simplicity.
Along with a name change, the latter half of the year brought about numerous other changes, including a cross-country move. Soon after you released your original track "Distance." Is it safe to assume the lyrics mirror what was happening in your life, both location wise and perhaps also regarding your relationships?
Distance is all about learning to feel safe on your own. I went through a lot of transition before, during, and after my cross-country move, and many times I expected to have a safety net that ended up not being there. Distance is creating space to learn how to stand on your own two feet, even when someone or something doesn't meet your expectations.
In addition to changing your style, you've also begun adding your own vocals. What inspired that move and what does your process look like? Do you think of the music then add lyrics or vice versa?
Adding vocals was something that really made my whole project come together. I didn't really consider myself a "singer" but I had written songs when I was younger. I used to dream of being a pop star and singing songs but always identified more as an instrumentalist in practical terms. It's been a process of getting out of my shell to start singing, but it's been really liberating, too.
The guitar was my first instrument, and while I was mostly self-taught on Beatles songs, I dabbled in writing my own rock music in my pre-teen days. I gave up on it in high school thinking I wasn't a very good singer and I couldn't write good melodies. By 15 I got serious about the cello and shifted my focus to classical music for the next 12 years as I became a professional. I had given up on my fantasy of singing music in a band or anywhere else because it just seemed unrealistic.
Discovering DJing in my mid-20's, mostly thanks to my brother Dj Cutman, sparked a change in me. DJing gave me the opportunity to do something creative with the pop songs I liked, and it eventually led me to production. I tried making remixes and edits of tracks, but nothing stuck. Finally, I decided to try my hand at songwriting again, despite the hang-ups from my past, and I was shocked at how therapeutic it was. I suddenly had renewed faith in myself, and some regret for leaving it behind for so many years.
Because I have classical training and mostly an instrumental background, I tend to write my songs out as instrumentals first. But I'm pushing myself to get more comfortable singing melody ideas out loud, and getting more used to using my voice as an instrument.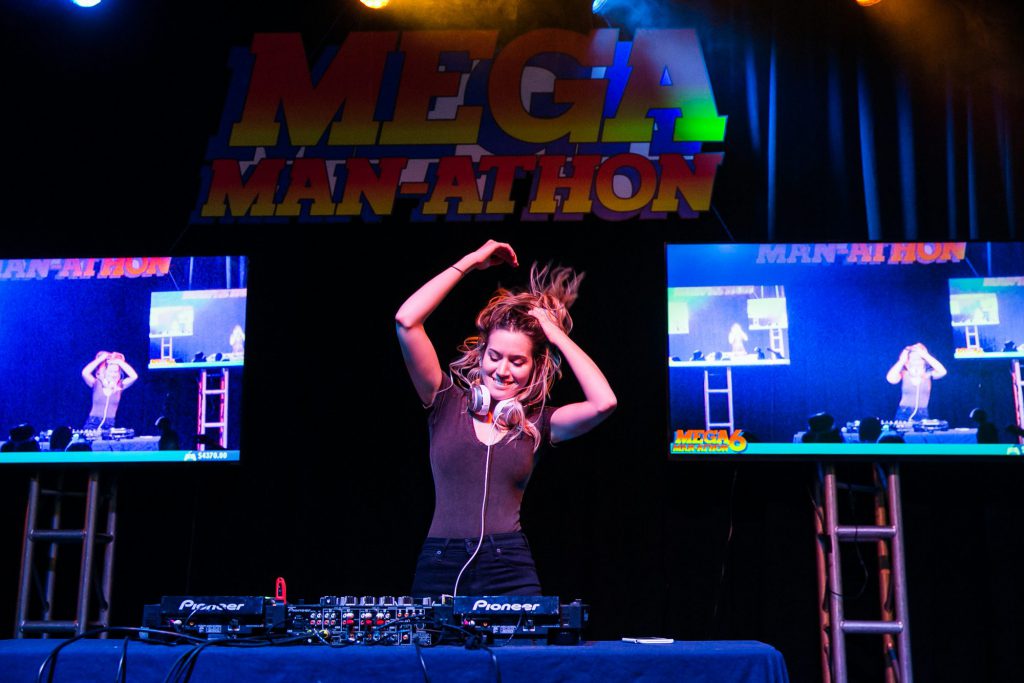 You recently performed at MAGFest in Maryland alongside other GameChops artists. This isn't your first time at the event; what keeps you coming back and how is it being part of the GameChops family?
I was introduced to MAGFest in 2015 when I got to perform alongside Grimecraft as a cellist. The event was the GameChops DJ Battle, arguably one of the most exciting nights of MAGFest where DJs play for thousands of fans. I hadn't even started DJing at the time, but the community was so welcoming and the fans were so enthusiastic that I knew I needed to come back. By the next year I had started DJing, and this past year I got to perform two shows. Many of the people at Mag knew me first as a cellist, then as Baroqueen, so it's cool they've been able to track my evolution.
You recently dropped a modern remake of Britney Spear's mega-hit "…Baby One More Time."  What inspired you to remake this hit almost 20 years after it was first released? What was the reception like from fans and those in the industry?
"Baby One More Time" is one of my all-time favorite songs, and Britney Spears had a huge influence on me when her first album came out in 1999. I was 10 years old, and like many others in my demographic, I instantly connected with Britney. Singing her music made me feel like her. It's always tough to cover a legendary song since people are so attached the original, but I had fun putting my own spin on it.
At this point, you're basically a one-person army. We are definitely impressed that you do your own production, mixing, songwriting, and lyrics! As you are doing most of the work on your own, do you find it can be very time-consuming, do you enjoy the fact that you are in control of all the pieces or perhaps are you somewhere in between the two?
I love that I'm in full creative control of my music, but I won't sugar-coat how much work it is, especially because I've only started producing music seriously in the last year. Sometimes I get envious of singer/songwriters who get to walk into a room with a dope beat ready for them, or a producer who can sit in front of Ableton all night working with a "real" singer's flawless stems. But ultimately I like to think it makes my music a better representation of myself.
Congratulations on dropping, "Come Back" your second original single. It's stylistically similar to "Distance" with a few important differences, notably the use of layering and progression. The track starts off simplistic but by the end is more complex as you slowly layer multiple different beats and sounds throughout. Can you tell us a bit about how this song came about?
"Come Back" is definitely in a similar vein to "Distance" as I wanted to continue building on that sound and feel. I started the song with the hook because I wanted something catchy and memorable. The verses are a little more dense than "Distance", and I think it's easier to identify my rock influences that way. I barely listen to rock music anymore, but when I got to write it's often what comes out.
As mentioned earlier, you recently embarked on a cross-country move from Boston to Los Angeles! How was re-establishing yourself in a new location, both personally and professionally, and getting acclimated to Los Angeles? Also, have you enjoyed your time on the "Best Coast"?
I love LA. I'm a New Yorker at heart but after spending 7 years in Boston, east coast life really began to wear on me. I didn't move to LA with any kind of pipe dream or fantasy; I picked it for the weather, the quality of life, and the cost of living is actually cheaper than Boston and NYC! So on those fronts, I love it here and I'm really happy.
Starting over as a freelance musician is always tough—I had a very busy career as a freelance cellist in Boston, and I've had to let all those connections go and start rebuilding in LA, which takes years. But it's a process, and I'm happy to be doing it in an environment that just feels better to me. I've created a situation where I can work on producing and writing every day, and I think it's made all the difference in my output.
Finally, what does 2018 hold for you and what can your fans look forward to?
I want this to be my year. I spent the past few years DJing, learning production, and trying to figure out how it made sense in my life since I already made a living as a classical musician. But my interests and priorities have evolved, and now I'm really excited to see where I can take Wishlyst. It feels like the truest, most authentic representation of myself and I'm excited to continue to develop it and find my voice.
Because I'm committed to making that happen this year, I'm releasing as many new tracks as I can handle. I've also been approached by some awesome producers, so in addition to my solo tracks, I'll be featured on some tracks as well.
I also have a few great people remixing my singles. I learn so much with every track I release, so it makes sense to put out much music as I can right now. No question that I'm overworking myself, but it feels like the right time.
---
Connect with Wishlyst on Social Media:
Facebook | Twitter | Instagram | SoundCloud | YouTube