Steve Aoki and W&W performed in front of a special audience for the first ever WORLD CLUB DOME Zero Gravity party. 
---
In the past, we've seen performers pull off amazing stunts while showing off their skills to crowds around the world. Whether it was Travis Barker from Blink 182 drumming whilst suspended or Lady Gaga's 2017 Superbowl Halftime show that kicked off with her jumping from the stadium's roof fans have been in awe. DJs Armin van Buuren, Steve Aoki, and W&W were set to leave their own mark by performing on a ZeroG A310 Airbus flight at the Frankfurt Airport in front of a special crowd for WORLD CLUB DOME – Zero Gravity.
The WORLD CLUB DOME – Zero Gravity broadcast went on for four hours to mark this special occasion all of which is available to watch on Facebook below. This not only allows for the world to hear some beats but also get some insight into the project itself. Unfortunately, due to catching the flu, Armin van Buuren was unable to perform at the show at the last minute.
The crowd witnessing this historic event were winning entrants who send in 20-second video applications from all around the world. Event organizers picked only two winners from each continent with additional winners from Germany and India.
The entrant finalists went through two phases of elimination before being selected. A jury selected the top 20 people (10 male and 10 female) from each continent. The final two entrants from each continent were then decided by an online vote.
Watch the World Club Dome – Zero-G broadcast via Facebook Video:
Over the years, BigCityBeats have been responsible for throwing some of the biggest events around the world.
They even curate a special event at sea called WORLD CLUB CRUISE happening this April. However, their annual event is the WORLD CLUB DOME show in Frankfurt known as the "largest club in the world."
This event features over 20 stages and 200 international DJs. If you were looking for an Electric Daisy Carnival-like event in Germany, you should attend WORLD CLUB DOME. Their theme for the event this year is "Hollywood in Europe" and their limited edition festival box comes with an OSCAR looking trophy. The festival kicks off on June 1-3, 2018.
We can't wait to see if the event becomes a bigger event in the future so we can all dance weightlessly.
The question is will you be buying a ticket to the next WORLD CLUB DOME Zero Gravity experience? Let us know in the comments!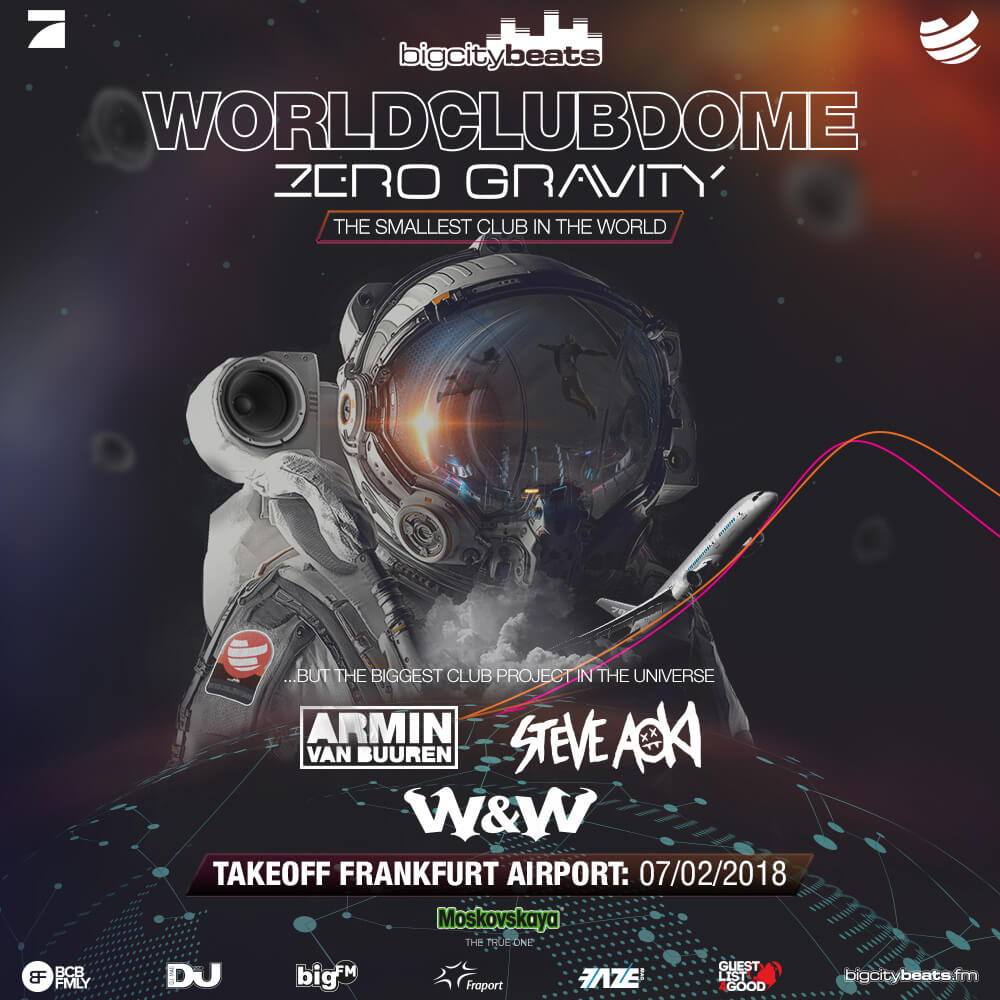 ---
Connect with WORLD CLUB DOME on Social Media: