Get to know sensational Portuguese electronic artist KURA as he talks "Fuego", Revealed Records, his home country, and more!
---
Hailing from Portugal, KURA's passion for electronic began at an early age. He discovered the sounds of Carl Cox and more as he spent time soaking up the beats and culture of the scene for many years. It was only a matter of time before he found a passion for producing and curating music as an artist, and since 2011 he's been on a serious rise to superstardom.
Over the years, KURA has made a name for himself in the electronic music scene with a string of energetic releases ranging from his solo tune "Makhor" to a collaboration with Hardwell on "Calavera". Receiving plenty of support from some of the most renowned labels in the scene today like Revealed Recordings, Spinnin' Records, and more, it is clear that the future is bright for this Portuguese Artist.
Releasing his latest track "Fuego" in collaboration with Olly James, KURA is starting the year off strong and clearly has more surprises in store for his fans in 2018. Wanting more insight into his work, we caught up with KURA for a chat about his music, the classes he teaches to aspiring producers, and more. Listen to "Fuego" below and read on for our chat with KURA!
Stream KURA & Olly James – Fuego on SoundCloud:
---
You've started off 2018 in all the right ways with your new track "Fuego" that was released on February 2. Can you share with us about how the track was produced and how you came to work with Olly James on the tune?
I was planning to produce a track with Olly for a while and we debated some ideas and eventually came up with the concept behind "Fuego" – 132 bpm, energetic, club-oriented track – and we started working sending stems to one another back and forth, and out of that musical brainstorm "Fuego" was born. The best way to enjoy it is on the dancefloor, hearing it loud, and it's one of the tracks that works best in my sets. I'm just very happy about "Fuego".
Do you have other collaborations with Olly or other artists in the works that will be released in the future?
Yes, I'm working with other producers to be able to keep things interesting. By letting other people influence my sound and inspire me, and hopefully doing the same for them, the end result should be about that encounter of creativity, about creating something different and relevant.
Your track "Skank" not only received lots of praise but also featured a unique, stop motion animation music video as well. What led to that artistic direction and were you involved in the production process?
I'm very happy with "Skank"'s success and with the track itself. The music video was done by a stop-motion artist, Counter656, he's a very talented guy. I asked him if I could use his work to a music video, as I had used his video creations before. He's really amazing, anyone into video and stop motion should really follow him. He's currently working with buy toy brands, and I'm very happy to have his talent bring my music to images.
Last year you mixed Revealed Records' compilation album, The Sound of Revealed Vol. 2! What led to you taking the reins of the mixing duties for the release?
Revealed invited me to mix this compilation, I felt very happy and excited as I had never mixed a compilation before. I got to choose the tracklist from the label's catalogue, and I loved the outcome! The cherry on top was the fact that it actually got into iTunes charts in a lot of countries. It was a very positive collaboration and I'm really proud of the outcome.
Aside from producing and playing your own music around the world, you also teach those who are looking to become future stars in the scene. What do you enjoy most about teaching your Masterclasses?
I enjoy helping young producers to get a clear idea of what goes into making a track, the idea behind it – which is the most important thing. I give them my insight on how I approach the creative process but also the execution, as every producer approaches creation differently.
I teach all I know and show all my secrets. It's an opportunity I never had when I was younger, so I can step into their shoes and understand how important it is to have someone you look up to explaining and teaching everything. They get to hear fun stories of the studio behind the scenes.
As an artist who has over a decade of experience in the industry, what advice would you give to new artists who are looking to make it in the electronic music scene?
The most important thing is to dedicate yourself to what you love to do. In the beginning, you have to distance yourself from all the dreams of playing big festivals and hanging out with big DJs, as it's not going to happen soon enough. You have to do this job just because you love it. If your music does good and people love it, everything else will be a bonus!
This is my biggest advice: stay calm, keep focused, learn everything about music, learn to behave in the scene (don't be a hater) and everything will eventually fall into place.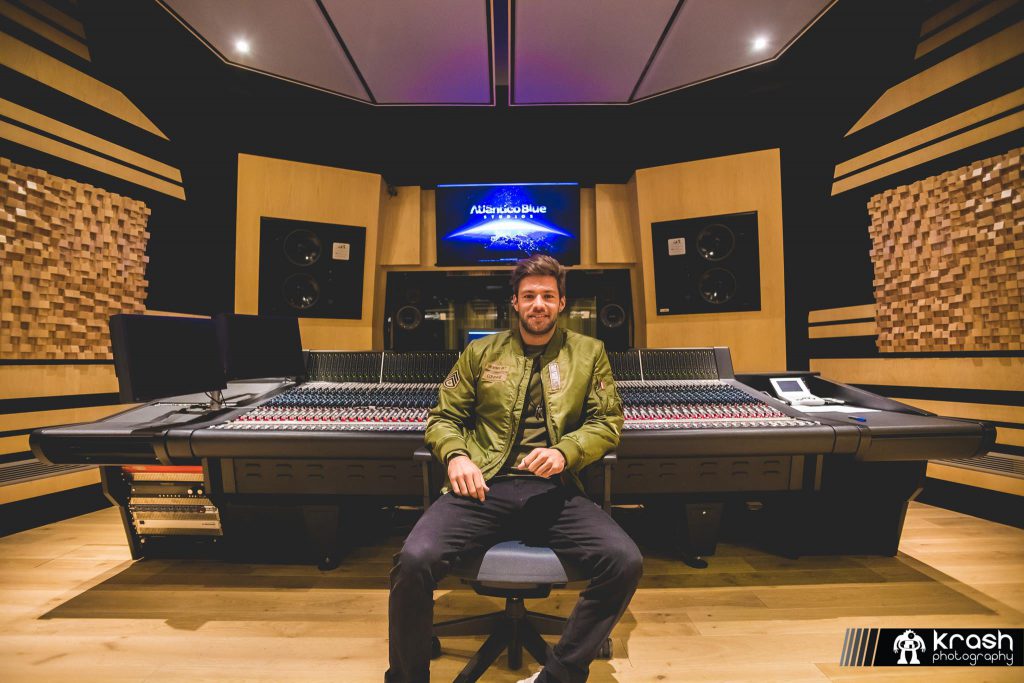 When you first began your career as an artist, what were some of your biggest struggles and how have you overcome them?
In the beginning, it was very difficult to get my music on a label, as I know it is for young producers out there now, I know it's very hard to get noticed in the scene. All the labels said "No" to me and no one was playing my music, but I didn't give up and kept sending music to labels and DJs.
Eventually, one of my tracks got picked up by a lot of artists, Hardwell helped a lot, released my music on Revealed and always played my music. I got picked up by smaller but important labels at the time until Spinnin' signed me. I was patient, I improved my music, I grew as an artist and a producer, and better times and opportunities came.
Over the years you've played many different clubs, events, and festivals. Has there been one specific moment from a set that has stuck out as special to you?
Yes, last year at RFM Somnii in Portugal, I was very nervous because I was playing after Tiësto and it was a big responsibility, but listening to those fifty thousand people chanting my name at the end was something truly out of this world. I was drained, I gave it all: emotion, attention, energy.
All my team was there celebrating with me, they weren't nervous, but all of us wanted to give our best, and I was really happy to have that success while accompanied by my team. This was one special moment but I can recall many more, as I do think all festivals, clubs, and performances have special moments to be treasured and cherished.
If someone is traveling to Portugal for the first time and looking for some suggestions as to where they should go in the country, where would be two of your favorite places?
Visit Lisbon, Porto, Coimbra! There are so many beautiful places to visit in Portugal. We have amazing beaches, culture and monuments and the food and wine… just hop on a plane as soon as possible!
Finally, as a fan of the Portugal Football Team, how excited are you for the match this June against Spain in the group stage, and what are your thoughts on the team's chances of winning the world cup?
I'm very excited! Normally the matches between Portugal and Spain are very tight, Spain is a great team and they're strong this year, but… may the best team win! I hope we can both pass the group stage. I'm a big football fan, regardless of who's going to win. I just want to see great football matches!
---
Connect with KURA on Social Media:
Website | Facebook | Twitter | SoundCloud | YouTube