Destructo announced his epic Breakfast Club party for Miami Music Week with surprise special guests to be announced!
---
Miami Music Week might still be weeks away but the announcements are already flying in. Flyers for events taking place at night have surfaced but what about those morning parties? If you plan on not sleeping in Miami during music week, then Destructo has you covered with AMFAMFAMF Presents Breakfast Club at 1-800-LUCKY!
After a year that was full of moves for Destructo, from hosting the 10th Anniversary of HARD Summer to joining LiveStyle, we can't wait to see what he has to bring to the table with the AMFAMFAMF team. Breakfast Club will help debut the new brand which was announced late last year, and one you really should consider catching.
While Destructo is the only artist billed so far for the Breakfast Club party, we can't wait to see who will be joining him in Miami. Over the years he's brought numerous names to the stage with him as special guests ranging in style. During a performance at Output for the "Let's Be Friends" tour, Busta Rhymes came by to perform with him. Dirtybird artists Walker & Royce, Will Clarke, and FISHER have also been opening for him on the tour, so perhaps we'll see some action from that crew at the party!
Destructo will host this early morning party stacked with guests from 5:00 until 10:00 am on Saturday, March 24. Grab tickets now via Eventbrite!
The event is set to take place at 1-800-Lucky, a 10,000 square foot Asian Market Place in Miami's trendsetting Wynwood Arts District. Expect some food for this morning party as the flyer guarantees eggs and bacon to go along with your cocktails. Please note that this event, like many during Miami Music Week, is +21.
Will we be seeing you at the Breakfast Club party during MMW? Let us know in the comments!
---
AMFAMFAMF presents Breakfast Club 2018 – Essential Info:
Date: Saturday, March 24, 2018
Ages: 21+
Hours: 5:00am – 10:00am
Location: 1-800-Lucky – 143 Northwest 23rd St. Miami, FL 33127
Facebook Event: RSVP Here
Tickets: Purchase Here
---
AMFAMFAMF Presents Breakfast Club 2018 – Announcement Flyer: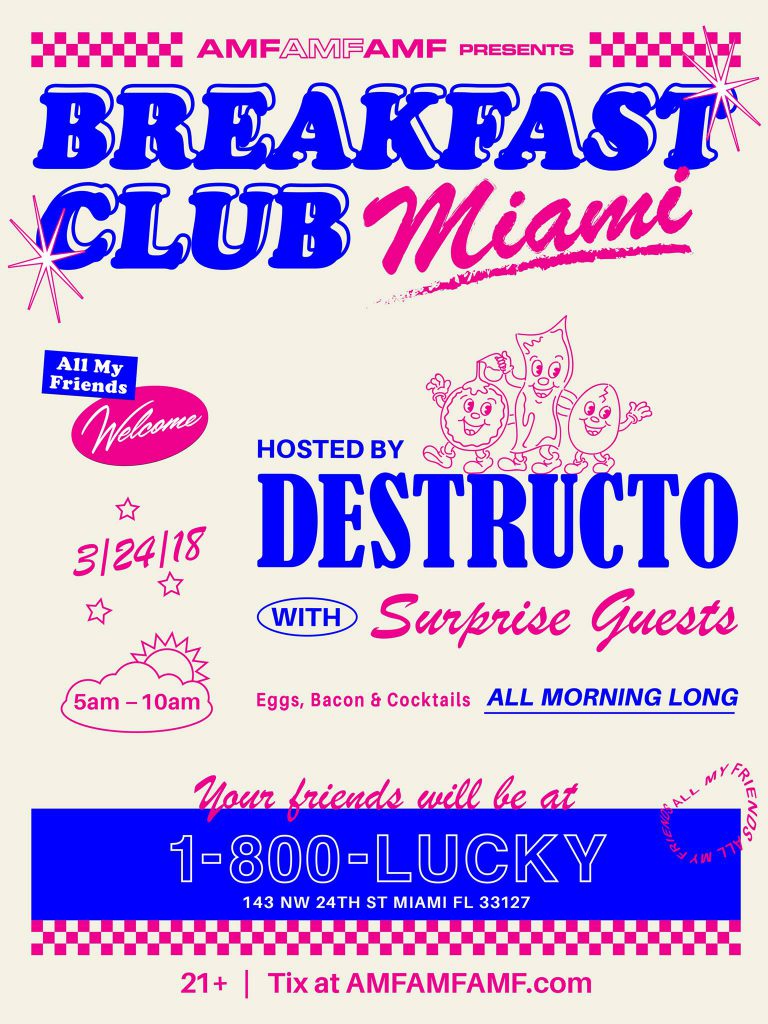 ---
Connect with DESTRUCTO on Social Media:
Website | Facebook | Twitter | Instagram | SoundCloud | YouTube