Ahead of the 2 Year Anniversary of the Seattle Trance Alliance, Marc Pospisil shares with us his journey to creating a thriving Pacific Northwest scene.
---
If you love Trance and live near Seattle, you have more than likely heard of The Underground. The venue has quickly risen to host some of the hottest names in the electronic music scene including our favorites in trance, Monoverse and Markus Schulz. Marc Pospisil is the brains behind the operation and formed the Seattle Trance Alliance in 2016 once he had the opportunity to run things his way.
With his immaculate attention to detail, attendees and DJs continue to flock to the best Trance venue in the city. Marc Pospisil, artist alias MarQ, took time from his busy schedule, ahead of the first of four shows in February celebrating their second anniversary to share his tips and thought process on creating a thriving scene.
---
The 2 Year Anniversary of the Seattle Trance Alliance features a stacked lineup during February including Myon, Sean Tyas, Mark Sherry, and Christopher Lawrence. What is it about The Underground that keeps people coming back every week?
I think it's the atmosphere. We have created a fun, inviting space where people are free to enjoy themselves without silly restrictions on dress, or flow toys. I think the intimacy of the venue makes for amazing experiences for both the DJs and the fans.
Guest House was a recent experiment to bring a house music night to the club. How was the turnout and the reaction from the crowd that night?
It was great, for a locals night the turn out was strong and it exposed a lot of new people to the club. Universally, everyone loves the venue, so the more people we can expose the more people who want to come back.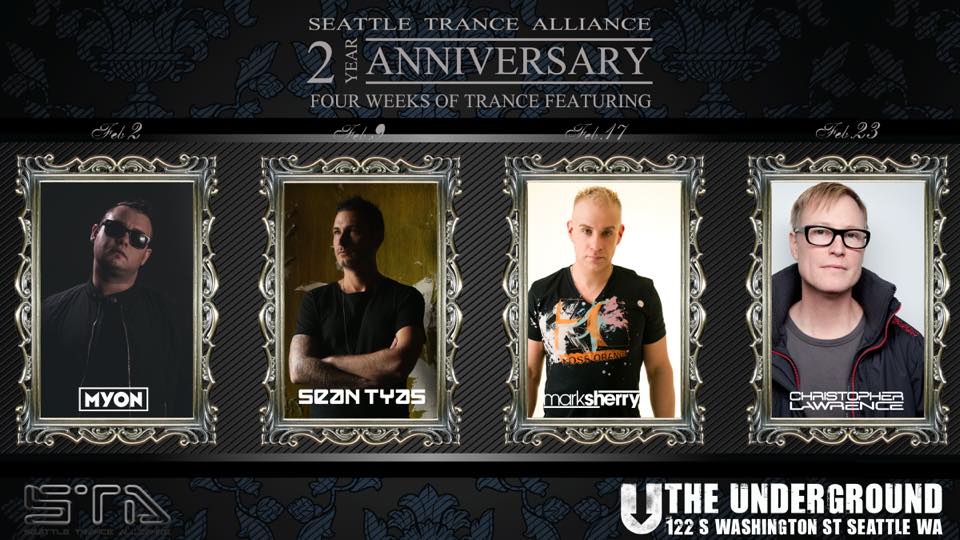 What are some of the unique advantages or disadvantages that the Seattle scene offers compared to other cities?
We have a healthy scene, the advantage is lots of shows, but that is also the disadvantage. That leads to a lot of conflicts where similar artists are at two different clubs on the same night. Fortunately, since we deal with the genres other clubs don't book it's not as big an issue for us.
You keep busy by producing and DJing under the alias MarQ. As someone who has been involved with the scene since the early 2000s, how do you keep a work and life balance without burning out?
I have actually been in the scene since 1989 when I started playing in bands. I moved out here in 2000 from New York and got involved in the scene here at that point. For me, it is a pure love of music. I went to school for music, I have worked as a sound designer & writing music for video games, and of course my DJ/artists career.
Since a young age, I have always loved music, so when you do what you love it isn't work, it's just what you enjoy. So for me, as long as I still enjoy it, I will keep doing it. I don't see that changing ever to be honest.
You've previously said that when you started the Seattle Trance Alliance you'd be able to make it work if you could do it your way, even with next to no money. Compared to the previous venues you've worked at, what have you done differently to make things work?
I had total control this time. The owners of the building gave me complete control of how everything is run. I invested the money in the lighting, stage, and gear so I was able to do what I wanted. We started off slowly and over time built up what we had for lighting/stage to our current set up.
Right now I couldn't be happier with the state of the venue. I feel for a venue of our size we are by far the best in the city production wise. I think that also helps us stand out, big club production in a small intimate club.
Behind every event, there is a team that makes things happen. What advice would you give to someone just starting out as a promoter?
Listen to the people. Don't be afraid of criticism. Some promoters go out of their way to stamp out dissent, I believe it's how we improve. When people have an issue with something, I take it seriously. When people see you address a problem proactively, when people feel you care about their experience it builds loyalty.
People know when they come to my shows what to expect, they know that I hold myself to the highest standards, I hold my artists to the highest standards and I run my club to the highest standards.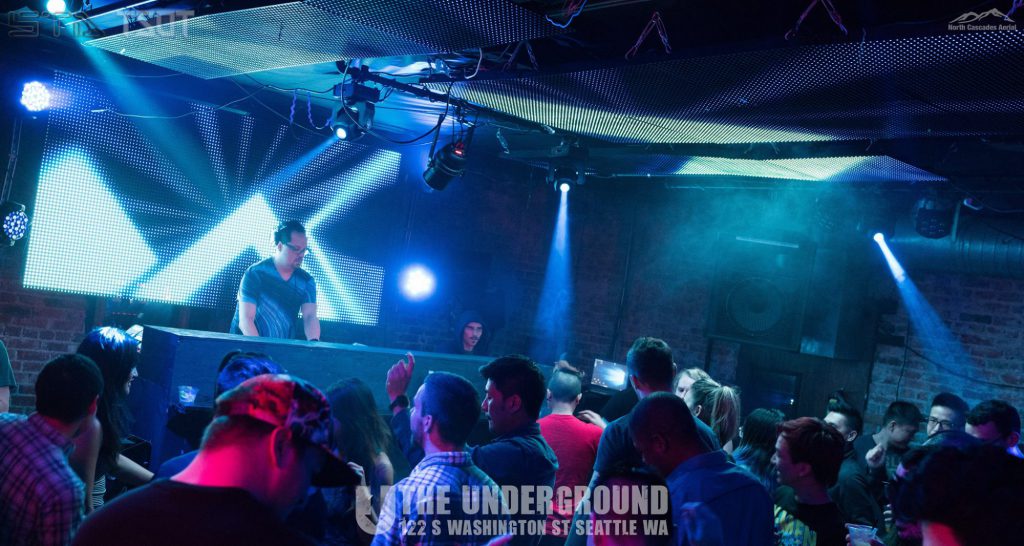 One of the things that stood out to me when attending Seattle Trance Alliance events is the progression of music throughout the night. Do you ask opening acts to adhere to traditional club night progression in sounds or is there a mutual understanding and love for the culture?
Yes, I do believe you need to play to your slot. If you are first you need to play fitting to get the night going, if you are second you need to build on that, if you are third you need to get the club ready for the headliner without overplaying so you set them up to shine.
With the newer DJs, I work with them to build them on how they should play for a given slot, I also make sure I book people whose style fits the slot.
Flow is the most important part of a continuous experience for the guests. If the DJs flow into one and other, each taking it up a notch from the last guy it makes for a better overall experience for the guests.
Compared to other clubs in the city, one of the best things at The Underground is its relaxed dress code and ability to bring flow toys. As a recent transplant to Seattle, it seems the Las Vegas bottle service culture doesn't exactly translate here. Have you also found that to be the case?
Vegas is where everyone goes to the front for the weekend that they are a baller. So they will get the table and buy the bottle because they are somewhere new doing something special and different, so they are more willing to pay for that.
That works in Vegas because it's 95% a tourist scene. Most of the people are visiting for a short time. Here, where you have a locals scene, it's hard for people to budget going out every week and spending $1000 on a table.
We offer tables and bottle service but it's just not really the crowd we want. We are the music lovers venue, where you go to hear the music you love with other people who feel the same. Bottle clubs tend to be about the perceived "elite status" people feel for being in VIP while also paying excessive amounts to be there. Real VIPs don't pay; we get everything comped. So it's kinda ironic.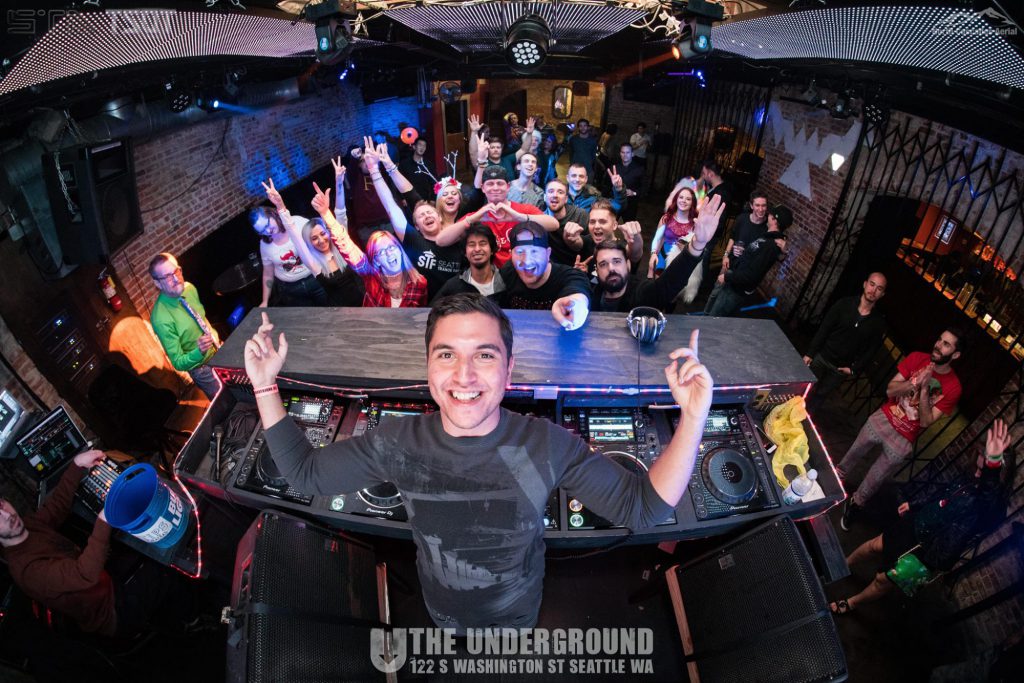 If you were able to book a one night festival in Seattle, what would the thought process be behind building a lineup and what are the most important things a promoter would need to take into account?
The main thing is flow. Flow ruins events. When the artists are ping-ponging back from high tempo/energy to slower tempo/energy, it just kills the room. All the artists need to understand my vision and be down to work with it because, for me, the event is more important than your ego.
If your ego is gonna get in the way, I have twenty more DJs who are waiting to come play here, who will gladly work with me to make sure we can provide the right flow to the event.
What can fans expect from the Seattle Trance Alliance for the rest of 2018 and beyond?
More quality events, with quality artists in the best environment we can find. We have cracked the glass ceiling this year and a lot of bigger artists who in the past turned us down now see what we have going on and want to be part of it. I have DJs taking big pay reductions to come play for me because they want to play here.
The DJs who come play for me leave gushing about how amazing it was to play for our crowd and it's a small industry and all the artists know each other. The word is out: we are trance in the PNW, and this year I have more artist wanting to come than I could possibly book in a year. It's a good problem to have.
---
Follow Marc Pospisil on Social Media:
Website | Facebook | SoundCloud | PodBean
Follow the Seattle Trance Alliance on Social Media: