Elohim is bringing her unique and captivating sound to a plethora of epic festival dates in 2018.
---
2017 was quite the year for up-and-coming artists within the EDM community. Few, though, captivated the masses as much as the LA producer and artist Elohim. Producer, writer and performer, this woman has enticed the hearts of many and is not letting go.
First coming onto the scene with her release with duo Louis the Child, "Love is Alive," and then gaining notoriety when she co-produced "Sleepy Eyes" with Whethan, Elohim has been making power plays since she stepped onto the scene. I personally had the pleasure of seeing her perform at my first Lightning in a Bottle as well as my fifth Suwannee Hulaween; she did nothing but impress.
Now continuing her trend of power plays, she has announced her 2018 tour featuring a plethora of well-known music festivals. Elohim will be gracing the stages at West Coast favorite Coachella and Midwest and Southeast favorites, Bonnaroo, Electric Forest and Buku. Playing festivals of this caliber is no small feat, but I am certain that she will rise to the occasion. Her blend of melodic tones, rap/hip-hop sound, enticing vocals, and the occasional trap drop is something to behold. What else would we expect from a classically-trained pianist?
And what more can we expect from Elohim in 2018? Hopefully, some new music – stay tuned as the year rolls out! And make sure to grab your tickets for a show coming to your area or catch her set at a festival you are attending!
Don't miss out! Check Elohim's website for pre-sale links and tickets!
---
Elohim 2018 Tour Flyer: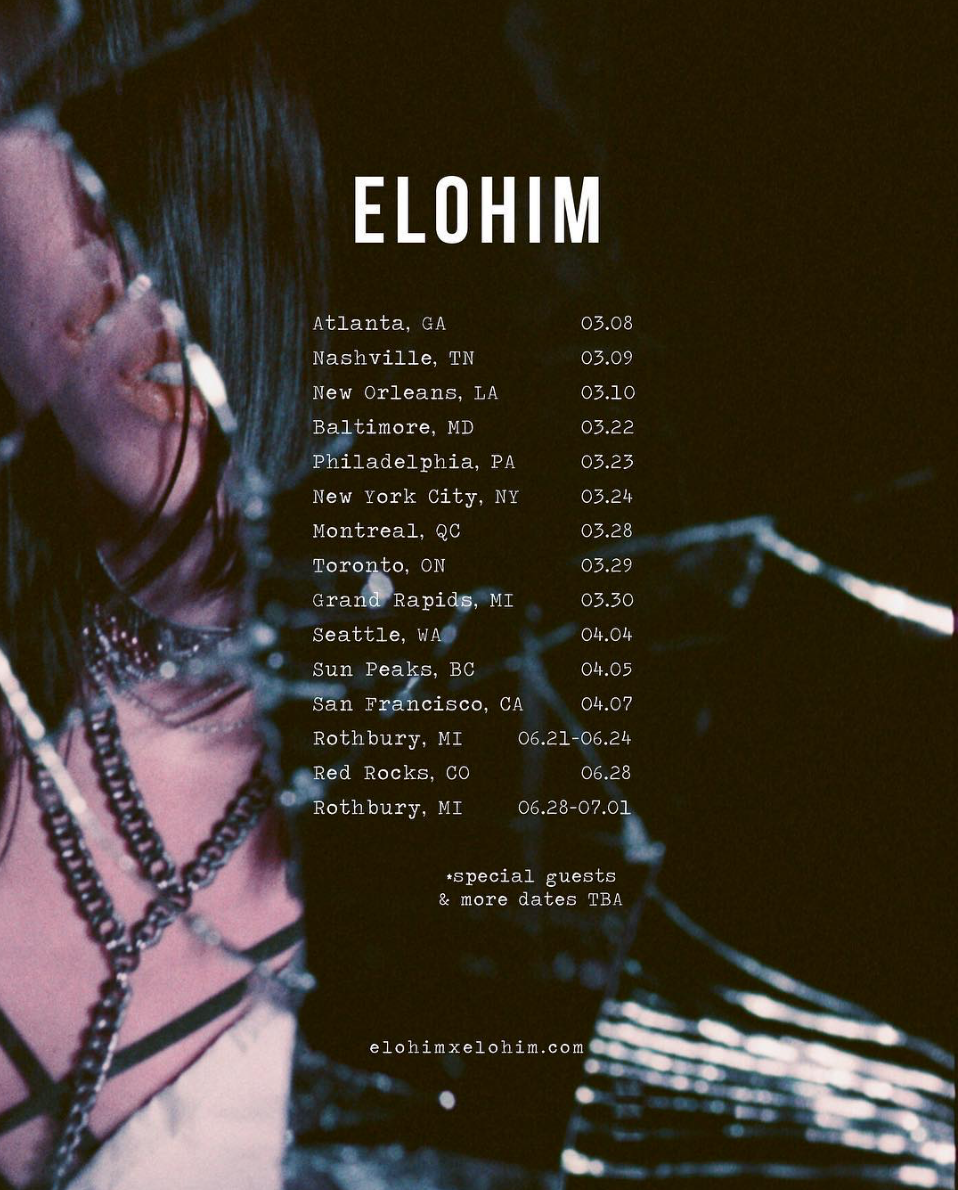 ---
Elohim 2018 Tour Dates: 
March 8 – Atlanta, GA @ Masquerade
March 9 – Nashville, TN @ Exit/In
March 10 – New Orleans, LA @ Buku Music + Art Project
March 22 – Baltimore, MD @ Baltimore Soundstage
March 23 – Philadelphia, PA @ Coda
March 24 – Brooklyn, NY @ Rough Trade
March 28 – Montreal, QC @ Petit Campus
March 29 – Toronto, ON @ Velvet Underground
March 30 – Grand Rapids, MI @ The Intersection
April 4 – Seattle, WA @ The Crocodile
April 5 – Sun Peaks, BC @ Snowbombing
April 7 – San Francisco, CA @ Slim's
April 13-15 – Indio, CA @ Coachella
April 20-22 – Indio, CA @ Coachella
June 7-10 – Manchester, TN @ Bonnaroo
June 21-24 – Rothbury, MI @ Electric Forest
June 28 – Morrison, CO @ Red Rocks
June 28 – July 1 – Rothbury, MI @ Electric Forest
Special Guests + More Dates To Be Announced
---
Connect with Elohim on Social Media:
Website | Facebook | Twitter | Instagram | SoundCloud