2017 was a fantastic year for electronic music! Check out our list of eight albums you might have missed!
---
With all the amazing music released in any given week, it can be tough to keep up with everything going on in the electronic music world. We've spent hours chronicling our favorite albums and tracks of the year, and there are hours of music there alone to be discovered.
With that having been said, there were still a number of different albums that came out in 2017 that didn't quite make our list of ten favorites, but that are still incredible in their own right and deserve some recognition. So if you're looking for something a bit off the beaten path, look no further – we've got you covered.
Eight Electronic Albums You Should Have Listened to in 2017
---

Bicep – Bicep
If you're a fan of innovative, boundary-breaking techno, there is a good chance you've already heard of this album, even if you haven't listened to it. Belfast-based tastemakers-turned-producers Bicep have taken the scene by storm, quickly gathering a legion of fans so enthusiastic that you'll be hard-pressed to seek out opinions about artists you should be paying attention to without hearing their name come up – and the attention is well deserved.
Their eponymous album, Bicep, is an eclectic romp through a delightful series of soundscapes, from driving, synth-driven techno beats to jaunty breaks to contemplative ambient numbers, all carefully layered together in a way that creates tracks that are more than just the sum of their individual parts. And yet somehow, despite the varied styles, they all share a certain mood that pulls you in, captivating the listener from the first track to the last.
Perhaps the best representation of the duo's true talent, though, is "Aura," the first single from the album and the very last step of the journey. Somewhat more dancefloor-oriented than many of the others, its fast-paced, synth-driven melodies propel you forward into a state of motion, practically begging to be danced to.
Give the whole album a spin and see why everyone is talking about Bicep.
---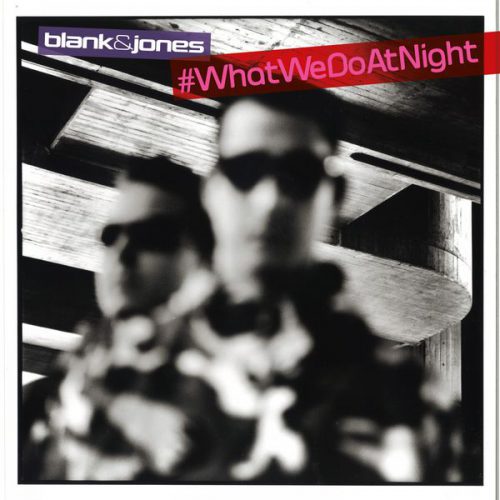 Blank & Jones – #WhatWeDoAtNight
Blank & Jones were a fan favourite trance act in the golden age of trance. Their blend of hard trance and euphoric sounds were played in clubs all over the world. Nevertheless, as time went on, the German duo switched towards ambient and chillout music. After more than a decade away from the club scene, the boys are finally back with #WhatWeDoAtNight.
This album represents their take on the progressive sound. Listening to the album's opening salvo, you'd be hard-pressed to think that it was crafted by an artist that only made chillout music for close to 15 years. Each song tells a story of what people do at night. You can be driving down a lonely road, be in a club and enjoy the energy of the crowd, or simply sit at home in the dark and work on your computer. There's a dark, melancholic vibe spanning most of the record, yet each song is rather different from the previous one.
The highlight track has to be opening song, "#WhatWeDoAtNight." The start is soft, inviting you to look deeper into the dark. The groovy and bouncy percussion give it a bit more punch, making your body move. The vocal samples and the piano pads create a spacey atmosphere, letting you doze off and relax. Each element by itself offers a different take on how you can spend your night. Yet somehow, they work together extremely well to produce a quintessential progressive tune that has a cohesive message: Dancing in a club at night!
---

Com Truise – Iteration
Com Truise's Iteration is perfectly of the moment – in an age dominated by Stranger Things and the resurgence of so much of the decade in which it is set, the album is chock full of 80s-inspired sounds and synths.
While each of the thirteen tracks has its own vibe, they all manage to carry a similar feel throughout the entirety of the album. Like most of Com Truise's other productions, Iteration puts a much heavier emphasis on the rhythm and beat rather than the lyrics, which is exactly as it should be.
If you have time to sample only one of the fantastic instrumental tracks from Iteration, give "Memory" a spin. Its simple synth melody and driving percussion bring to mind times from an era gone by, and it's exactly the three minute and thirty second vacation you need.
---

Crooked Colours – Vera
Crooked Colours' Vera is a perfect blend of electronic melodies, mellow moods, and smooth lyrics that are fantastically uncomplicated and easy on the ears. The relaxed, beachy feel sounds like a combination of Rufus Du Sol and Glass Animals, so fans of those groups will be right at home here.
Although the tracks don't have your typical "bass drop," there are still plenty of high energy elements to keep you interested. For a good sample of what the album is all about, check out "Show Me" – the chill, downtempo groove will put a smile on your face, guaranteed.
---

FKJ – French Kiwi Juice
It was a pleasure when I stumbled upon this gem thanks to TheSoundYouNeed. FKJ finally released a stunning live-instrumentation electronic album that blends and grows the sound in a new direction. For fans of acts like ODESZA, Flight Facilities, and others I'd see at the Ocean View Live stage at CRSSD, you'll find plenty of beauty to love on the album.
Groove permeates many of FKJ's cuts on French Kiwi Juice, where tracks blend saxophones, guitars, and synthesizers. The laid-back mentality of "Skyline" works wonders for the daytime cruise, while "Go Back Home" offers a very catchy cut-up vocal line that one can't help but bob their head to. "Die With A Smile" offers perhaps the most interesting backdrop, blending ChillHop sounds with a stunning guitar line that sounds just like a certain rock legend.
If you're looking for an album to while an afternoon away, enjoy this French Kiwi Juice.
---

Hugh Hardie – Colourspace
For the lovers of the groovy side of drum & bass, if you missed out on Hugh Hardie's debut LP in 2017, you have to go back and take a listen again. Titled Colourspace, Hugh takes a number of drum & bass styles and blends them into a smorgasbord of tasty treats.
The opening track, "Love Troubles," sets the stage for everything to come – a warm, summery tune that infects you with the need to dance. Then there is the 2000's-esque "Camera Obscura" that would have been right in tone with the original Unreal Tournament. Lest we forget the incredible "Fireflies," as well – a blend of soft pianos, growling low-end bass lines, and an uplifting set of sub-lead synthesizer choices.
Indeed, Colourspace is the journey that represented evolution in drum & bass – the marriage of know-how from a refined history with the use of stunning melody to crate up an experience in a one-hour journey.
---

Ovnimoon – Voyage
When people think of psytrance, names such as Astrix, Vini Vici, or John 00 Fleming come to mind. I like to believe that there's another, more important, yet virtually unknown artist that everyone should pay attention to. His name is Ovnimoon, and for the better part of a decade, he's been flying high the flag for fans of unaltered psytrance, full-on, and Goa.
After the demise of Astral Projection, the demise of Goa (the origin of all psytrance music) was inevitable. The progressive psytrance sound took centre stage, leaving the roots of the genre in the dust. Well, Ovnimoon has other plans! For his 8th studio album, cooingly named Voyage, the Chilean mastermind digs deep into the origins of the genre.
The usual progressive psytrance vibes are lost from the first beat, instead replaced by thunderous Full-On rhythm and Goa inspired melodies. The album is all go from the start, and it is not for the faint of heart. You're surrounded by spacey vibes, trippy FXs, spiritual vocal samples. Only the LSD is missing.
His collaboration with Spirit Architect, "Universal Healing Transmission," is the ultimate example of Ovnimoon's genius. The opening minute features a philosophical speech talking about life energy and healing throughout the universe. Once the beats kick in, you get a vibe for the energy that lives within our universe. The various sub-melodies coming in and out, combined with the FXs work, help create a sense of an interstellar voyage. A voyage from which you end up feeling different, feeling healed of sorts. Music, in its simplest form, is meant to touch people – and this song does exactly that!
---

Sam Paganini – Zenith
A dance down into the dark side of techno, Italy's Sam Paganini stunned fans all over the world with a two hour, ten-track power session that will capture the soul with the type of energy reserved for only the most serious of techno fanatics. The two-minute intro (title track) sets the tone for the entire album featuring billowing synths that from first listen will send shock waves through your conscious mind, setting each and every hair on your body at full salute.
This is an album that has been designed to blend delectable power packed techno kicks with invigorating energy married flawlessly to each relative bassline, achieving impeccable balance as we journey through the rabbit hole, all the while tantalized and terrorized by sexy undertones and creepy sound bytes with a couple quirky tunes that pop in for good measure, nodding to Sam's multidimensional prowess.
"Hypnotize" featuring Zoe is in my opinion, the best track on the album followed closely by "Elevator". Both tracks highlight each and every deep dark element that makes this album one that will forever stand the test of time dishing out intense pulse-pounding drive that lifts you up, paired with a unique guttural character that pulls you back down, paying homage to Sam Paganini's unmatched raw techno mastery inside the studio.
---
What do you think we should have been listening to in 2017? Let us know in the comments!