Welcome to The Landing, EDM Identity's weekly post highlighting fresh tracks you may have missed!
---
Since the introduction of streaming sites and mediums like Bandcamp available for artists to release on, new music is hitting us faster than ever and the abundance of releases can almost be overwhelming. We know that it is a difficult task to keep up with every artist, so we're here to assist you with some gems that "land" in our inboxes. In every edition of The Landing, we intend to highlight some tracks that you may have missed, or perhaps shine a light on new music for you to fall in love with.
This week's edition of The Landing features fresh tracks from Walker & Royce, Kisnou, Kasbo, Zeds Dead & Jauz, and ZEWMOB!
The Landing || December 24-30, 2017
---

Walker & Royce's hotly anticipated remix of "La La Land" is finally here!
Walker & Royce – Facebook | Twitter | SoundCloud
If you've seen any tech house this year, you have without a doubt witnessed the resurgence of Green Velvet's epic track, "La La Land," with remixes by several different artists taking center stage throughout 2017. Perhaps the most talked about remix was Walker & Royce's funky take – so much so, in fact, that fans drove themselves crazy trying to find out whose it was and when they could get their hands on it.
Well, the long wait is over, and the remix was finally made available on December 29. Give it a listen below and discover why it was one of the hottest tracks of festival season in 2017.
---

Ambient beauty to wind down the year with a bit of hope!
Kisnou – Facebook | SoundCloud | Bandcamp
Something absolutely stunning here from Kisnou.  I stumbled onto it thanks to my YouTube subscriptions and every time I've heard it over the past week plus I instantly get tears in my eyes.  The vocal sample in the track is from the video game What Remains Of Edith Finch?, and I personally am not familiar with it.  There's clearly something tragic here – but by the same token, there's a hope for beauty, release, and growth.  I'm just going to shut up and let you play this one.
---

Warm back up as we return to "Indian Summer!"
Kasbo – Facebook | Twitter | SoundCloud
"Indian Summer" was an instant classic when bringing the warmth and the sun-filled vibes to a party was necessary.  It waned slightly in familiar playlists in recent months, but Kasbo instantly reinvigorated it with this captivating remix.
Focusing on moody guitar riffs, echoing sub-vocals, but retaining the signature original samples and melodies, Kasbo allows the track both room to breathe and room to grow even more infectious.  It's the guitar riffs and the effortless mood they bring that offer so much to love here.  You'll notice the tempo is slightly increased as well over the original, and perhaps, that's all for the better as we weather the colder months in the Northern hemisphere. Here's to the summer!
---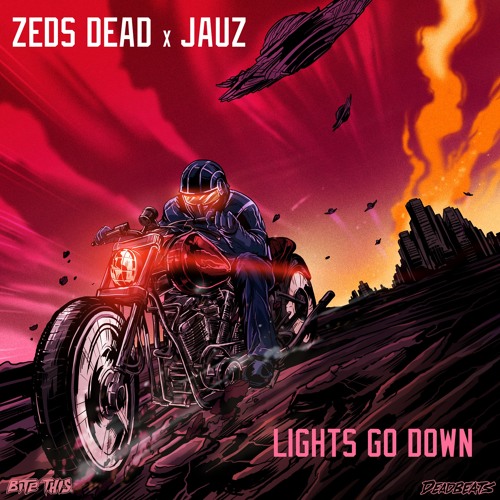 Zeds Dead x Jauz showcase their DnB side in "Lights Go Down"!
Zeds Dead – Facebook | Twitter | SoundCloud
Jauz – Facebook | Twitter | SoundCloud
When it comes to bass-heavy collaborations you don't get much better than a track crafted by Zeds Dead and Jauz. The Deadbeats and Bite This artists lend their unique sounds to the track creating an energetic party starter banger. You get a dose of Jauz's deep bass sound throughout the track with some Zeds Dead's DnB and production. Finding new tracks to bump at a gathering is always fun, but you'll want to keep this at the top of your playlists.
---

ZEWMOB gets those booties percolating with "AKON"!
ZEWMOB – Facebook | Twitter | SoundCloud
The bass house game remains strong in Tuscaloosa as ZEWMOB takes their game to the next level with a brand new hip-house rap fusion called "AKON" featuring the lyrical stylings of Further Ado. Drawing inspiration from artists such as Dr. Fresch, Malaa, and Rezo, ZEWMOB delivers a booty shaking peak hour stunner that will light up the dance floor with endless energy and swag.
ZEWMOB is a live electronic duo dreamed up and brought to fruition by Ryan Lee and Clay Woods of Tuscaloosa, Alabama, paving the way for the southeast's fast-expanding electronic dance music scene with original productions and remixes that range from future bass to deep house. Already this act has been making waves, opening up for the likes of Thomas Jack, Two Friends, Big Wild, Waka Flocka Flame, and many more!
In September of 2017, The duo made a massive impression on the industry, performing a tech house/trap hybrid set at Imagine Music Festival 2017 in Atlanta, GA, gifting their unique and creative flavor that culminated into one hell of a party on the dance floor!
For another taste of ZEWMOB insanity, make sure to check out "Victor Perry – Rainbows (ZEWMOB Remix)" a piece that received an exclusive premier through Canadian-record label FUTURECLASSICS.ca gaining over 34k SoundCloud plays, climbing to #1 on HypeMachine's Twitter chart, and #2 on HypeMachine's "Most Popular Tracks on Blogs" Chart.