Calling all Desert Hearts! Mark your calendars as the dates for their annual spring extravaganza are out now.
---
Desert Hearts has become renowned for their unreal vibes and nonstop music that plays from the start of the festival till the very last minute. Bringing 72-hours of house and techno-fueled beats to attendees from all over the globe once again, the Desert Hearts Festival is set to take place at Los Coyotes Indian Reservation on April 27-30, 2018!
Wondering how the 2017 edition of the festival went down? Check out our event review!
Over the years the festival has seen major names take the stage like Ardalan, Max Chapman, and Sacha Robotti alongside legendary artists like Doc Martin and Marques Wyatt. Of course, it wouldn't be a Desert Hearts party without the family being there, and sets from Mikey Lion, Porkchop, Marbs, and Lee Reynolds will be playing their hearts out at the fest!
Tickets for Desert Hearts Festival 2018 go on sale January 16, more info can be found at deserthearts.us!
Desert Hearts Co-Founder Mikey Lion had this to say about the festival:
"It's been full steam ahead and all systems go spreading this message of love as far and wide as possible, but no matter how many parties we throw or cities we tour, there's nothing in the world that compares to our Desert Hearts Festival. If we're all the veins of this movement, the festival is the heartbeat that pushes the love through us. It's the soul of our community and the driving force behind our ethos. We cannot wait to spend another 4 days at Los Coyotes with you beautiful people. It's time to re-energize the family and spread as much love and positive energy as humanly possible."
---
Watch the announcement video for Desert Hearts Festival 2018 on YouTube:
---
Desert Hearts Festival 2018 Announcement Flyer: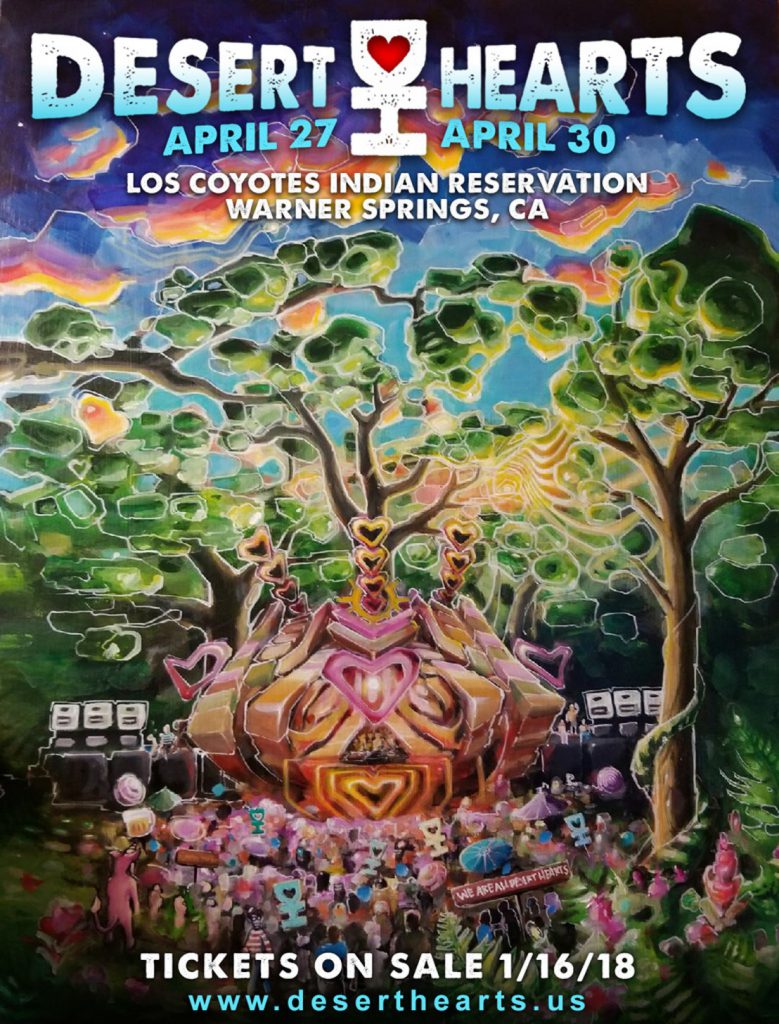 ---
Connect with Desert Hearts on Social Media:
Website | Facebook | Twitter | Instagram | SoundCloud