With the close of the most recent Desert Hearts Festival, we are both humbled and amazed at the ways in which this festival has grown while still remaining true to what it means to be a part of this community.
---
Every year our minds are blown away by Desert Hearts, and every year we ask, "How could this get any better?" This year we were taken to a place of incredible art, fearsome fire, heart fulfilling house and techno music, and some of the deepest love that has ever been felt before. From the moment that festival attendees arrived at the Los Coyotes Indian Reservation, they were greeted by happy people who were filled with song, jokes, and all around good cheer. Patrons who were cigarette smokers were also given a customized pocket ashtrays with cool inspiration quotes and fun facts that helped make you feel that cleaning up was the cool thing to do. Desert Hearts Festival has taken what it means to be cool into a whole new place.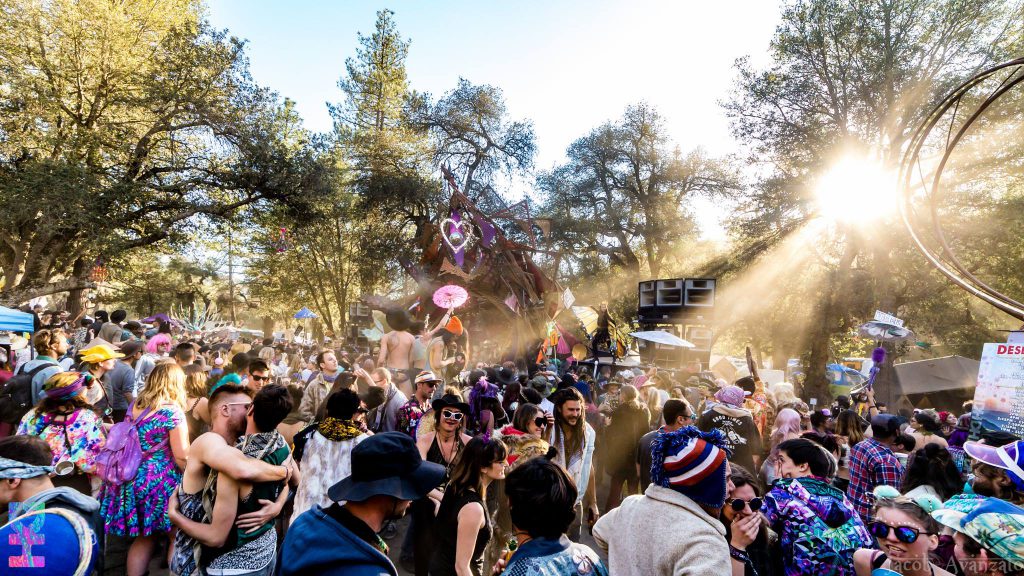 While some institutions of the Desert Hearts scene has remained the same, there is a vast amount of new changes that brought about an amazing new twist on what was already a groundbreaking event.
One strong aspect of the Desert Hearts community has always been that everyone is dressed up in some of the most eccentric garb that has ever been seen. It's as if the Coachella and Burning Man fashion gods took a stroll in the LA fashion district and went nuts on whatever they could find. Lots of jewels, lights, and sparkles; plenty of fuzzy and furry items, and absolutely no shortage of animal prints anywhere to be found. This year was no exception, and to throw a juicy cherry on the top of this pretty sundae there was a fashion show that knocked everyone's rocking heads off. From what was seen there, it is assured that the fashion of Desert Hearts, and its runway show, will continue to grow as one of the most loved and important events of the entire weekend.
The food has always been a great aspect of Desert Hearts for me as well. This time Mozy kept slanging the most banging breakfast burritos and the soup lady returned to keep the people if the night warm with their hearty soups. The "Get Fried Rice" stand had the most amazing Tom Kha Gai soup that helped keep people grooving to the beats too.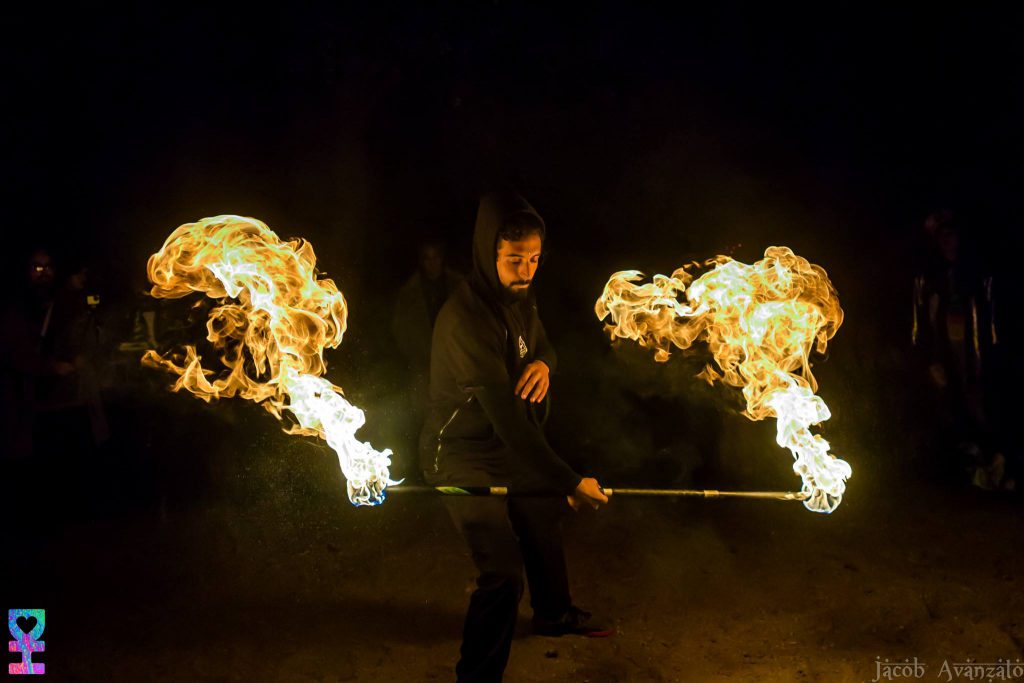 Once again, the fire performers stole the show for me.
The West Coast Eclectic Arts group showed us why they are not to be missed, ever. Some of these performers had us under a spell and totally gave some patrons a "flow crush". From fire poi to fire hula hooping, to the newly seen fire parasol, fans were stunned. These guys know what it means to push the limit and continually be on the cutting edge of fire performance. From strong shows from Tiana, to some of the more delicate hula-hoopers, we can see that many different styles are all represented. A pirate showed us that you can be a badass and spin fire, and you can also be a sensitive sensuous soul that shows off the ancient art or rope binding. There was even one particular lady wielding a fire whip that was no joke. She also sported a very minimal outfit, which featured booty shorts that included the phrase, "Let's Talk First". A solid reminder to the overly anxious boys out there, even if a lady's body is mostly exposed, that she is still a person to be respected. The flow arts are strong with the West Coast Eclectic Arts, so if you ever get a chance to catch them, don't miss it!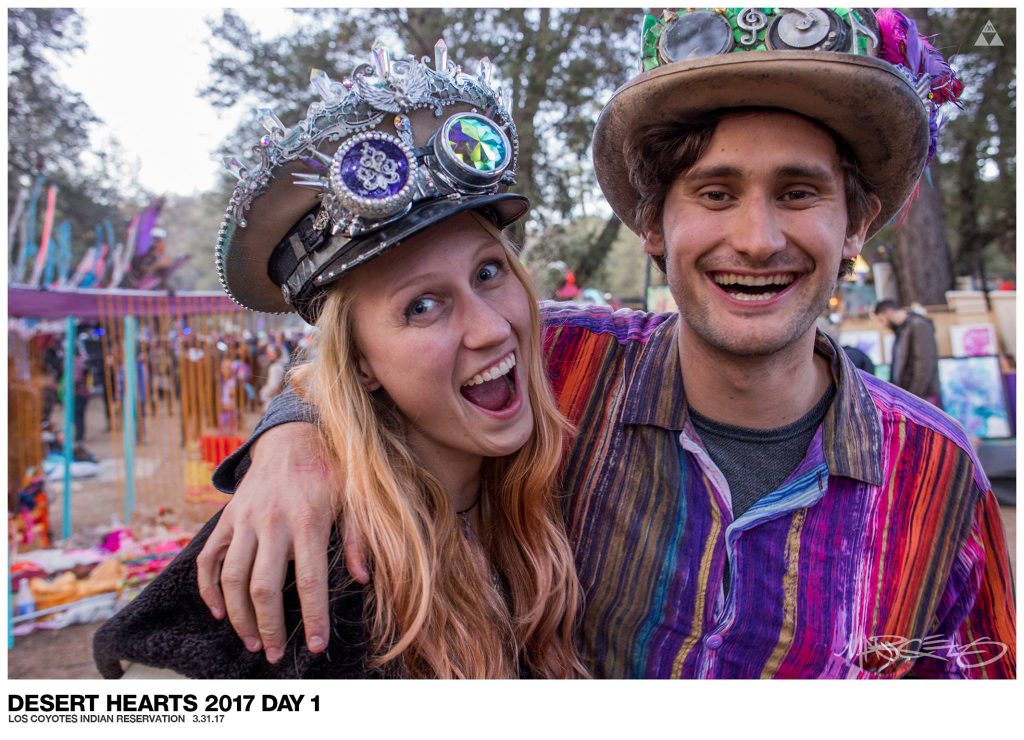 The music this time around was great, of course, and the plethora of artists the DH team brought together was amazing.
The Desert Hearts crew collided with the Dirtybird crew for one all out fun-filled freaky fest. The midnight show on Saturday had brothers Christian and Justin Martin paired up against Mikey Lion and his brother, Porkchop. They had an insane mashup of songs that seamlessly flowed into one another. The only question that was left unanswered to me was if these two sets of brothers actually play Super Smash Bros against each other? And if they do, who does each person play as and who is the best player of them all?
Desert Hearts Festival has become a major event in people's lives all over the SoCal scene. The music, art, and vendors all take a backseat to the true meaning of Desert Hearts. That meaning is how love to again. Not just your family, but the new friends you make, the art that we see, and especially how to love yourself again. For it's at these times that when we are at our most loving, that we are also in our most beautiful state of being. I cannot wait to join you all again for such a beautiful time.
---
Connect with Desert Hearts Festival on Social Media:
Website | Facebook | Twitter | Instagram | SoundCloud | YouTube
Featured Photo Credit: Jacob Avanzato