Mark your calendars – on March 9, 2018, Stimming x Lambert will release their debut Exodus LP.
---
This March, German house duo Stimming x Lambert will release their debut LP, Exodus, on brand new label Kryptox. The seven-track long-player is due out on March 9, 2018, but listeners can pre-order the album via iTunes today.
Stimming x Lambert made their debut on label Life and Death's Displaced Soundtracks earlier this year with their initial track, "Trafic Aérien". You can listen to their debut track below to get a taste of the emotive, otherworldly music that you can expect from the duo.
Listen to Stimming x Lambert – "Trafic Aérien" on SoundCloud:
Stimming had this to say about their debut album:
"I did most of the production last year while touring Asia," says Stimming. "Shacked up in an 8 square-meter hotel room in Osaka and with my trusty Elektron devices in hand, I combined grooves reminiscent of my Liquorice album with Lambert's stunning harmonies. It's quite funny actually –  before we started this project together, I was wondering what it would be like to be able to play piano on a higher level. I found myself daydreaming at times, thinking, "I would love to make the kind of music that Lambert is making."
Along with the announcement of their debut album comes a tour, which will span six dates in European cities including Dublin, London, Hamburg, and others in March following the album's release.
Check below for the full tracklist and tour dates, and make sure to pre-order your copy of Exodus via iTunes ahead of its release on March 9, 2018.
Watch the Stimming x Lambert Album & Tour 2018 Teaser on YouTube:
---
Stimming x Lambert – Exodus Tracklist:
Intro
Morsches Holz
Edelweiss
Trauerweide
Der Blaue Fels
Grande
Outro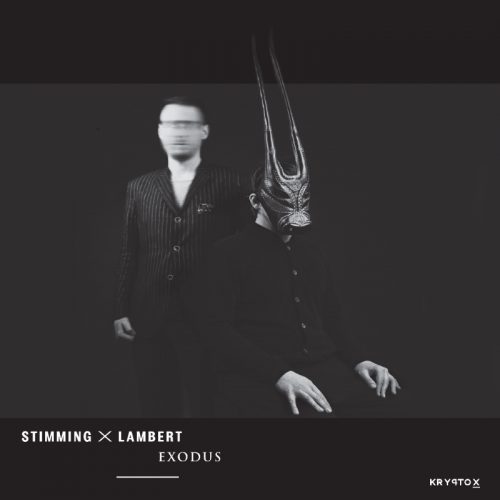 ---
Stimming x Lambert – Exodus Tour Dates:
3/14 – Dublin, Ireland @ Sugar Club
3/15 – London, UK @ Corsica Studios
3/17 – Istanbul, Turkey @ Salon
3/21 – Berlin, Germany @ Berghain Kantine
3/22 – München, Germany @ Ampere
3/23 – Hamburg, Germany @ Molotow
---
Connect with Stimming x Lambert on Social Media:
Connect with Kryptox on Social Media: