Electric Forest just blew us away by announcing their lineups for Weekends 1 and 2 in 2018!
---
Electric Forest returns to Rothbury, Michigan once again for two uniquely epic editions of the festival. The First Weekend is set to take place from June 21 – 24, while the Second Weekend is set for June 28 – July 1.
Coming off an absolutely stellar edition this past June and having already announced the EF Wish Machine program this year's edition of the festival, the hype for Electric Forest 2018 grew to an immense size. Forest HQ teased a lineup reveal earlier this month by releasing some of the artists playing this year through hints at a show in Ann Arbor, Michigan, but now the lineups for both weekends has been unleashed.
Headlining both weekends of Electric Forest will be The String Cheese Incident, Bassnectar, GRiZ with a live band, RÜFÜS DU SOL, and ZHU. Additionally, the sub-headliners on both weekends are just as stacked with Bonobo (Live), Chromeo, Cut Copy, Malaa, and more.
Electric Forest's First Weekend in 2018 will feature exclusive headliner Galantis, along with a solid sub-headliner list that includes JAUZ, Keys N Krates, Lil Dicky, Green Velvet, and Washed Out.
The Second Weekend of Electric Forest 2018 has a series of exclusive artists that will blow any music lover away. Additional headliners of Marshmello and Testpilot will be bringing the two internet adversaries to the festival on the same weekend. The sub-headliners are epic in their own right, as Datsik, Get Real, REZZ, and Superduperkyle will also be serenading crowds.
The undercard for both weekends, exclusive or not, is filled to the brim with artists from a wide variety of genres and definitely will get any music lover interested in attending this year's edition. Loyalty tickets for Electric Forest 2018 go on sale next month, so make sure to stay tuned for more updates on the festival!
Check out the lineups below and let us know which weekend of Electric Forest you plan on attending this year!
---
Electric Forest 2018 – Weekend 1 Initial Lineup: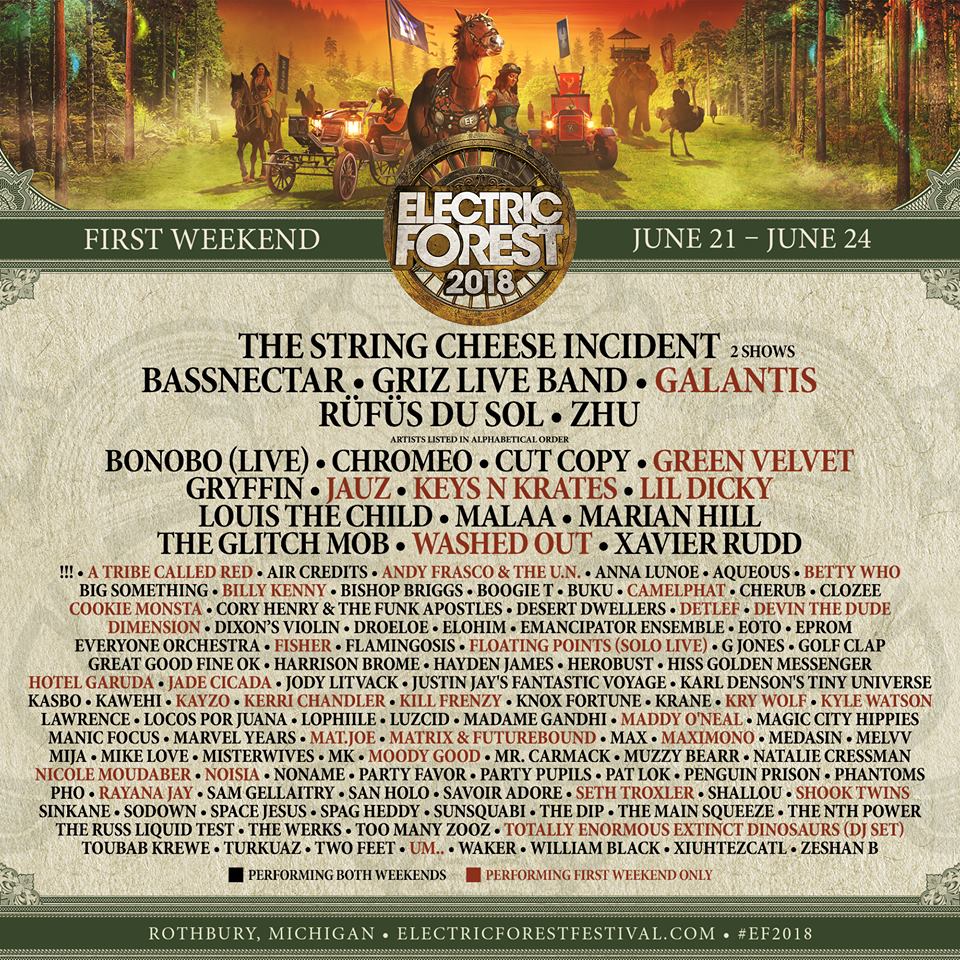 Electric Forest 2018 – Weekend 2 Initial Lineup:
---
Weekend 1 Initial Lineup By Artist:
The String Cheese Incident
BASSNECTAR
GRiZ Live Band
Galantis
RÜFÜS DU SOL
ZHU
Bonobo (Live)
Chromeo
Cut Copy
Green Velvet
Gryffin
Jauz
Keys N Krates
Lil Dicky
Louis the Child
Malaa
Marian Hill
The Glitch Mob
Washed Out
Xavier Rudd
!!!
A Tribe Called Red
Air Credits
Andy Frasco & The U.N.
Anna Lunoe
Aqueous
Betty Who
Big Something
Billy Kenny
Bishop Briggs
Boogie T
Buku
Camelphat
Cherub
CloZee
Cookie Monsta
Cory Henry & The Funk Apostles
Desert Dwellers
Detlef
Devin The Dude
Dimension
Dixon's Violin
DROELOE
Elohim
Emancipator Ensemble
EOTO
EPROM
Everyone Orchestra
Fisher
Flamingosis
Floating Points (solo live)
G Jones
Golf Clap
Great Good Fine OK
Harrison Brome
Hayden James
Herobust
Hiss Golden Messenger
Hotel Garuda
Jade Cicada
Jody Litvack
Justin Jay's Fantastic Voyage
Karl Denson's Tiny Universe
Kasbo
Kawehi
Kayzo
Kerri Chandler
Kill Frenzy
Knox Fortune
KRANE
Kry Wolf
Kyle Watson
Lawrence
Locos Por Juana
Lophiile
LUZCID
Madame Gandhi
Maddy O'Neal
Magic City Hippies
Manic Focus
Marvel Years
Mat.Joe
Matrix & Futurebound
MAX
MAXIMONO
Medasin
Melvv
Mija
Mike Love
Misterwives
MK
Moody Good
Mr. Carmack
Muzzy Bearr
Natalie Cressman
Nicole Moudaber
Noisia
Noname
Party Favor
Party Pupils
Pat Lok
Penguin Prison
Phantoms
PHO
Rayana Jay
Sam Gellaitry
San Holo
Savoir Adore
Seth Troxler
Shallou
Shook Twins
Sinkane
SoDown
Space Jesus
Spag Heddy
Sunsquabi
The Dip
The Main Squeeze
The Nth Power
The Russ Liquid Test
The Werks
TOO MANY ZOOZ
Totally Enormous Extinct Dinosaurs (DJ Set)
Toubab Krewe
Turkuaz
Two Feet
um…
Waker
William Black
Xiuhtezcatl
Zeshan B
---
Weekend 2 Initial Lineup By Artist:
The String Cheese Incident
BASSNECTAR
Marshmello
GRiZ Live Band
RÜFÜS DU SOL
Testpilot
ZHU
Bonobo (Live)
Chromeo
Cut Copy
Datsik
Get Real
Gryffin
Louis the Child
Malaa
Marian Hill
REZZ
SuperDuperKyle
The Glitch Mob
Xavier Rudd
!!!
Air Credits
Anna Lunoe
Aqueous
Attlas
Big Something
Bishop Briggs
BlackGummy
Boogie T
Boombox Cartel
Buku
Calyx & Teebee
Cassian
Chalk Dinosaur
Cherub
Chris Lake
CloZee
Cory Henry & The Funk Apostles
Crankdat
Cut Snake
Dena Amy
Desert Dwellers
Dixon's Violin
Doc Martin
DROELOE
Elohim
Emancipator
EOTO
EPROM
Elohim
Emancipator
Everyone Orchestra
Flamingosis
Fruition
G Jones
Golf Clap
Great Good Fine OK
Harrison Brome
Hayden James
Herobust
Hiss Golden Messenger
Jeremy Olander
Jody Litvack
Justin Jay's Fantastic Voyage
Karl Denson's Tiny Universe
Kasbo
Kawehi
Knox Fortune
KRANE
Lane 8
Lee Reynolds
Lawrence
Locos Por Juana
Lophiile
LOUDPVCK
LUZCID
Madame Gandhi
Magic City Hippies
Manic Focus
Manilla Killa
Marbs
Marvel Years
MAX
Medasin
Melvv
Mija
Mike Love
Mikey Lion
Misterwives
MK
Motez
Mr. Carmack
Muzzy Bearr
Natalie Cressman
Netsky (DJ Set)
Noname
Party Favor
Party Pupils
Pat Lok
Penguin Prison
Phantoms
PHO
Porkchop
Portico Quartet
QUIX
Rinzen
Rybo
Sam Gellaitry
San Holo
Savoir Adore
Shallou
Sinkane
SoDown
Space Jesus
Spag Heddy
SQUNTO
Sunsquabi
The Dip
The Main Squeeze
The Nth Power
The Russ Liquid Test
The Werks
TOO MANY ZOOZ
Toubab Krewe
Turkuaz
Two Feet
Waker
William Black
Xiuhtezcatl
Zeshan B
---
 Connect with Electric Forest on Social Media: