Just A Gent gives us the inside scoop on his "Killing in the Name of" rework, upcoming Australian producers, and more!
---
If Just A Gent, aka Jacob Grant, isn't on your musical radar, you'll be glad you came across this interview. At just 20 years old the Australian DJ/producer has played festivals around the world, sold out shows on his headlining tours, and will be headed stateside with Droeloe to support San Holo on the Gouldian Finch 2 Tour. After catching his set at Nocturnal Wonderland I cannot wait for him to come through San Diego on December 10!
His unique sound gets crowds juiced and he has an incredible catalog of original tracks and remixes. Next time you have the opportunity to catch Just A Gent, do not pass it up. In the meantime get to know the man behind the mustache in our interview below and check out the Gouldian Finch 2 Tour dates below!
Purchase tickets for the Gouldian Finch 2 tour here!
---
When did you get your start in the electronic music scene and who are your influences as an artist?
I started getting into electronic music about 8 or 9 years ago when my mum bought me a Ministry of Sound compilation. At the start of my electronic endeavor, I really loved Australian artists The Aston Shuffle, Tommy Trash, & Hook n Sling. I listened to these artists religiously before discovering the likes of Mat Zo, Arty, & Seven Lions who really inspired me to make more trance influenced chord progressions and synths. It all just developed from there.
How did the Just A Gent look come to be with the whole tuxedo and top hat? Did you have a mustache before?
My mates from school and I used to call ourselves The Gents and dressed up in suits and ties when we went to local house parties and dinners, etc. We thought we were pretty cool and I really loved wearing a suit so I thought why not incorporate this into my music career? I didn't have a mustache when I first started the project (mostly due to the inability to grow one haha)!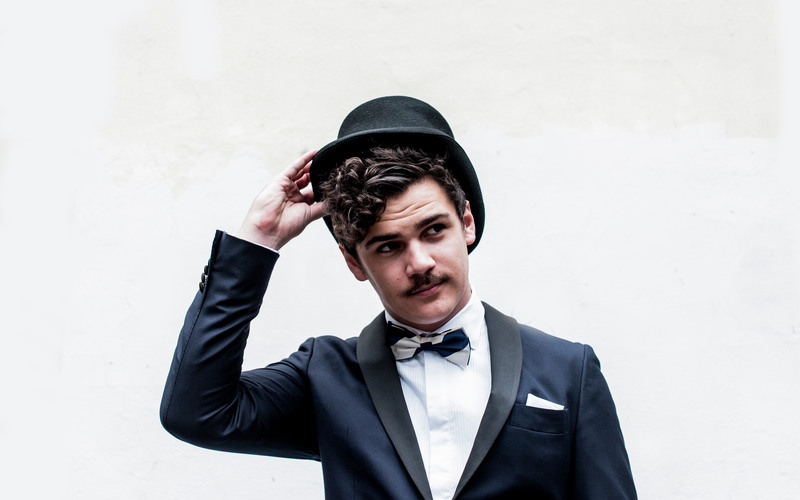 Since starting your career you've played shows all over the world. What is one of the most memorable sets you've played?
One of my favorite shows of all time was when I played Splendour in the Grass in Byron Bay back in NSW Australia. That was such a crazy experience and I definitely will never forget it.
You released your first EP, Stories To Tell, in 2016. What was it like collaborating with all the other featured artists and producing an EP start to finish?
It was quite a challenge to finish it and make the tracks feel like they were part of the same collection because a lot of the songs were made a long time before the others. They weren't made in the span of a few months or anything. I had to go back into the projects and try to unify them a bit more. It was amazing to collaborate with all the artists and it's amazing to see them all achieving big things on there own right now!!
Having recently released "Hold" with fellow Australian producer Thief, who is another artist you'd like to collaborate with in the future?
I'm not too sure. I just love making music with friends and there are plenty of artists that I would love to work with, but no one in particular.  I'm currently on tour with San Holo and Droeloe so it would be dope to finish a few tracks with those guys.
There is a ton of great music being produced by Australian artists. Who is an artist in the scene Down Under we should be tuning into right now?
I've said it plenty of times, but get behind Leotrix. That kid is insane and if you haven't heard of him get with it ASAP.
One of my favorite remixes of yours is Rage Against The Machine's "Killing in the Name Of". It was awesome that you closed with that at Nocturnal. Will there ever be an official release of that, or will it remain an unofficial one?
I chucked it up on my bootleg SoundCloud account "Just A Tune" but I don't think the track will ever get an official release, that song is too classic haha.
https://soundcloud.com/just-a-gent/sets/killing-in-the-name-just-a
What is the biggest struggle you've faced in your career so far?
The biggest struggle I find is trying to stay innovative with electronic music. I always want to be putting out sounds that people haven't really heard before and it is becoming harder and harder to stand out from the crowd.
Having found success already as a producer, what is some advice you have for producers beginning their careers?
Keep at it. It can take a long time before you see any progress in your music career, but if you keep making beats and keep hustling hard you will see the results.
What can fans expect from Just A Gent in the near future? Any projects you are currently working on or planning?
I'm working on an EP/album and I cannot wait for everyone to hear it! New music should be coming very shortly!
---
San Holo – Gouldian Finch 2 Tour Dates: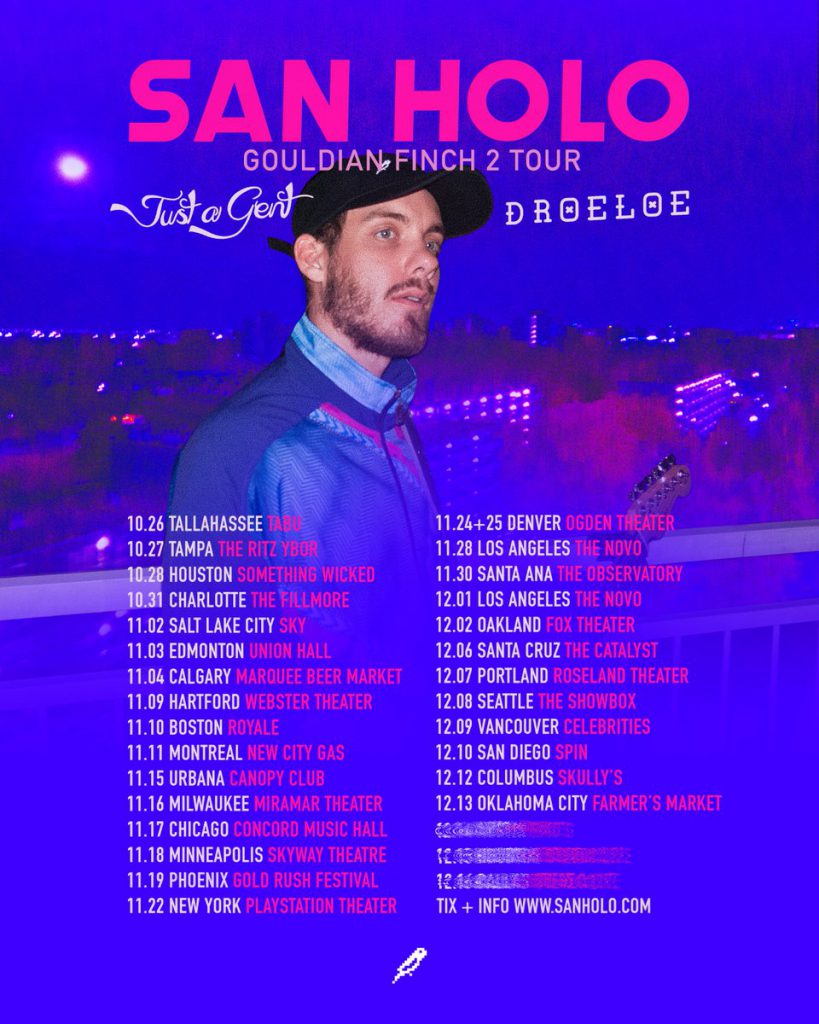 ---
Connect With Just A Gent on Social Media:
Website | Facebook | Twitter | Instagram | SoundCloud