Club Vinyl plays host to Anjunadeep Denver on December 2, featuring Gab Rhome, Jody Wisternoff, and Luttrell.
---
On Saturday, December 2, venerable deep house label will host Anjunadeep Denver as part of its 2017 North American Tour at Club Vinyl. Each year, Anjunadeep brings some of its finest to cities across the continent, and 2017 is no exception as the label brings Gab Rhome, Jody Wisternoff, and Luttrell to the Mile High City.
Jody Wisternoff is no stranger to Denver and has made a number of appearances here both on his own as part of the Anjunadeep tour and together with Nick Warren as part of Way Out West. Having recently released the stunning Anjunadeep 09 compilation with label head James Grant, you can expect to hear highlights from some of Anjunadeep's best and brightest in what is certain to be a high-octane set from the label's head of A&R.
Although a relative newcomer to Anjunadeep, Luttrell has been around the scene for some years as part of the group Manufactured Superstars. On his own, Eric Luttrell has made a splash – his name has become synonymous with exceptionally crafted melodic techno that keeps you on the edge of your seat. If his set at ABGT250 is any indication, fans in Denver are in for quite a treat as Luttrell takes the decks this Saturday.
Gab Rhome made his Anjunadeep debut in 2015 with his Drifting EP and returned again in 2016 with Ceremonie Des Adieux EP. The Montreal-born producer began making music at an early age, playing multiple instruments and gaining a deep knowledge of music theory that he has since applied handily to his ethereal, mesmerizing productions.
Make sure to grab your tickets for what is certain to be another fantastic Anjunadeep performance, and we'll see you on the dance floor!
Listen to The Anjunadeep Edition 173 with Jody Wisternoff & James Grant (Live From ABGT250 At The Gorge) on SoundCloud:
---
Anjunadeep Denver at Club Vinyl – Essential Info:
Date: Saturday, December 2, 2017
Hours: 9 pm – 2 am
Ages: 18+
Venue Address: Club Vinyl – 1082 Broadway, Denver, Colorado 80203
Tickets: HERE
Facebook Event Page: HERE
---
Anjunadeep Denver at Club Vinyl – Event Flyer: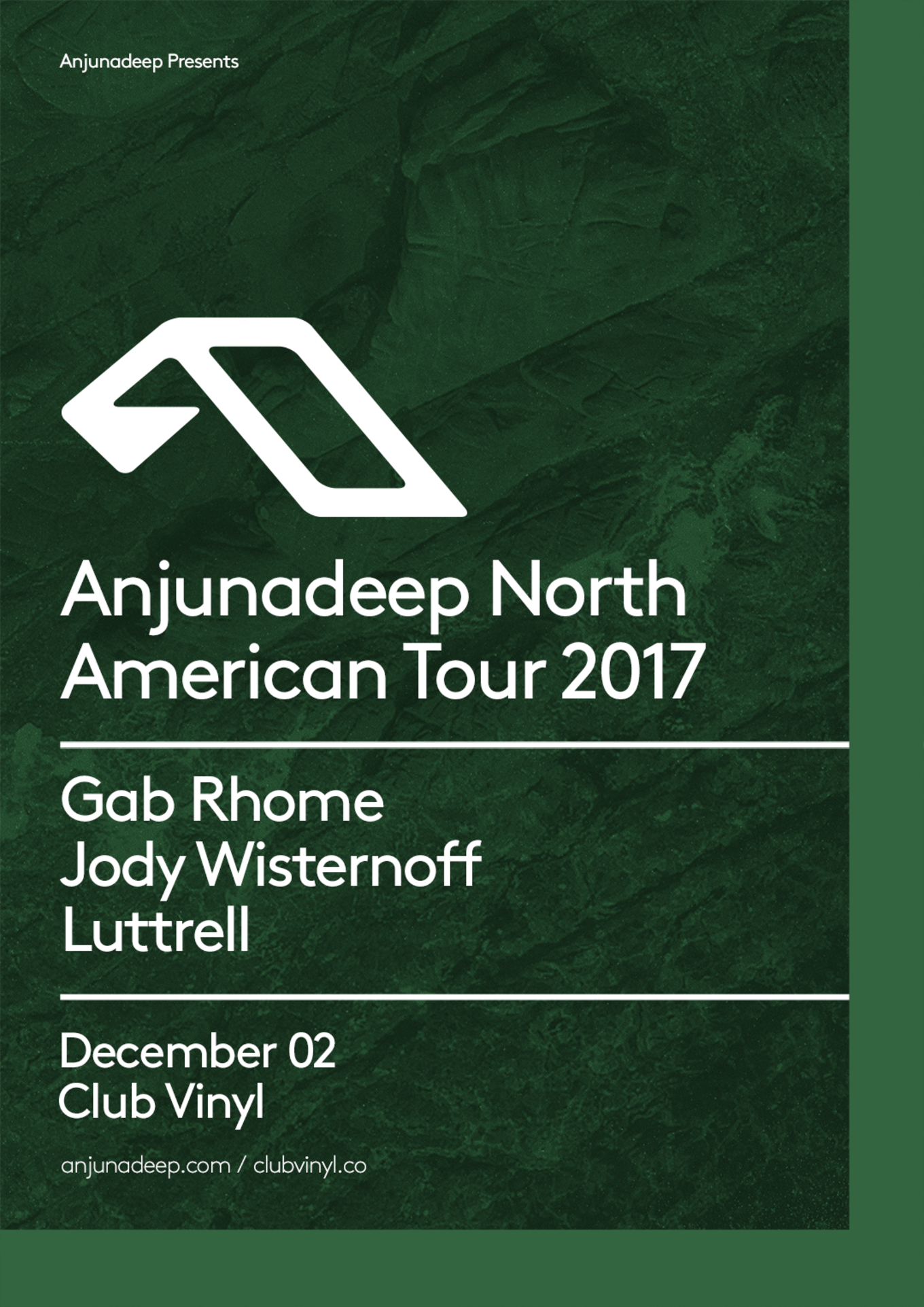 ---
Connect with Anjunadeep on Social Media:
Website | Facebook | Twitter | Instagram | SoundCloud | YouTube
Connect with Jody Wisternoff on Social Media:
Website | Facebook | Twitter | Instagram | SoundCloud
Connect with Luttrell on Social Media:
Facebook | Twitter | Instagram | SoundCloud
Connect with Gab Rhome on Social Media:
Facebook | Twitter | Instagram | SoundCloud
Connect with TheHundred Presents on Social Media: