ODESZA's A Moment Apart tour is setting new standards for just how special and beautiful a show can be.
---
I knew that this night was going to be unbelievable, but I had no idea just how special it would be. I might go as far as to say it was the best show I've ever experienced! I've never witnessed so many elements come together in beautiful unison; the drumline, visuals, lights, trumpets, lasers, and of course ODESZA themselves created a stunning story for each and every track.
Nobody can deny that ODESZA's music is magnificent to begin with, but the stellar production allowed the tracks to be experienced to their full potential, truly touching my heart and soul. The amount of planning that must've gone into that show is unimaginable, each moment designed to perfection.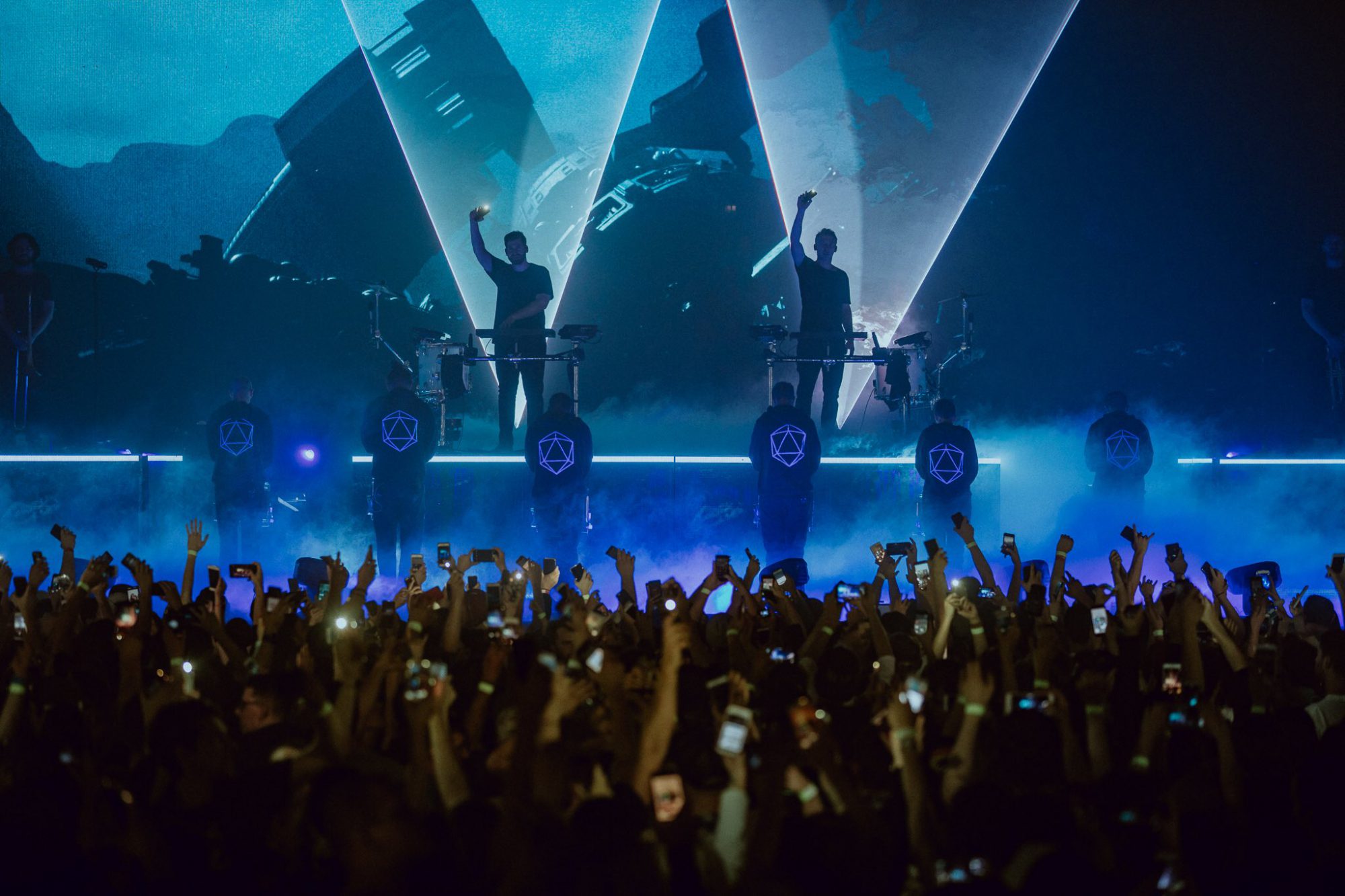 We arrived just in time to catch the last few songs of the first opener, Louis Futon, who killed it on stage despite the minimal production for his set. His passion was tangible, and he closed things out with his new amazing track "Restless Sea" (ft. Opia), released this past Friday on Foreign Family Collective.
Next up we got some crazy jungle vibes with Sofi Tukker, the duo running around on stage, dancing and banging their palm tree drum. Their fun house vibes were a great way to dance some of our energy out before settling in for the main event: ODESZA.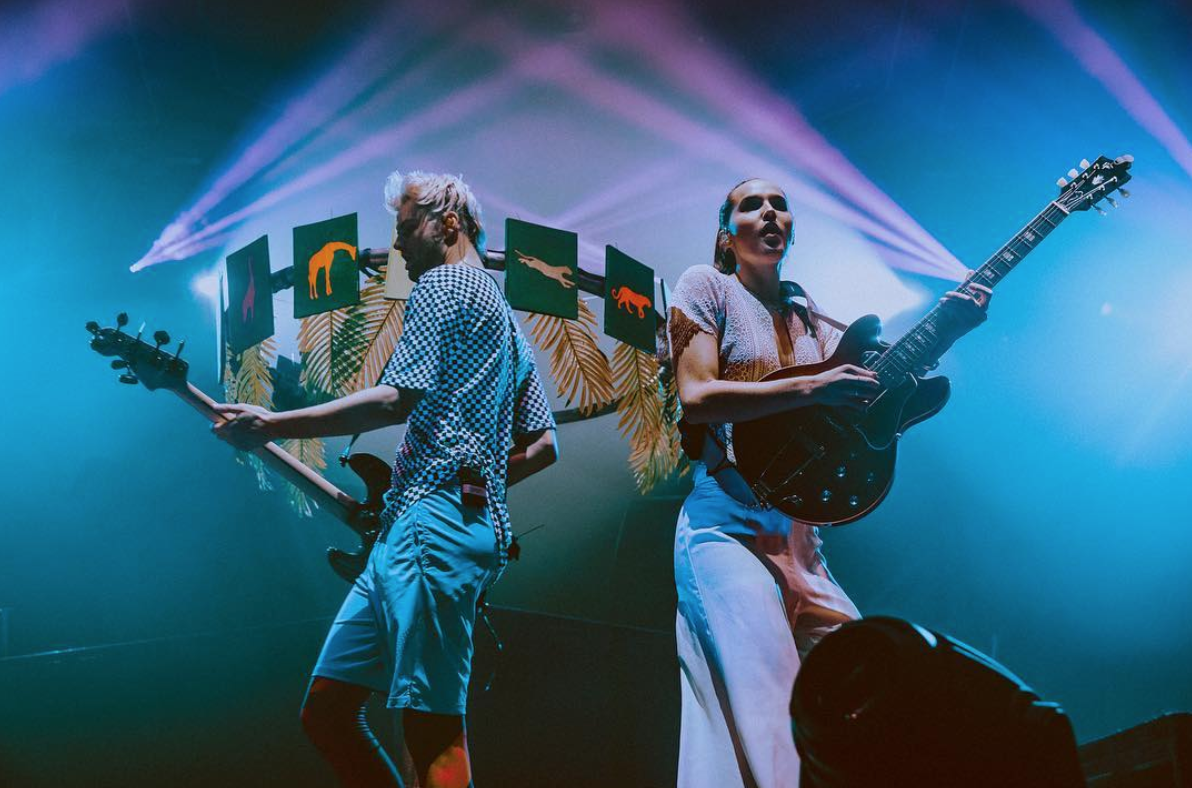 A thirty-minute break to set up the stage broke up Sofi Tukker and ODESZA's sets. We anxiously awaited until finally, the lights dimmed and the intro began – a visually immersive trip into space with the story of the Russian cosmonaut. As the intro subsided, ODESZA took center stage along with the drumline and the horns and began an impeccable edit of "A Moment Apart" into their classic "Bloom." From that point on I watched with my jaw fully dropped; I truly couldn't believe my eyes!
ODESZA was on a raised platform so that the entire theater could perfectly see them, with their signature polyhedron hanging above, lighting the stage.
They integrated live elements in the most creative, powerful ways possible throughout the set. A personal favorite of mine was when they brought out their drummer center stage, whipping his hair and banging his head as he pounded the drum to the beat. The visuals behind him took the drummer's movements and exaggerated them, morphing him into an amazing inhuman figure.
Another favorite was when the guitarist elegantly played his electric guitar as a violin, producing some of the most euphonious, flawless chords. The way the show put such an artistic emphasis on live elements was magnificent.
Each track was complete with stunning visuals, hand-picked to fit that particular track and enliven the emotion present in the melodies. Golden, sparkly lights accompanied triumphant tracks like "Line of Sight " and colorful, nature-inspired visual experiences brought tracks like "Bloom" to life.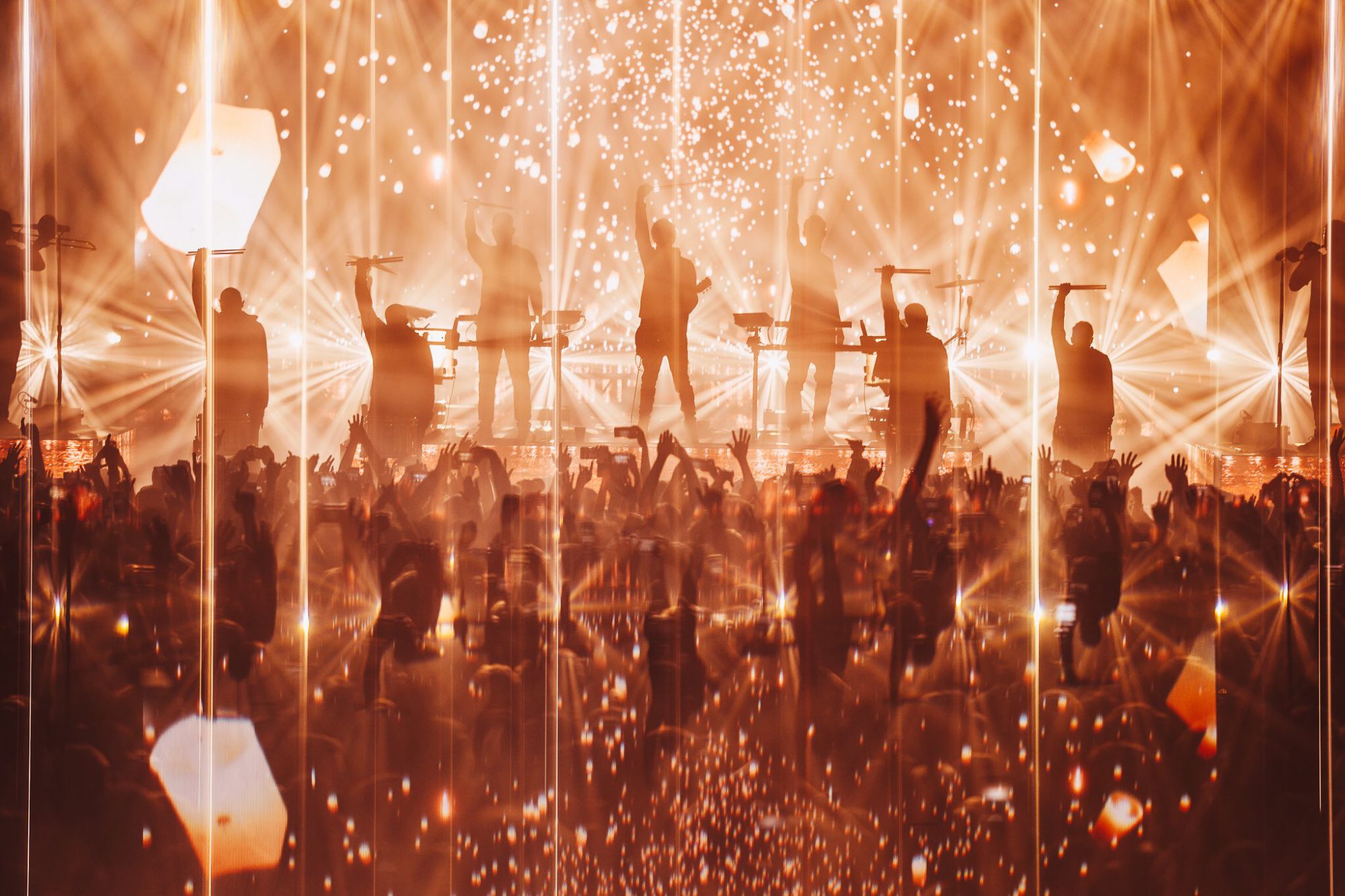 While I was expecting incredible visuals and lights, the lasers took me by surprise.
I've never witnessed lasers used with such grace and perfection, elegantly cutting shapes and fields to complement the awesome LED visuals.
Other highlights included Naomi Wild coming out to sing "Higher Ground", their drawn-out remix of Porter Robinson's "Divinity", and their crazy remix of Alex Adair's "Make Me Feel Better". Usually reserved for their encores in the past, this time "Make Me Feel Better" was integrated into their set, along with a decent amount of deeper, dirtier beats. ODESZA definitely got a little crazier on this tour but in the most tasteful way. I'm all for it!
The only downside of the night was the 20-30 minute break in the middle of the set.
Someone had called the police and the fire marshall (apparently) made everyone clear the aisles in order to prevent a fire hazard. They stopped the show and threw on the lights, asking people to please move to the sides. The floor was extremely squished and chaotic, with people refusing to listen and move out into the hallways. I was unsure if the show would even go back on, but after about thirty minutes the fire marshall must have allowed the show to resume because the lights dimmed and ODESZA retook the stage.
While it took me a few minutes to relax and get back into the show, once I did I almost enjoyed the second half more than the first, as I was so relieved that they were able to continue. ODESZA's team handled the situation in the best way they could and thanked us for bearing with them as we all worked through the situation.
I was a huge fan of the A Moment Apart album before this show, but I have a whole new appreciation after experiencing all of that beauty live.
I have so much respect for the creativity and artistic prowess of Harrison and Clayton of ODESZA, and their entire team that helped put this absolutely incredible show together. If the tour hasn't hit your city yet I urge you to get your tickets – you truly won't regret it!
---
Watch ODESZA A Moment Apart Tour: Episode 3 on YouTube:
---
Remaining ODESZA – A Moment Apart Tour Dates
November 20 – Philadelphia, PA – Electric Factory
November 21 – Philadelphia, PA – Electric Factory
November 22 – Philadelphia, PA – Electric Factory
November 24 – Washington, DC – The Anthem
November 25 – Washington, DC – The Anthem
December 11 – Boston, MA – House of Blues
December 12 – Boston, MA – House of Blues
December 13 – Providence, RI – The Strand
December 15 – Brooklyn, NY – Barclays Center
Get your tickets HERE! 
---
Follow ODESZA on Social Media:
Website | Facebook | Instagram | Twitter | SoundCloud