The Gem & Jam Festival 2018 lineup just added 40 amazing artists ensuring that year 12 will be epic!
---
The return of Gem & Jam Festival to Tuscon, Arizona will be a highly anticipated event this year. After last year's successful transition to the Pima County Fairgrounds, these artists are sure to help the festival surpass its own lofty bar. Once again, Gem & Jam Festival will combine live art, music, and of course gemstones from all over the country.
The first phase announced two full nights of STS9 and two nights of Lettuce for the four day festival. Joining this already incredible lineup will be Big Wild, Papadosio, Sunsquabi, Head for the Hills, Earthcry (of Papadosio), Dynohunter, Templo, Lapa (of Emancipator) and more! From jam band to electronic dance this groovy lineup will have you dancing well into the early hours of the morning.
Still not sure if you want to make the trek to Gem & Jam Festival? Read about my experience at Gem & Jam Festival 2017 here!
Early Bird Tickets for Gem & Jam Festival 2018 have sold out, but Advance Pass Tickets are still available here! Tickets start at $199 (+Fees), and camping options begin at the low-cost of $55 (+Fees).
---
Gem & Jam Festival 2018 Phase 2 Lineup: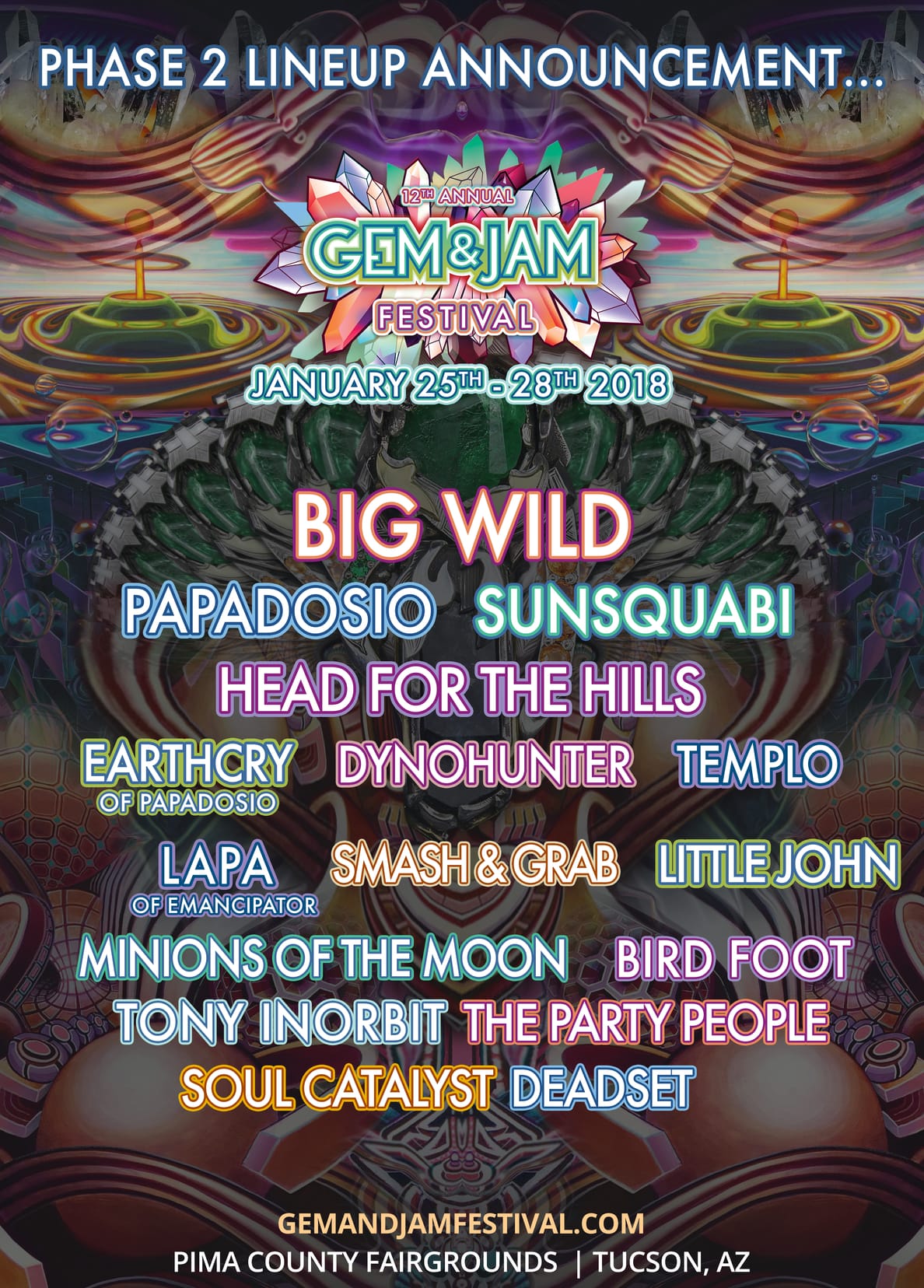 ---
Gem & Jam Festival 2018 – Full Lineup by Artist:
STS9
Lettuce
Greensky Bluegrass
Railroad Earth
Emancipator
Breaking Biscuits
Papadosio*
Big Wild*
Thriftworks
Russ Liquid Test
Sunsquabi*
Masego
Govinda
Michal Menert
Flamingosis
Random Rab
John Kadlecik's Fellowship of the Wing
Head for the Hills*
Maddy O'Neal
Sodown
Saqi
Jade Cicada
Bass Physics
Marvel Years
Zoogma
Ill Esha
Charlesthefirst
Modern Measure
Dynohunter*
Blunt Force
Earthcry*
Lapa*
Safi's Lab
The Flying Skulls
Little John*
Smash & Grab*
Templo*
Skydyed
Kyma
Minions of the Moon*
Adem Joel
Electric Feel
Truth Cartel
Smokovich
Endoplasmic
The Bennu
Neon Prophet
Jahmontee
M-Q
Suds
Gonzofuze
Soul Catalyst*
Bird Foot*
Tony Inorbit*
The Party People*
Deadset*
* – Indicates Phase 2 Addition
---
Gem & Jam Festival 2018 – Event Information:
When: Thursday, January 25, 2017 – Sunday, January 28, 2017
Where: Pima County Fairgrounds – 11300 S Houghton Rd, Tucson, Arizona
Ages: All Ages
Tickets: HERE
Facebook Event Page: HERE
---
About Pima County Fairgrounds
Located on 640 acres and just 20 miles south of downtown Tucson, the Pima County Fairgrounds is surrounded by nature and resides in a desert environment, creating an expansive setting perfect for Gem & Jam. The multi-stage music and arts festival will be offering increased capacity and camping options, including: onsite RV camping with hookups, boutique camping, car camping and walk-in camping. Additionally, Gem & Jam will be expanding on its experience with world-class visuals, unique stage designs, artist galleries, live paintings, experiential installations, daytime workshops, gem and mineral vendors and much more.
---
Connect with Gem & Jam Festival on Social Media: