I was uncertain what to expect from Gem and Jam Festival, and it was the first time in a long time I was going alone.
---
From the moment that I heard about Gem and Jam Festival I wasn't entirely sure what to expect. The lineup did not have artists that I listened to on a regular basis and it was in Tuscon, AZ – a city I'd had never attended an event in. The Pima County Fairgrounds were a little off the beaten path but all the signs made finding it fairly easy. I pulled into the gravel parking lot and walked toward the entrance of the festival. There were two security guards at the table right at the entrance. There was no line and the search was minimal – a total of 25 seconds to look through my things and I was walking down the main road into the festival grounds.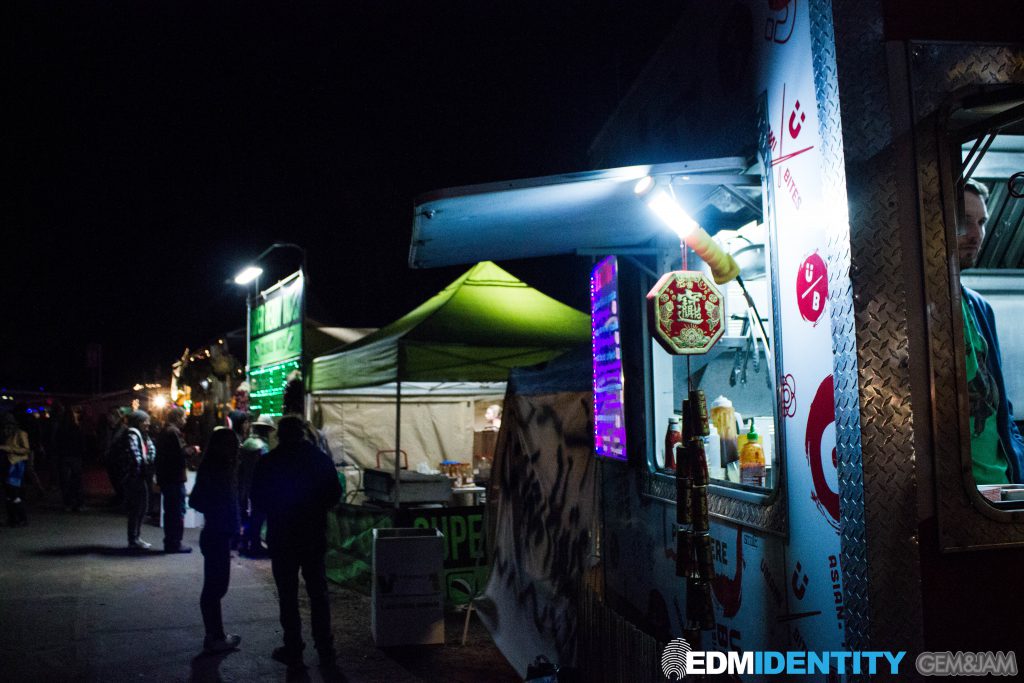 The variety of vendors at Gem and Jam Festival was beyond my expectations!
I continued into the venue either side was covered in vendors of all types. The first booth to my left hosted quartz crystals from Arkansas. They ranged in size of a dime to the size of my torso. It was this booth that provided the crystals that lined the Quartz Stage. To my right I saw a wide variety of food vendors, everything from southern comfort food, Japanese umami fusion, to fire roasted pizzas. Not many of the vendors took cash but there were ATMs available on every corner and the prices were fairly reasonable compared to other festivals. Most meals were below ten dollars and beer was only five bucks! As I walked past the bulk of food vendors I was in awe of the variety of things being sold. A booth where you could hydro-dip your arms, a booth selling custom hats with some that lit up, more hat pins than I could ever imagine and so much more. I walked down the row and to my left I saw the main stage and to my
As I walked past the bulk of food vendors I was in awe of the variety of things being sold. A booth where you could hydro-dip your arms, a booth selling custom hats with some that lit up, more hat pins than I could ever imagine and so much more. I walked down the row and to my left I saw the main stage and to my right, even more vendors. Across the way, I spotted the Third-Eye Pinecones littered with people carefully inspecting pine cones. There were booths selling blankets and tapestries, more gems, pendants that lit up, even more hat pins, coats with faux fur in them and even pants. As I continued to explore I found Aura and Chakra Readers, Tea Ceremonies, a wide variety of massage chairs and a small path that led to the second stage. Each day seemed to draw more vendors. The booths mostly remained the same but there were smaller traveling kiosks that seemed to appear overnight.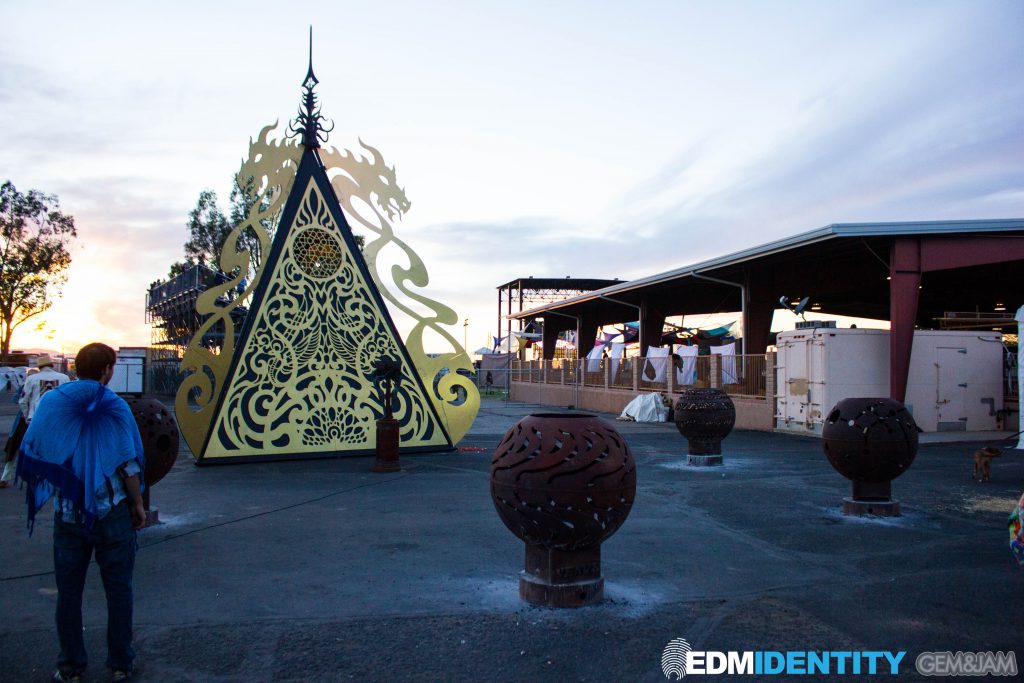 Art was intertwined into the very fabric of the festival offering a unique experience.
There was not a single area of the festival that did not have art woven into it. Two monolithic structures stood between the vendors each with a unique design – one ready Gem and Jam Festival along the top. As I approached the second stage there was a jungle gym with a hammock stretched across the inside. There were platforms were painters were collaboratively covering large canvases. There was a boxed area where a cube-like skeleton hung in the center with lights shining on it from multiple directions. Its shadow hung on all the walls slowly rotating in the area. At the back of the second stage, there was a mural with a woman standing in the center and the moon rising behind her. As the sun set a projector would add other images of women and make the whole painting come to life in the soft light. Along the front of the second stage were giant quartz crystals. The lasers and lights from above would hit them and cause huge cascading waves of light to reflect and rebound into the crowd.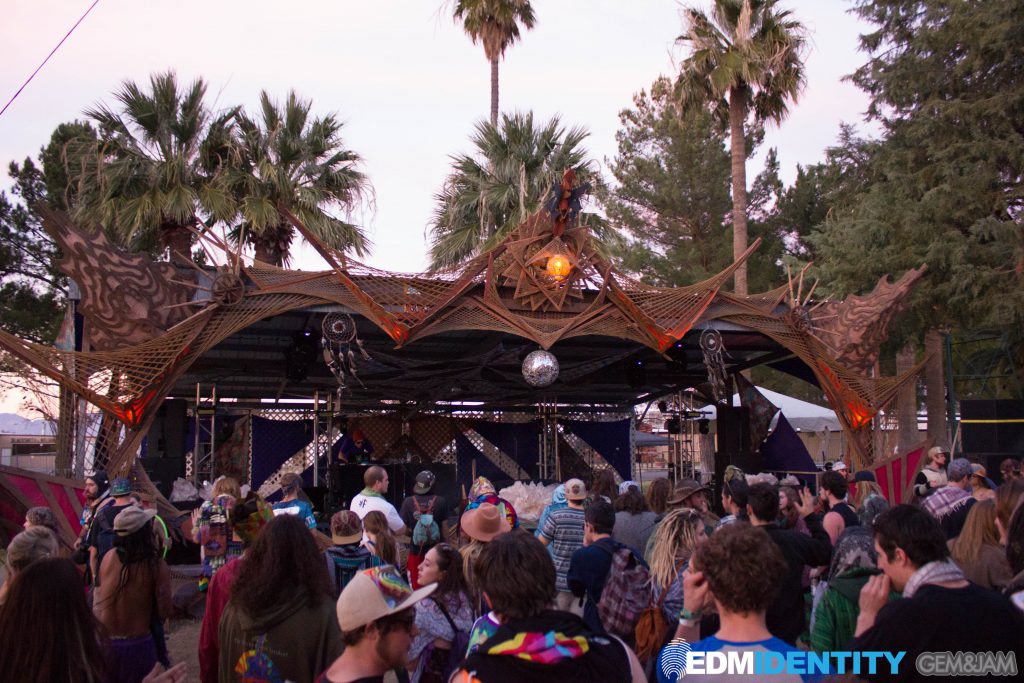 The fine arts come in many forms – painting, sculpting, dancing, and even flow art were represented!
At the back of the main stage stood another monolithic art piece, a golden pyramid that glittered at the sunset. In front of it was a standing torch and around it were three large metal spheres that would become bonfires each night. The bonfires were individually lit in a lighting ceremony that would take place halfway through the night. The main stage was actually two stages on either side of a large overhang. Since many of the performers had full bands and equipment every other artist played on a different stage. This forced the crowd to walk under the overhang which housed a complex art gallery. A 3D interactive visual display had a line almost the entire night where attendees could don virtual reality gear and draw anything their imagination could bring to life. The stage at the end of the gallery had large airy canopies and at each pillar of the canopy, there were artists painting during the sets. A small light hovered above their canvas as they each painted in their own styles – everything from watercolor to oil was being used.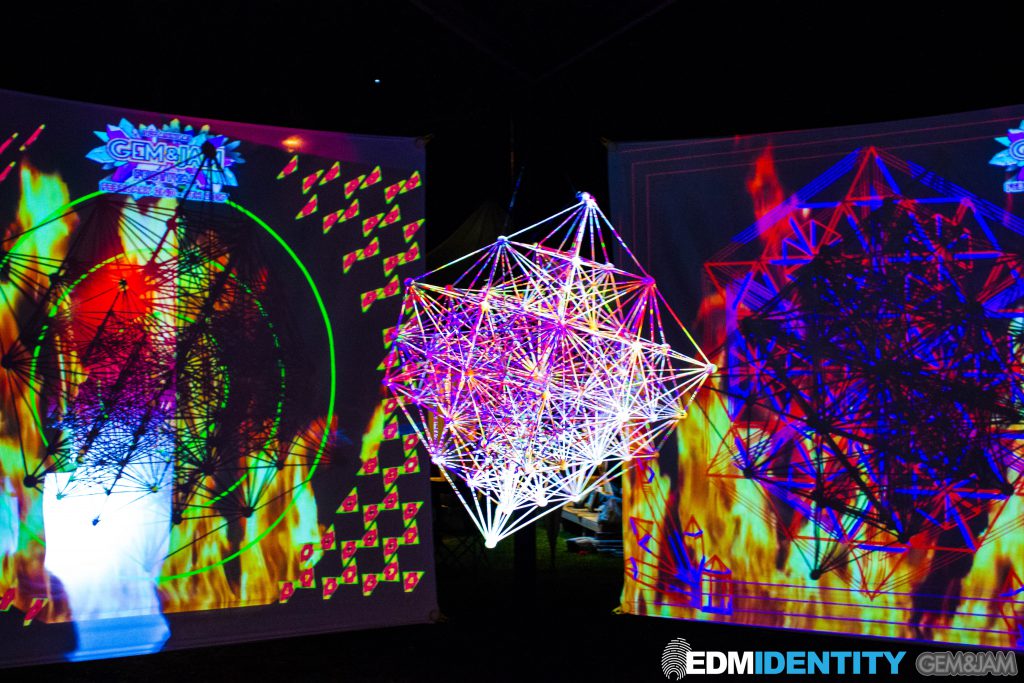 As with most festivals, the music and the art are why you go, but the people are what makes the magic happen!
I didn't know anyone else that was going this festival, but being alone does have some advantages. You have a lot of freedom to pick and choose what sets you'd want to listen to and for how long. You don't stop at the bathrooms nearly as many times and you probably won't go through your whole supply of water. However, it can have some drawbacks when it seems like everyone around you came with other people. I was standing near the bonfires trying to stay warm when suddenly there was a beer in front of me. His name was Mark. He asked if I wanted some and for a split second, I thought about declining. He noticed my hesitation and responded, "who turns down a free beer? I saw you thinking about it." He explained that he does woodwork for a living and that tomorrow night I should look for the wooden wrench totem, it would stand out. We spoke about festivals and what he was planning on attending throughout the year. As we parted ways for the night, I started to reach for a handshake but he responded by hugging me.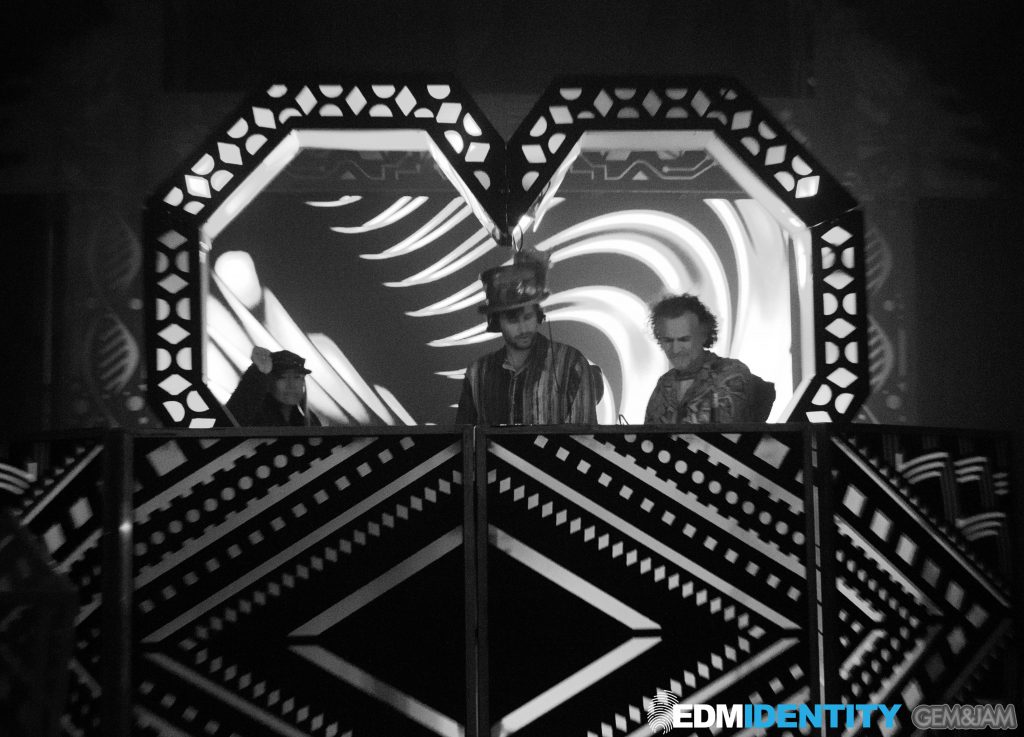 I headed to the late night stage that was hosted by Desert Hearts. As I moved toward the front of the stage I noticed a photographer. He looked familiar and seeing as I was standing right next to him, I asked, "are you Sage?" He nodded, smiled and hugged me. I then explained I had seen him at Decadence but never officially met him. He took some more photos and then invited me back to meet Andrea and Whitney. I sat with them until it was about time to go appreciative of how friendly they all had been.
"This was meant for you… I knew I brought it for someone…"
The following nights I would run into so many friendly faces, each person sharing a piece of their story or journey. I met a guy that drove down from Seattle just to get a look at the crystals they were selling. I met, Eric and Ramses, two artists that had come to Gem and Jam Festival multiple times to paint live. Ramses art pieces was an abstract representation of DAPL that he would auction off and then send the proceeds to aid in the effort to stop it. As I was walking through the art gallery on the second night, I felt a slight tap on my shoulder. As I turned a girl hopped in front of me. She was very excited and started rummaging through her bag. She said, "this was meant for you.. I knew I brought it for someone…" Her outstretched arm handing me a small green container. Surprised, but curious I opened it up. Inside lay a Pokeball hat pin. The piece was intricately designed with a seed of life design, the same design that was resting on my pinecone. I was in shock and awe. She explained that as she was gathering her things for the night she grabbed it and put it in a container, she continued saying that she had no reason to bring it, no hat or place to put it but she must have brought it for some reason. Then when she saw me, she said she just knew that it was meant for me. I hugged her and thanked her for such an incredible gift. It felt like I was dreaming by this point.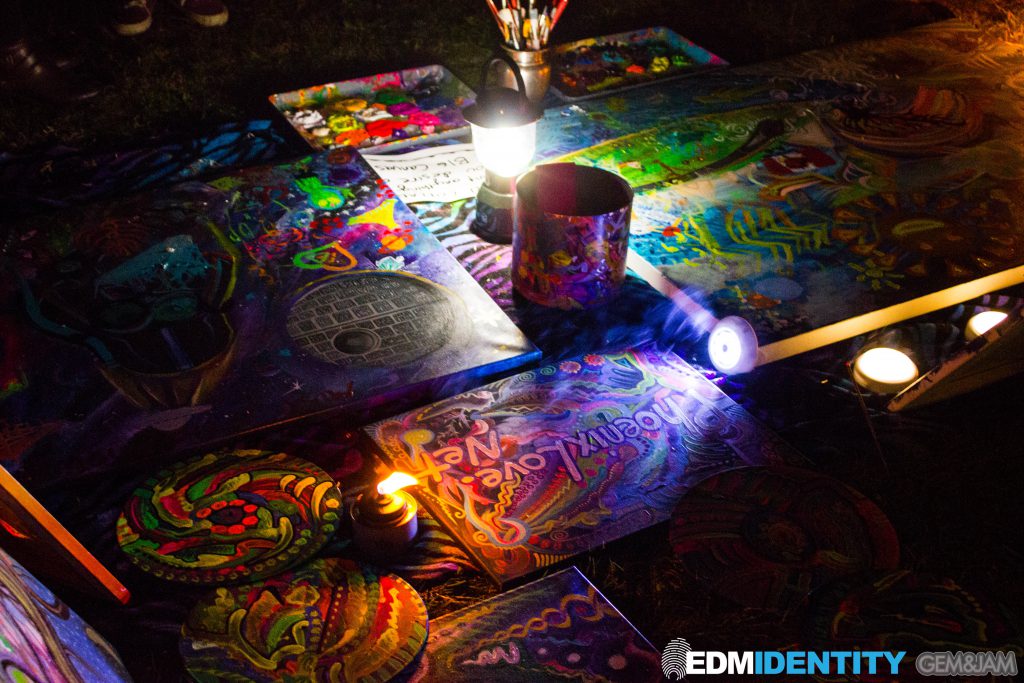 The artists were incredible and I hadn't seen many of them before!
The variety of music was also astounding. It covered the gambit from live instruments of full bands to the more traditional EDM decks. HÄANA's violin skills were uplifting and after her set she could be found walking around the festival enjoying the art. The Infamous Stringdusters, Mike Gordon, and the Floozies were all well received and so groovy, they captivated the crowd. G Jones brought the heaviest bass shaking my heart from behind my rib cage. Headbangers were hanging on the rail during his set. Gramatik never fails to impress me with his combination of electronic and live music melded together in a seamless way. The whole weekend's jam and vibe had me continually grooving and dancing.
I will definitely be attending Gem and Jam Festival again!
Overall Gem and Jam Festival was the most integrated festival I've had the opportunity of attending. Their combination of the arts was well thought out and designed. Although I arrived alone, I never truly felt that way. I think that's what really brings everyone back for this long standing festival and the experience will definitely have me looking into it for next year.
Check out the rest of our photo album on Facebook.
---
Connect with Gem and Jam Festival on Social Media: