Ocaso Underground Music Festival returns this January with an impressive lineup full of underground elite!
---
Tired of taking the same vacation each year? That same old summer trip to Hawaii you always opt for because "you know you like it there" getting just a bit repetitive? Put down that pineapple and stop perusing the internet for surfboards because Ocaso Underground Music Festival is the ultimate destination!
Why not cross off visiting Costa Rica from your bucket list and listen to some underground beats while you're at it? Ocaso Underground Music Festival will be returning to Tamarindo Playa, Costa Rica for its sophomore year this January. Ocaso is set to take place January 4-7, 2018 and the lineup announced last week boasts an impressive list of underground electronic artists!
Luxury meets techno on the exotic coasts of Tamarindo Playa with a music festival that offers everything from pool parties to ziplining. This is not your average flower crown festival, people. It's an adrenaline-seeking adventure lover's dream offering attendees the opportunity to experience all the country has to offer, including scuba diving and exploring the breathtaking coral reefs or taking a hike on one of the many hiking trails. By night, the jungle turns into one massive house party as the festival completely takes over.
Impressive house and techno artists are on the lineup, including Claptone, Doc Martin, Kenny Glasgow, and Sacha Robotti, along with a full-blown Desert Hearts takeover including Mikey Lion and Lee Reynolds. Ocaso's lineup is an international collection of all of the underground electronic elite and will definitely keep you dancing all weekend long.
If you're a house enthusiast seeking a little more adventure in your life, Ocaso is the festival for you! Make sure to buy your passes before it's too late!
Tier 1 tickets range from $139-$169 and VIP ranges from $3,199-$4,399 before fees and tax. Although the prices are steep, VIP does offer an amazing array of perks, including a stay throughout the festival at a 5-star luxury hotel, backstage passes to every event, bottle service, and more! For full info check out tickets via Eventbrite.
---
Ocaso Underground Music Festival 2018 Lineup: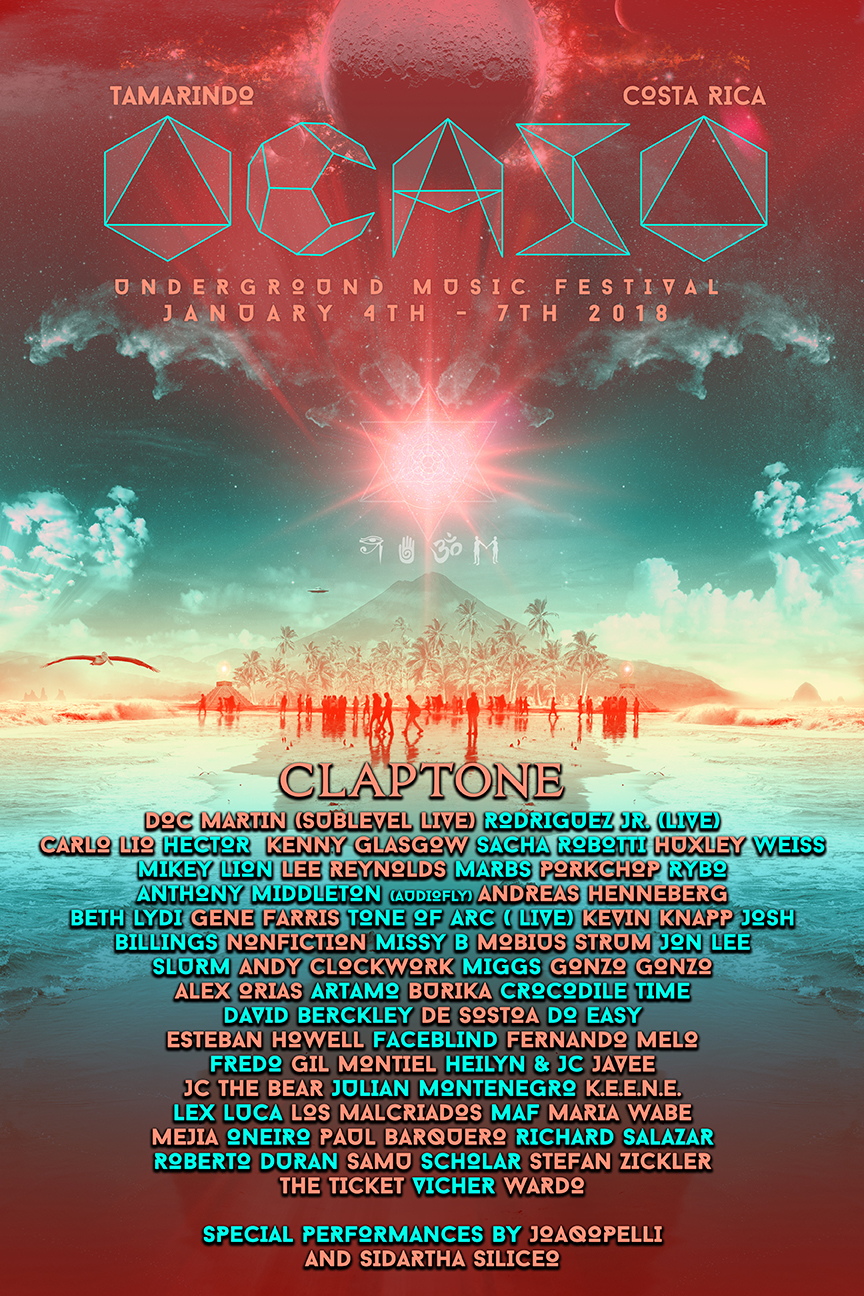 ---
Ocaso Underground Music Festival 2018 Lineup By Artist:
Claptone
Doc Martin (Sublevel Live)
Rodriguez Jr (Live)
Carlo Lio
HECTOR
Kenny Glasgow
Sacha Robotti
HUXLEY
Mikey Lion
Lee Reynolds
MARBS
Porkchop
RYBO
Anthony Middleton (Audiofly)
Andreas Henneberg
Beth Lydi
Gene Farris
Tone Of Arc ( Live)
Kevin Knapp
Josh Billings
Nonfiction
Missy B
Mobius Strum
Jon Lee
Slurm
Andy Clockwork
MIGGS
Gonzo Gonzo
Alex Orias
Artamo
Burika
Crocodile Time
David Berckley
De Sostoa
Do Easy
Esteban Howell
Faceblind
Fernando Melo
FREDO
Gil Montiel
Heilyn & JC
JAVEE
JC The Bear
Julian Montenegro
K.E.E.N.E.
Lex Luca
Los Malcriados
MAF
Maria Wabe
MEJIA
ONEIRO
Paul Barquero
Richard Salazar
Roberto Duran
SAMU
Scholar
Stefan Zickler
The Ticket
VICHER
WARDO
Special Performances by JOAQOPELLI + Sidartha Siliceo
---
Connect With Ocaso Underground Music Festival: