With many lives and countless homes lost, No.19 Music calls to the dance music community to get involved in the relief efforts for Mexico City and Puerto Rico.
---
This year mother nature has wreaked havoc all over the South with Mexico City taking the brunt of a 7.1 magnitude earthquake and Puerto Rico being swept away from the angry winds of Hurricane Maria.
It's in times like these that communities are asked to unite together to help lift each other out of despair and begin to rebuild the lives that were crushed by these acts of nature. In their efforts to help, Canadian-based No.19 Music has announced an event to raise funds for these regions left in a state of complete devastation.
On Thursday, November 16, No.19 Music label Co-Founders Jonny White of Art Department and Nitin will be joined by an army of Canadian dance music extraordinaire's including Kenny Glasgow, Carlo Lio, and Teeloo's Kitchen, to perform under the same roof for a meaningful night of music.
Hosted at Toronto's intimate lounge, Parlour, the evening will feature quality beats to move your soul, delectable dishes to taste, and so much more! 
Gourmet appetizers will be provided by Loco Fields Farm, prepared by the one and only Chef Devan Rajkumar (The Food Dudes / Bluebird / City TV). No.19 will also have original vinyl, CDs, artwork and other label merchandise available for purchase.
Attendees will also be able to enter in a chance to win an original art piece created at the event by local artist Duro the Third, as well as participate in a silent auction of one-of-a-kind art pieces.
All proceeds from the event will go towards natural disaster relief for Mexico via Hector Murillo's 'Just Giving' campaign and Puerto Rico via the Ricky Martin Foundation.
As capacity is limited, tickets will only be available for purchase at the door. Tickets will be sold for $25.00, with proceeds going to charity.
If you are unable to attend the event, but would still like to show your support, No.19 invites you to do so by donating through their Go Fund Me campaign.
---
No.19 Music Presents Disaster Relief Fundraiser – Essential Info:
When: Thursday, November 16, 2017, at 8PM
Where: Parlour Nightclub, 270 Adelaide St. W, Toronto
Lineup: Art Department, Carlo Lio, Kenny Glasgow, Nitin, Teeloo's Kitchen.
Tickets: $25 and can only be purchased at the door
Facebook Event Page: HERE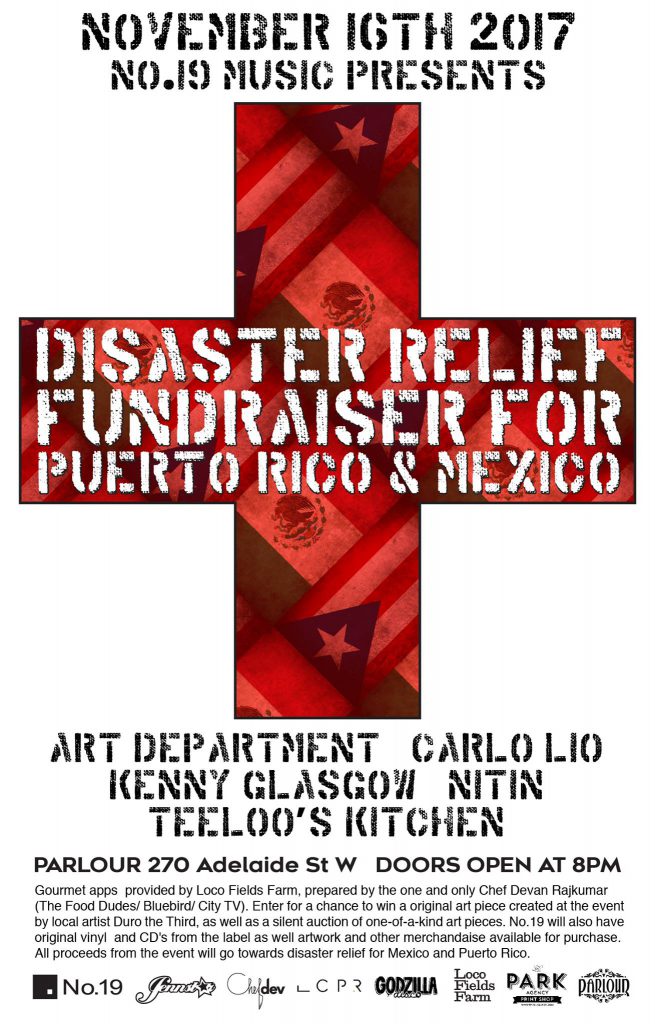 ---

About Hector Murillo's 'Just Giving' Campaign:
Hector Murillo is a DJ-Producer from Mexico and Vatos Locos label boss. He created the 'Vatos Locos Mexico Earthquake Relief Fund' to raise money for the victims of the series of earthquakes that have recently taken place in Mexico.
Rather than donating funds to large charities, Murillo has taken it upon himself to personally deliver and distribute 100% of the funds among the Mexican people. Through his 'Just Giving' page and social media, Murillo will be updating donators and supporters about the progress of his trip.
About The Ricky Martin Foundation:
A non-profit organization led by Ricky Martin. We denounce human trafficking and educate about its existence through research and community initiatives, anchored in the defense of children and youth rights. More information about the Ricky Martin Foundation may be found here.
---
Connect with No.19 Music on Social Media: