Get ready for your EDC Orlando 2017 adventure by familiarizing yourself with information such as festival map, set times, and more!
---
You know it's almost festival time when you get the notification that the app and set times for EDC Orlando 2017 are out! We're looking forward to roaming around every inch of the expanded festival grounds, riding the zip line, checking out Corona Electric Beach and the Boombox Art Car, and seeing the GAIA stage for Kinetic field.
With all these amazing new additions to this year's event, our biggest challenge will be making time to do everything and see every artist on our wishlist. From Armin van Buuren playing on the GAIA stage one more time to Kaskade's sunset performance at the circuitGROUNDS, experience EDC Orlando like never before! Get those suitcases ready and download the app – we're going home to Florida!
It's not too late! Single and 2-Day tickets to EDC Orlando 2017 are still available! Purchase via the EDC Orlando Website!
Looking for suggestions on who to see at EDC Orlando? Check out Lisa's Top Picks.
---
EDC Orlando 2017 Essential Info:
Date: Friday, November 10 & Saturday, November 11
Ages: 18+ for GA Attendees | +21 for VIP
Festival Hours: 1pm – 12am
Venue Address: Tinker Field, South Tampa Ave, Orlando, FL 32805
Tickets: HERE
Facebook Event Page: HERE
Will Call Info: 11am – 11pm
Acceptable Forms of ID:
Any US government-issued driver's license or ID card containing a photograph and date of birth
US or foreign government-issued passport containing a photograph and date of birth
Foreign government-issued driver's license/ID with a color photocopy of passport (Not valid for the 21+ wristband. To purchase alcohol or enter VIP areas, a physical passport or US ID will be required.)
Temporary DMV documents proving you are currently renewing a license — ONLY if accompanied by passport or expired license
Unacceptable Forms of ID:
NO School ID
NO Consular ID
NO Birth certificate
NO Expired ID of any kind
NO Photocopy of any ID (except as noted above)
NO Temporary DMV license without passport or expired license
---
EDC Orlando 2017 Set Times: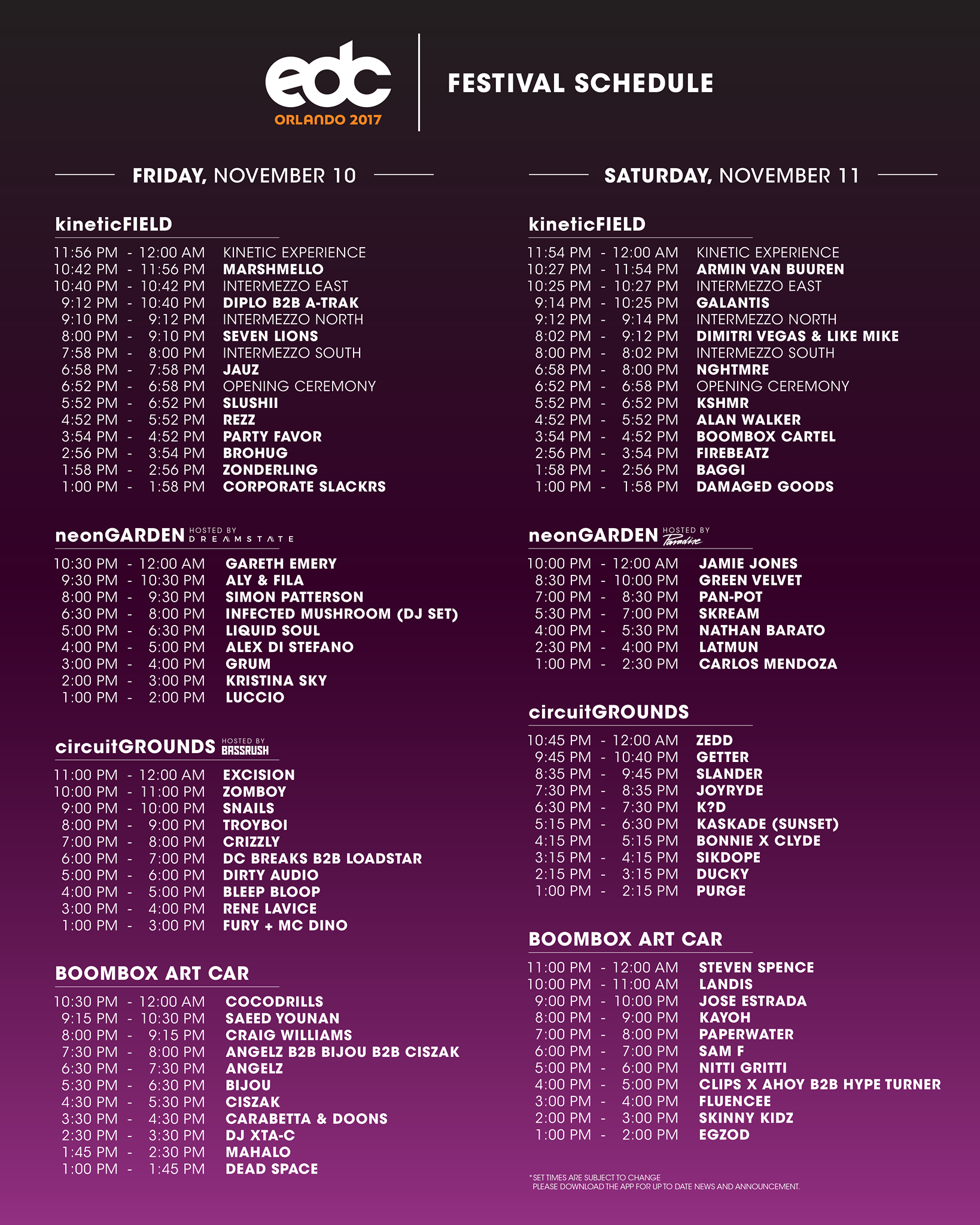 The set times by time, day, and stage are now available on a mobile app for iOS and Android devices. Start planning out your EDC Orlando 2017 schedule by downloading the app today. You'll also receive push notifications about food, travel, and weather! You can also download screen lock schedules for each day HERE.
---
EDC Orlando 2017 Corona Electric Beach Set Times: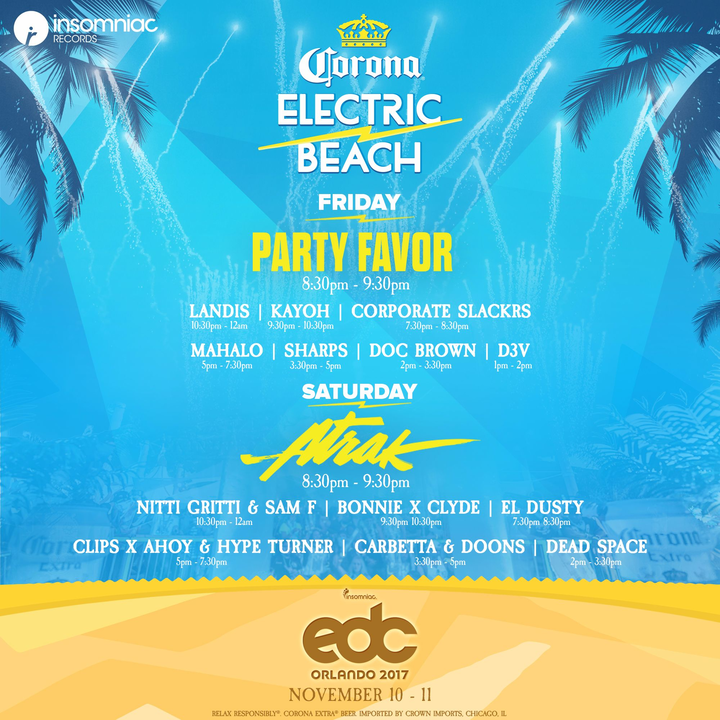 ---
EDC Orlando 2017 Festival Map: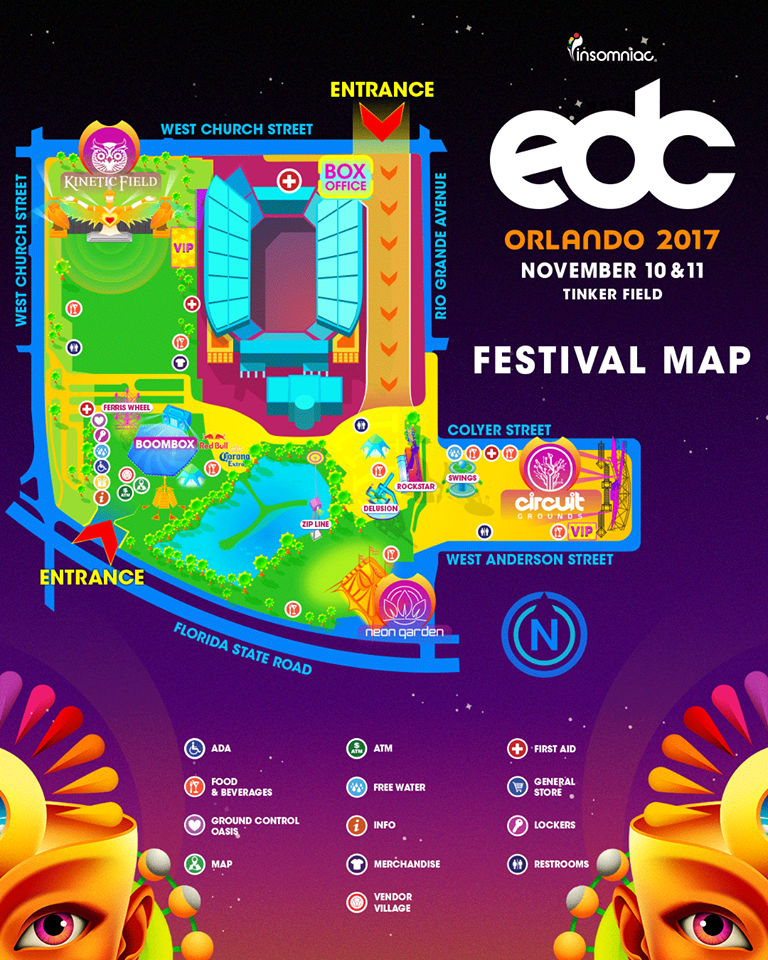 Always familiarize yourself with the festival maps so you always know where to find water, bathrooms, food, merch, and more!
---
EDC Orlando Do's & Dont's
Festival Policies:
NO Re-entry/ins & outs per day
NO Camping
NO Refunds or exchanges
NO Sitting on designated dancefloor areas
NO Moshing, crowd-surfing or stage-diving
NO Unauthorized/unlicensed vendors allowed
NO Unauthorized solicitations, handbills, sampling, giveaways, etc.
NO Tailgating
Acceptable Items:
Small bags, single-compartment backpacks, plush backpacks, purses (maximum 12"x12")
Official Insomniac water bottles—must be empty upon entry
Hydration packs with no more than two main compartments and one smaller compartment—must be empty upon entry
Cell phones and portable chargers/external batteries
Fanny packs
Sunglasses & hats
Lighters and sealed packs of cigarettes
E-cigs/vapes (refillable liquid chambers OK, must be empty upon arrival — no E-liquid or E-juice of any kind will be permitted)
Physician-prescribed medication that is not expired (must show physician's prescription and consult with a safety officer upon entry)
Earplugs
Sealed lip balm & gloss
Powder makeup
Sealed tampons
Glowsticks & glowing/illuminated costumes or jewelry
Sealed packs of gum
Hula hoops (including LED hoops)
LED poi
Inflatables (must be deflated upon entry)
Flags/banners or handmade signs (no corporate/company-branded and no hard flagpoles)
Festival totems or decorated pool noodles (see Totem Guidelines below)
Non-professional flash/still cameras, handheld video devices under 6″ (Sony Action Cam, GoPro, etc.), and GoPro extendable poles
Prohibited Items:
Illegal substances
Drugs or drug paraphernalia
Massagers
Laser pointers and air horns
LED gloves or LED microlights used for light shows
Pacifiers, dust masks or gas masks
Eye drops (available inside festival at the general store)
Over-the-counter medication (available inside festival at general store or from a first aid station)
Liquid makeup
Unsealed tampons (upon entry)
Open packs of cigarettes (upon entry)
E-liquid or E-juice of any kind (a selection of premium liquids from a variety of name-brand vendors will be available inside the venue)
Glass, cans, cups or coolers
Outside food or beverages (including alcohol and candy)
Markers, pens or spray paint
Large chains or spiked jewelry
Weapons of any kind (includes pocket knives, pepper spray, fireworks, etc.)
Stickers, flyers
Balls or Frisbees
Tents, large umbrellas, chairs or blankets
Bota bags
Large purses, bags or backpacks (over 12″×12″)
Stuffed animals or dolls
Professional photo, video, or audio recording equipment (no detachable lenses, tripods, big zooms or commercial-use rigs)
Pets
---
EDC Orlando Lockers Information:
2-Day Lockers are available for EDC Orlando!  Fans will have unlimited access to their locker during festival hours, and each locker comes with a universal cellphone charger inside. Lockers measure approximately 8" H x 12" W x 18" D. Please remember to select either VIP or GA lockers.
Purchase a locker HERE.
---
Mind Your Belongings & Prepare for Weather
Unfortunately, many people have reported pickpockets, bag slashings, and theft of wallets, smartphones, purses and other valuables during this festival season. While this small number of bad apples in the bunch doesn't define an entire crowd, there are opportunistic people who come to these events to take advantage of unsuspecting partygoers and it's important to be mindful of your valuables while at Electric Zoo.
Pay attention to who's around you and what's going on around you. Keep your wallet and phone in your front pocket(s) if you can. Treat your phone the same way you would treat cash; don't set it down on a table or bar and look away. If a friend isn't standing behind you in a crowd, be careful of your backpack or purse, and don't put valuables in a pocket that could easily be unzipped by someone behind in a crowded spot without you realizing.
The festival will take place rain or shine. Please keep up-to-date on weather reports and plan your attire and preparations accordingly.
---
Follow EDC Orlando on Social Media: