We originally saw Nick Ochoa's custom Funko Pop! creation in The Cult of REZZ where it was met with praise. It was interesting to see the journey of his completed Funko Pop! custom of REZZ make its way to Space Mom on her Mass Manipulation tour.
As avid collectors of Funko Pop! vinyl ourselves, it was fun seeing one of our favorite DJs in collectible form. In our interview with Nick, he discusses the creation process, meeting REZZ, and how he got involved in the electronic music scene.
---
You created a custom Funko Pop! of REZZ and shared your creation with the Cult of REZZ recently. What inspired you to make the figure?
I wasn't going to make REZZ as my first pop. Krewella was the original plan. I had just gotten back from a small EP release party that Krewella threw in Chicago for their New World EP.
When I was there, I saw a bunch of dedicated fans giving the sisters gifts and letters and I felt a bit guilty for not giving them anything. So, on my way back home I thought to myself, "What could I make them? What is something I love?" and then it clicked. I love Funko Pops!, I could make them into Funko Pops!
So, the next day I headed out to a store that sells the pops to pick up two DIY Pops. Sadly, the store only had one DIY girl Pop!, so I bought it with the intentions to buy another one as soon as they restocked.
A few months had passed and I saw that mau5trap's fb page had posted an announcement about REZZ's new single "Relax". I gave it a listen and loved the aesthetic of the music video. Since I still hadn't bought a second female DIY pop, I decided "Why not make REZZ?"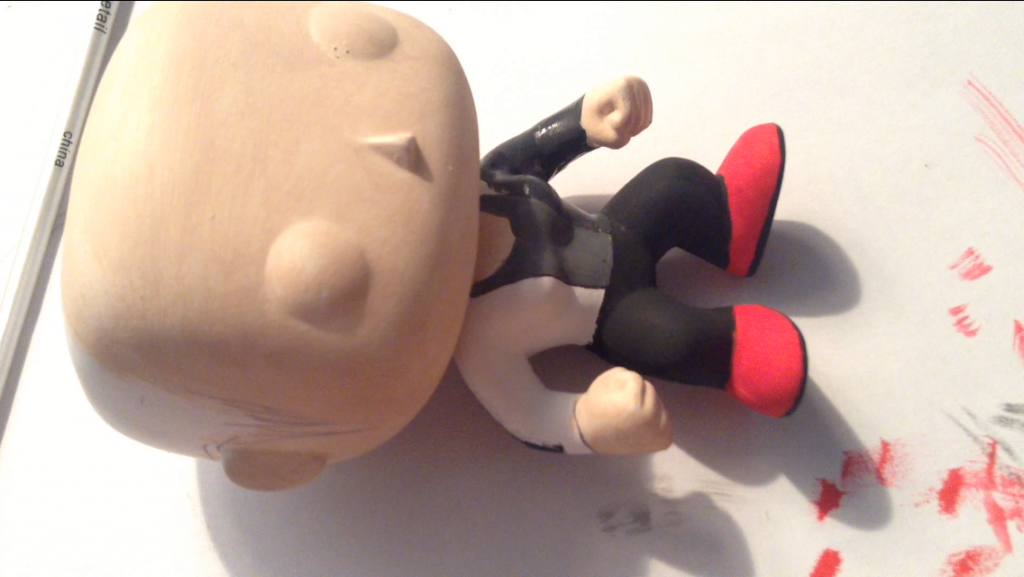 People in the community are asking how you make custom Funko Pop! figures. Describe the process of turning the iconic Isabelle Rezazadeh into vinyl form.
I've gotten quite a few messages asking how to make one! The process was quite simple, just time consuming.
I started out with a Blank DIY Female pop. I made markings on the pop with marker, basically mapping out where the hair, clothes and shoes should be painted. After mapping everything out with marker, I painted away.
After the body and face was painted, I started the sculpting process with clay. I began with sculpting Isabelle's hair followed by her hat. Since I made her ponytail quite big and cartoony, the clay would not stay in place, so I needed to add a tooth pick for support. I made the bill of the hat with a small piece of cardboard and attached it with hot glue.
After the clay dried, I sanded the hat and hair until everything was smooth. For her goggles, I used a picture of Rezz I had seen on the internet. I cropped the image so it was just the goggles. I resized and printed the picture so each individual LED lens would fit on top of a bottle cap. I took two bottle caps and sprayed them with black spray paint. After the paint dried, I glued the images of the LEDs onto the bottle caps.
After the clay had hardened and the glue had dried, I got to work. I painted the hat and hair their respective colors. I also repainted the face and hands. I glued the mini goggles on with gorilla glue and let it air dry. After everything had set for a while, I filled in any last imperfections with paint and it was done.
I worked on this for an hour every now and then over a span of two months, if you add up the time, it would be the equivalent of two to three days.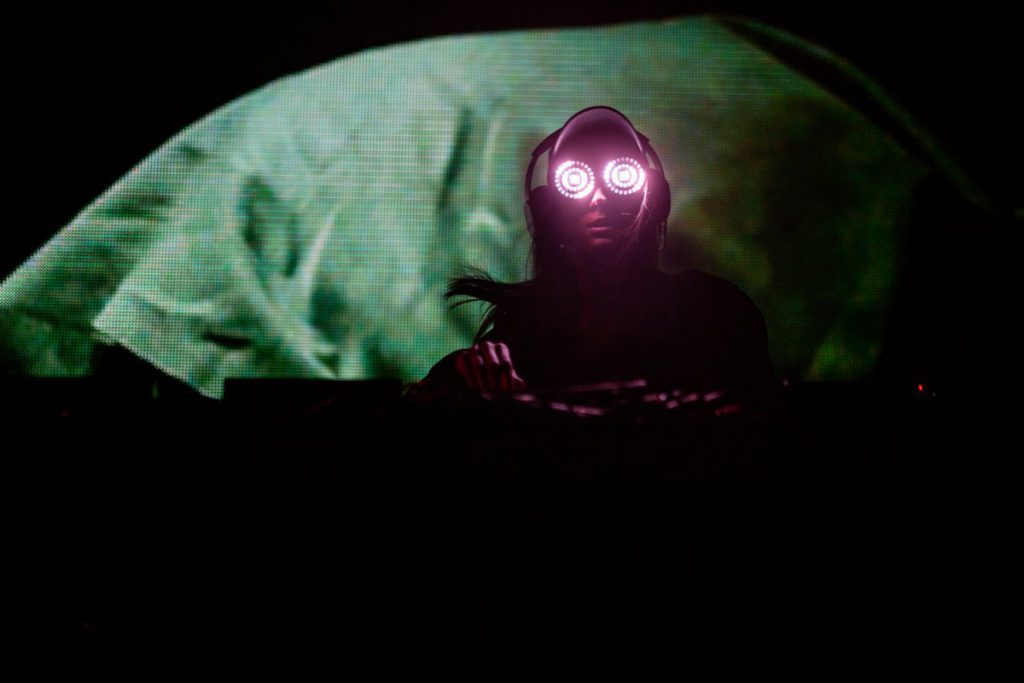 What is it about REZZ that made you fall in love with her as an artist?
REZZ has a certain vibe to her music that is hard to explain. It is eerie, yet enjoyable. It is like a nightmare with a really good soundtrack.
While working on the pop, there were times I had to force myself to not move to the beat of the music, simply because my painting or gluing was getting sloppy. Her music is dark, yet it made me feel a certain euphoric happiness that I fail to feel when listening to other artists.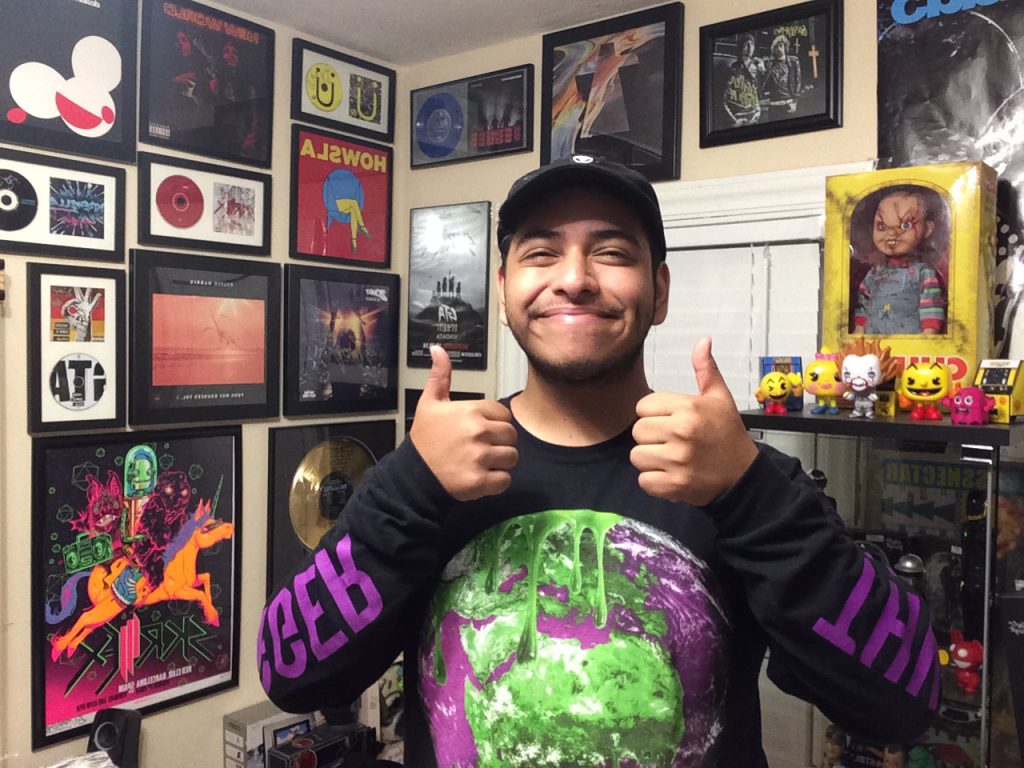 REZZ posted your custom on Snapchat. How did she receive your custom and what was it like knowing she has your art?
I first posted the custom on The Cult Of REZZ Facebook page with the hopes that Isabelle would see it and tell a manager to pick it up for her. I got an amazing response, but no messages from Isabelle. So I posted it to twitter. I heard nothing. I sent her and Instagram DM, and once again nothing.
I thought I'd take a shot in the dark and email the managers she has listed on her Facebook page. I typed out an email to the managers and stated that I wanted to give her the figure I made, but I didn't know how to go about doing so. I also included the fact that I was going to the Mass Manipulation tour the following night. I thanked them, hit send and wished for the best.
The following day I got an email saying that I could bring it with me to the concert and that while the openers played, I would be granted access to meet Isabelle and give her the Pop! Sadly, there were quite a bit of issues getting it through security and as a result, the venue ended up taking the pop from me to give it to her while I was watching the openers.
I didn't get to see her initial reaction, but I did get quite a few Snapchats from people the minute she posted it. That's when I found out that she got it and I'm not lying when I say I had a smile from ear to ear. After the show, me and a few friends were allowed to go in the venue's break room and there we meet Isabelle.
I was star-struck. She asked who made the Pop! and I raised my hand, she came to high-five me but I ended up hugging her. We chatted for a bit, took a few pictures and she signed our tickets before we left.
For being someone who's from Neptune, she was extremely down to earth and kind. Never in my wildest dreams would I even begin to imagine someone famous acknowledging my work, but I got to experience what that felt like and I will remember that night for a lifetime.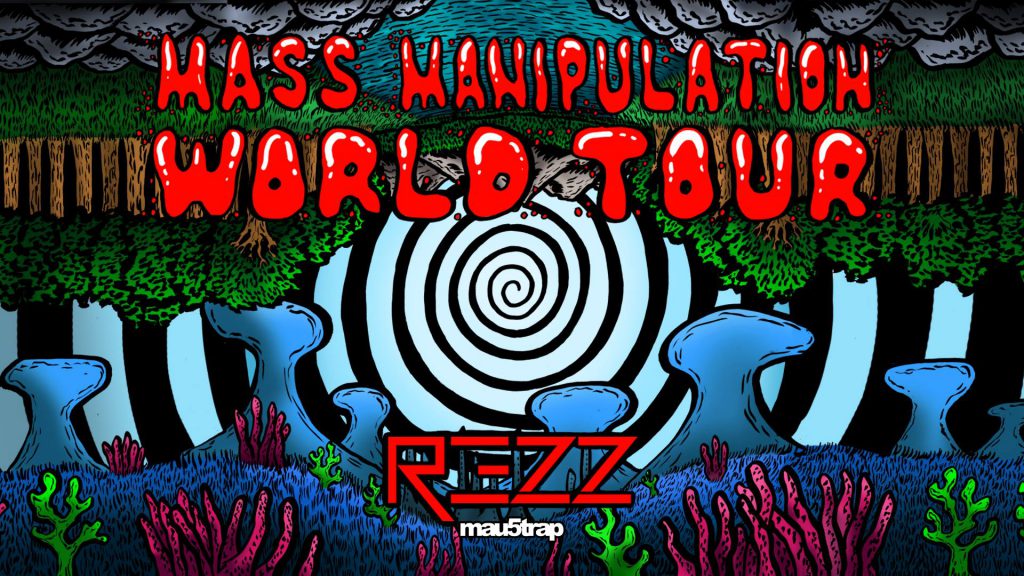 What did you think of the Mass Manipulation tour?
This was my first time seeing REZZ! Honestly, she threw one of the best concerts I have ever been to, and that is coming from a guy who has seen Deadmau5, Justice and Skrillex live.
Usually in the middle of a DJ set, the hype starts to fade and you begin to dance lazily until the set picks up again towards the end. This was not the case for REZZ.
The ENTIRE concert was amazing from start to finish. There were times where I would stand in awe, trying to comprehend what I'm experiencing. It was amazing and I would go to it ten times over again.
Artist communities seem to be growing on social media like Facebook. What is it like being a part of a community like "The Cult of REZZ"?
Everyone in The Cult is extremely kind and supportive! I love going on Facebook just to check out what fans have made, the ideas they have, the memes they share, the edits they made, the list goes on.
Everything is perfect about this community. We're like one big family and I could not ask for anything more.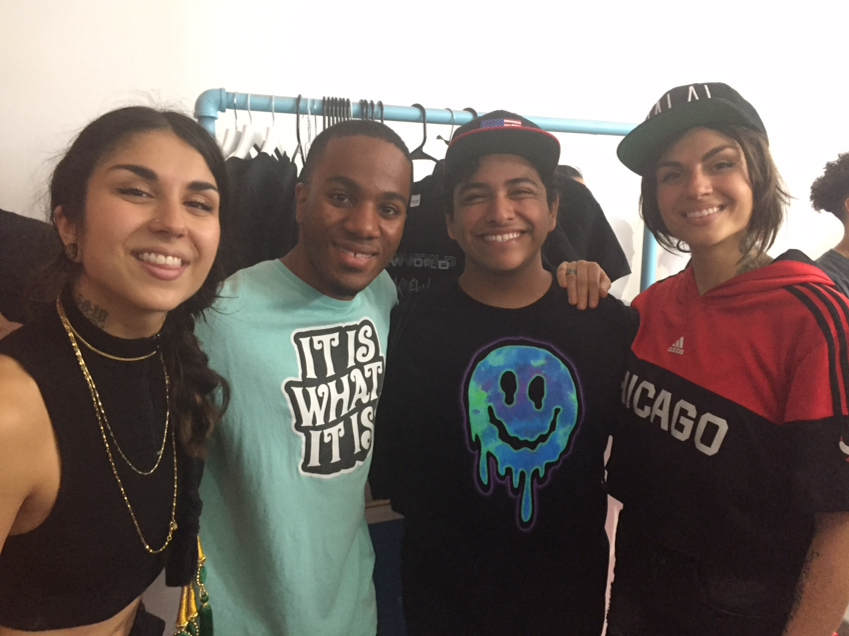 What other artists or DJs do you think would translate well into a Funko Pop! vinyl?
The list is endless, but I would go with the Trifecta first: Daft Punk, Deadmau5, and Skrillex. They all have iconic looks and I think they would look great as Pops! Other artists I could see looking well are Marshmello, Getter, Diplo, Krewella, Justice, Valentino Khan, Calvin Harris, Mija, Black Tiger Sex Machine, The Bloody Beetroots, Bro Safari, ETC ETC!, Zomboy's cartoon mascot/logo.
I could go on for hours, but those are the ones I would like to see produced if Funko ever made electronic artists into Pops.
They made a version of Freddy Funko called Freddy Flux that highly resembles Guy-Man of Daft Punk, so you never know. Funko is making rock stars at the moment, maybe they'll expand their music lines soon.
Have you created any other custom Funko Pop! vinyl figures? Are there any upcoming customs you're working on?
I've only made three other Pops: Link from the Legend of Zelda, Rintarou Okabe from Steins Gate, and Ron Jeremy, the adult film star. All of these are requests from people who messaged me on Snapchat when I was posting updates on how the REZZ Pop! was coming along.
Although they vary in appearance, they were all fun to make. I plan to make more DJs into pops in the near future starting with Daft Punk first.
Finally, how did you get involved with the electronic music scene?
My cousin was a DJ for parties in the local area. When I was around 10 or 11, I asked him if I could borrow some CDs. He let me borrow his entire collection of 120+ CDs for about a month. He had a bunch of old school artists like Sven Vath, Phil Kieran, Popof, Benny Benassi and Daft Punk.
I filled up my iPod with all of these albums and that started my obsession. Soon enough, I began to buy electronic music on my own and began to discover new artists through popular record labels. By expanding my horizons, I found so many different sounds and genres that I love.
Out of all of the artists, Daft Punk stood out the most to me, and now they're my favorite music group. I bought all of their albums and singles over the past eight or nine years. To this day I'm still collecting Daft Punk merchandise. I hope to see them live one day. If I've seen the Deadmau5 cube and Skrillex's mothership live, then I hope I can see Daft Punk's pyramid.
---
Follow REZZ on Social Media:
Website | Facebook | Twitter | Instagram | SoundCloud