Fox Stevenson shared some insights with EDM Identity behind his musical inspirations, his thoughts on the Wow! Cool! Tour with Ookay, and some of his hopes for the future.
---
Fox Stevenson is a talented UK-bred musician who's been blurring the ever-broadening musical boundaries with his heavy, melodic style. Originally known for producing DnB, his signature emotive, complex flavor still shines through regardless of what genre he's rocking. With each passing year, more listeners keep flocking to his base, and for good reason!
Currently, Fox Stevenson is off on a new world tour with LA-based electronic singer-songwriter Ookay. Fox took some time to chat with us about the upcoming tour, the deeper meaning behind his engaging lyrics, interesting tidbits about himself, and more!
---
You're embarking on the new Wow! Cool! Tour with Ookay. How did you connect with Ookay, and what are you most excited about for this tour?
This year in January I played at Space Yacht in LA for my birthday, Ookay happened to stop by and at the end of the set we went back to back for a while, as far as I know we were both aware of each other for a while before this, but finally that night we actually got a chance to meet! The crowds so far have been pretty willing to follow me to more melodic places, I enjoy that more than constantly having to chop riddim, and it adds a level of contrast and scale to the craziness when I do, so I'm mostly getting to play what I like. I'm looking forward to more of that!
As a skilled musician with a wide breadth of knowledge, will you also be engaging in live instrumentation along with Ookay for this tour?

For this tour, no. I don't plan on doing any of that. I do help out with the drums on "Lighthouse" sometimes. I plan to do something more live one day, but I think I would want to go REALLY live.

There's a unique vibe that shines through in your music. What is it that makes your sound distinctive?

I think that's just down to the way I envision melodies, and the way I find myself liking harmony most. I also think it's a shame to compromise drive and energy in a track for the sake of melody. I try keep everything as represented as possible.

From where do you derive your musical inspiration?

Many, many places. I try not to think about it too much. I find I work the best if I draw inspiration from what I've already put down on the computer, then turn it into what it feels like it wants to be.
You grew up in a musical household. Has your family ever been involved in your work?

There are times when my little brother does some harmonies or I get my dad to come tell me what he thinks, but generally no I guess.
You used to work under the name Stan SB. What happened to that project, and how it different than Fox Stevenson?

The name change was mostly an excuse to make non-drum and bass. That's all people wanted of Stan SB, and it would have restricted my growth a lot as a producer and an act I think.

Your song "Comeback" is definitely one of my favorites. What was the inspiration for your lyrics? One might interpret them as you calling it quits.

That's a fair assessment, but I feel obligated to neither agree nor disagree when people ask me about my lyrics. I leave a lot of them quite open to interpretation, because I've had people come up to me and say that certain songs have helped them through certain things because of the lyrical content, and the song for me was never about that, but that's just what the words mean to me. Anyone else is just as right that a track can mean something else, but for inspiration I really like ambiguous lines. There's a song by counting crows called "Ghost Train", and the chorus is just "hey, how do you do" but the way it's phrased makes it sound like he's asking how to function or how to "do". I love stuff like that.

Are there any artists that you dream of working with someday?

Over the last year I've worked with a few of 'em! I'd still love to work with Netsky, Timbaland, Ricky Reid / Wallpaper, Adam Duritz from Counting Crows. I really wanna remix a Nothing But Thieves track sometime, too.

What's an interesting fact about you that people might not know?

I boulder / rock climb a lot! Love it 🙂

---
Check out Fox Stevenson's Tour with Ookay: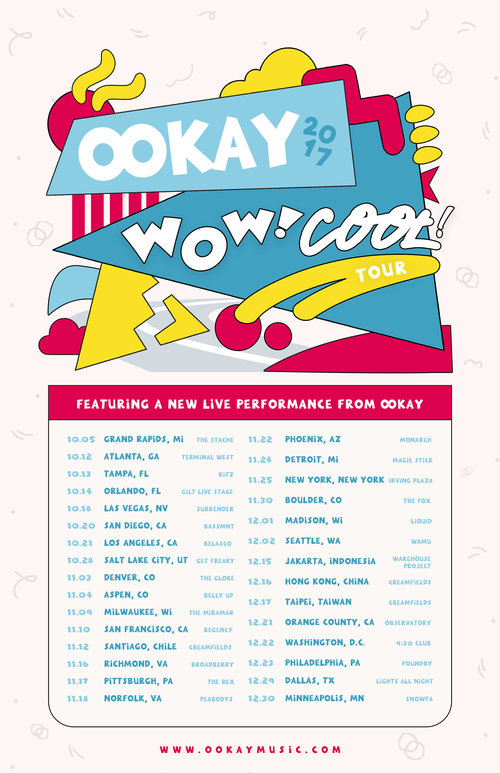 ---
Connect with Fox Stevenson on Social Media:
Facebook | Twitter | Instagram | SoundCloud