Ookay chats with EDM Identity ahead of his Wow! Cool! Tour stops in San Diego and Los Angeles!
---
Ookay is a California-based musician who's quickly risen to the forefront of the scene in just a few short years. In that time, he's been featured on countless festival lineups around the globe and has had track releases on multiple labels. Back in September, Ookay took to the stage at Nocturnal Wonderland to put on the first live show of his career and hasn't looked back since.,
Blowing fans away with that performance, many were excited to hear that Ookay is taking his live performances to the next level on his new Wow! Cool! Tour with Fox Stevenson. Catching up with him ahead of his dates in Southern California, he shared some of the details of his new setup, information about his upcoming shows, and s'mores!
Stream Ookay & Fox Stevenson – Lighthouse on SoundCloud:
---
Your first-ever live set was at this year's Nocturnal Wonderland. What was the response like to the performance?
It was amazing. I expected people to be open-minded but they exceeded my expectations by a long shot. So many videos and photos and great response over social media get me ready for this tour.
Now you're changing up your normal routine and adding live instrumentation and singing to your live sets on this new Wow! Cool! Tour. What inspired you to add these touches?
I think it came down to my new music being nearly unplayable in sets. Just a complete pop/EDM vibe that has been untouched. I haven't heard anything like it before. it only made sense to go a new direction.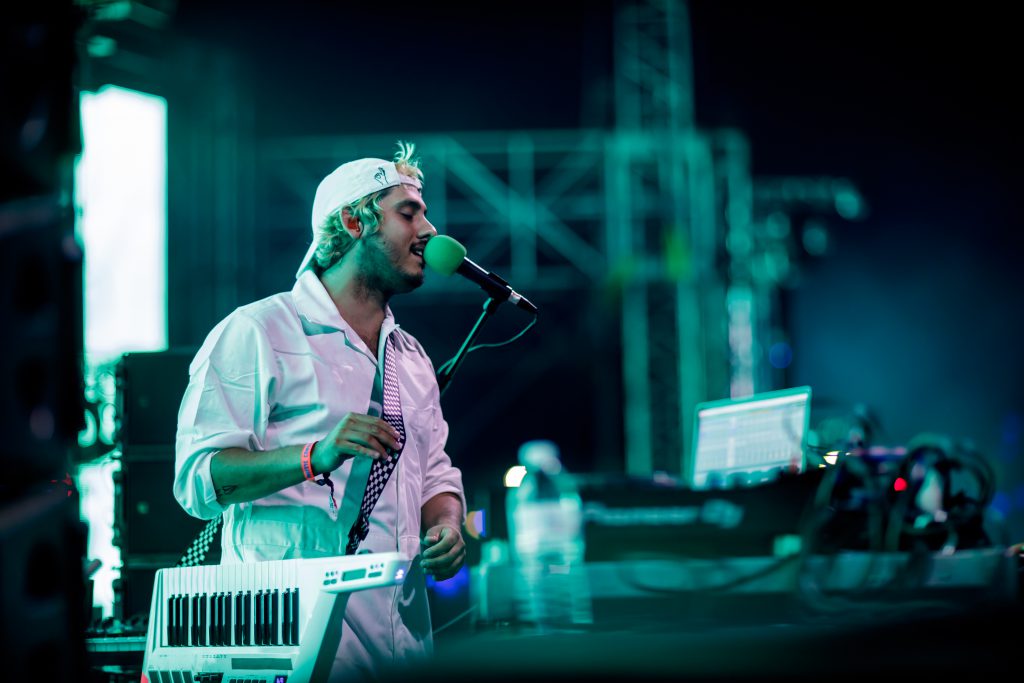 You're also incorporating a 90's theme with some fresh, new visuals. What's the story behind these, and what sort of feel do they add to your set?
WIth these, I'm really going off my childhood and the imagery that I associate with growing up – watching a lot of cartoons on Nickelodeon, etc.
There's a lot of excitement for your upcoming show in LA on October 21. What's it like playing for so many fans near your hometown?
After party at my place!! Haha, actually super excited. My team and I have done a lot of hands-on work to make sure it's an amazing show. I'm excited to see what the City of Angels has to say about it!
Your father is also a musician and has played alongside you in the past. Has he considered dropping by for any stops on this tour?
He has! He might even stop by the LA show! Who knows! Come and find out!
You generally incorporate a wide variety of musical styles into your live sets. What is your track selection process like when preparing a setlist? Has that changed at all for this new tour?
It's all planned out; I wanted to tell a story. I've definitely spent hours on-end on this show and making sure it's perfect. It definitely has more thought into it than a DJ set because I can't really change much. I can definitely improvise but we did a lot of planning.
Besides this interesting new live performance setup, what do you have in store for the rest of 2017?
NEW MUSIC! NEW SHOW DATES! NEW MERCH! We have been working on a lot of new material and I've been in talks with other artists for some awesome ideas for tracks. Don't think I forgot about my OG Ookay trap fans either!
You're relatively new to the scene as far as electronic artists go, but you've received a lot of attention in that time. What is your reaction to your successes?
Just keep moving, just keep working. I don't like to look behind me too much. There's much work to do. I don't feel like I'm anywhere close to where I want to be. To others what may be a life-long feat, has become just a milestone.
What music do you enjoy listening to on your own time?
JAZZ! Too much, actually. I annoy people with it at this point. I'm not fun at after parties on the aux cord. LOL
Finally, and most importantly, what are your thoughts on s'mores?
As long as no Marshmellos were hurt in the creation of one, SIGN ME UP!
---
Catch Ookay at one of the upcoming dates on his Wow! Cool! Tour: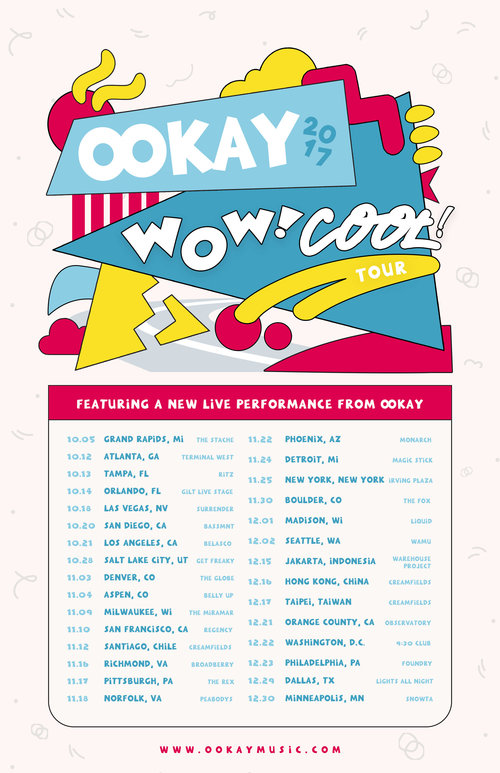 ---
Follow Ookay on Social Media:
Website | Facebook | Twitter | Instagram | SoundCloud