Here's everything we know about "EON BREAK" so far
---
In case you were sleeping under a rock, Porter Robinson not only dropped a new track yesterday, "EON BREAK", but did so under his new project alias titled VIRTUAL SELF.
The song itself has no lyrics at all, however, the music video offers all kinds of mysterious clues as to the direction that Porter is headed with the project.
Watch the VIRTUAL SELF – EON BREAK music video on YouTube:
The clues start with the styles of music within "EON BREAK".
While the song certainly lends itself to many different sounds from more recent years, it's hard to dispute that it sounds a lot like classic hard dance before it evolved to what we know as modern hardstyle and UK hardcore. It also sprinkles happy hardcore and J-Core throughout.
We also know that Porter Robinson grew up with DDR and has talked about how it influenced him growing up.
Next, let's identify the cryptic messages in the music video.

In traditional Porter fashion, the brief first screen flashes a loading bar with the text "THE TECHNICANGEL WILL BE REVEALED. WHAT IS YOUR DIGITAL PRESENCE?" The typography of the VIRTUAL SELF logo also appears to take inspiration from JRPGs, like Final Fantasy.
In the video, there are two sets of text scrolling in opposite directions on the left and right side; one set is 36 questions and the other set is 38 answers.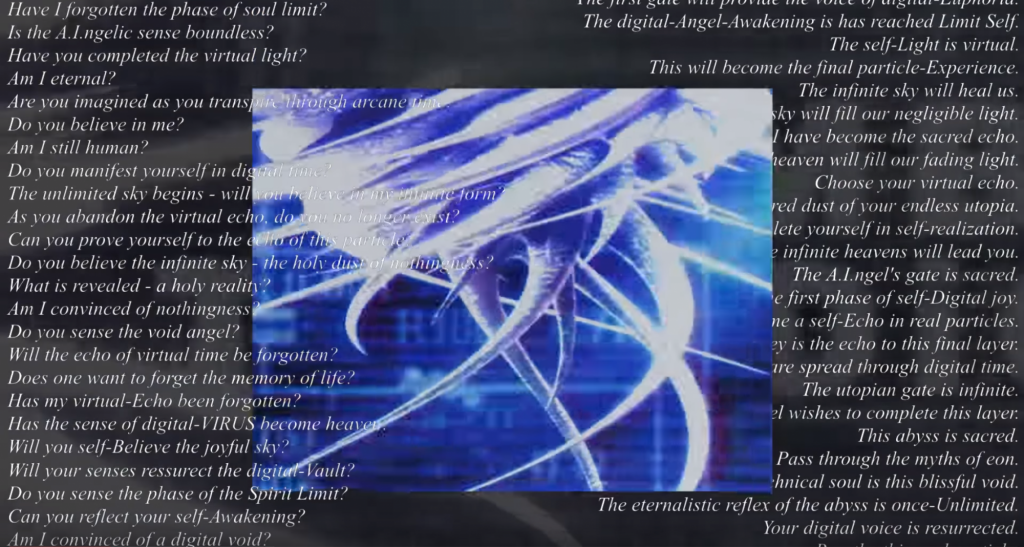 After that, the song transitions into a brief initial drop accompanied by the question "Am I eternal?" with what I am assuming is an image of the "particle" being referenced in the sets of questions and answers from before.
A series of flashing words straddle each side of this, many of which were taken from the sets of questions and answers. Could these be titles to new tracks on a VIRTUAL SELF album?
AWAKEN
REFLEX
VAULT
MYTH
>>ATRYTH<<
.202
UTOPIA
high
faith
17D;;A
PHASE(OF )
absolutephase
EON BREAK
PRESSURE
SeLF
SYSTEM
MOLECUL
angel
TRANSPOSE
initial
digital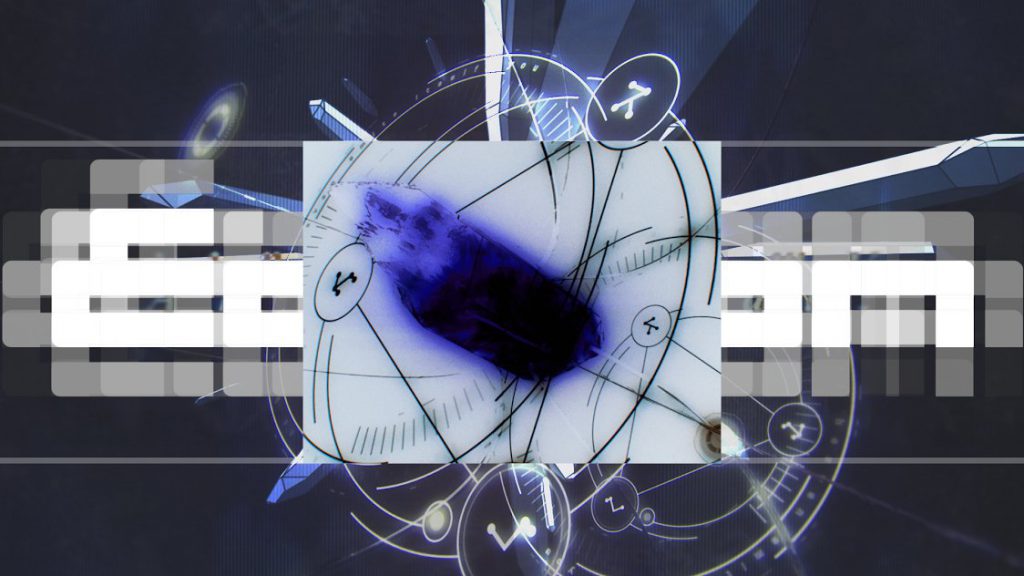 Following is a full interlude with autotuned statements and questions underneath the melody; the visual states "UNIFORM DIGITAL SELF.", "UTO [final belief] PIA", and "IMAGE + PReSENCE" as it swims around the screen.
This leads us to the screen going blue and a female voice boldly asks "Will you feel it?" before we get hit with the second drop.
As the song winds down, two women are shown side-by-side against the graphics from the second screen; one is dressed in all white against a white circular background and the other is dressed in the exact same fashion except black.
This is interesting because Porter has turned them into actual personas on Twitter.
The verified VIRTUAL SELF Twitter account follows only two accounts: Pathselector, @pathselector and technic-Angel, @technic_Angel, which are the women from the end of the music video! Pathselector is the woman dressed in white and technic-Angel is the one dressed in black. Each of them has tweeted video clips that appear to be previews/snippets from other songs.
Additionally, each of these accounts has tweeted at least one of the questions or answers from the music video. This leads me to believe that each set of questions/answers relates specifically to one of these personas.
Finally, let's explore how previously filed trademarks are related to the new Porter Robinson project.
What if this is part of something bigger? Could it be an augmented reality game?
The fine people at /r/PorterRobinson have been digging through the clues since the beginning. Trademarks for VIRTUAL SELF were filed by Andrew Goldstone whose first client was Porter himself.
The VIRTUAL SELF trademarks are owned by Virtual Self, LLC. In the filing, the trademark reveals it's for goods and services relating to computer game software and virtual reality software for playing computer games.
Interestingly enough, the LLC also owns VIRTUAL SELF RECORDS dating back to October 2, 2015. This aligns with the official Twitter account creation date of October 23, 2015.
Clearly, Porter Robinson has been toying with this project for some time now.
VIRTUAL SELF may be a massive undertaking and has the potential to be something bigger than just new music.
Feel free to share your theories in the comments below!
---
Connect with Porter Robinson on Social Media:
Website | Facebook | Twitter | Instagram | SoundCloud | YouTube