Ahead of the return of his epic "This Never Happened" summer tour, Lane 8 releases part 1 of his hotly-anticipated summer mixtape.
---
If you love deep house, you are no doubt already familiar with Lane 8's mixtape series. Featuring a moody, contemplative sound the mixtapes cover a wide range of deep house tracks and do an impeccable job of setting the mood. There is no one quite like Lane 8, and he keeps finding new and different ways to surprise and delight his fans.
The Denver-based DJ and producer was named a "Future Star" by Pete Tong, and it's not hard to see why. As prolific as he is innovative, Lane 8 has been releasing music via Anjunadeep and his own This Never Happened imprint over the last several years and has quickly developed a highly engaged fan base that follows his every move.
The first installment of his Summer Mixtape series is a perfect example of exactly what makes him so special. This half of the mixtape is a view into the deeper side of Lane 8's sound and features artists like Aphex Twin, Sasha, and The Chemical Brothers. Start the mixtape, and immediately you are transported to another place and time outside the stress of your daily life. The mixtape even contains some surprises, such as the Deeparture Bootleg of Hans Zimmer's "Time" from the Inception Original Soundtrack and an unconfirmed Summer Gatherings Rework of his own "Fingerprint."
Stream Lane 8's Summer 2017 Mixtape – Part 1 on SoundCloud:
The mixtape also serves as an introduction to the return of Lane 8's wildly popular "no cell phones" This Never Happened tour, first launched last year. Four special shows across the country will feature an exclusive two-hour-long warm-up set from Lane 8 followed by a set from Anjunadeep's Luttrell. Lane 8 will take the decks again to close out with a three-hour closing set. Part one of the mixtape exemplifies what we can expect from the first set, while an as-yet-unreleased part two will give us a glimpse of the closing sets.
Check out Lane 8's This Never Happened Summer Gatherings Tour Poster: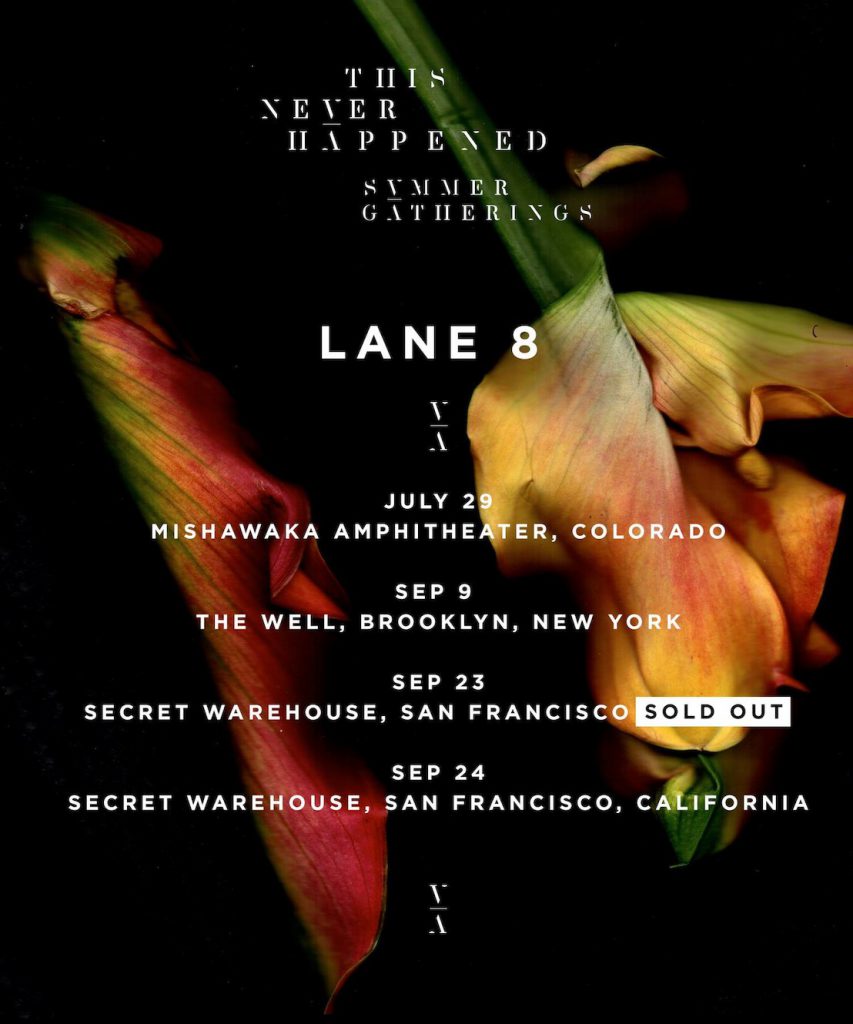 If you're still not convinced about the concept of a show with no phones, perhaps it's best to let the man himself explain the concept:
"The response to our This Never Happened tour last year completely blew me away. The shows were among my favorite club experiences ever – and to see you all embrace the concept and make those shows so incredible was one of the proudest moments of my career. I truly feel that we developed a connection with music and each other that needs to be built upon and nurtured.

I've had a little dream of doing a series of extended daytime events since we launched the TNH concept. So, this summer, we are excited to bring TNH back, with a twist, for the Summer Gatherings – three extended daytime parties in three unique locations with an extra focus on positivity, character, and atmosphere.

I've always felt there's a special magic that comes together at the best daytime events, so my team and I have been searching high and low for locations that have that unique and positive vibe. I'm really excited to announce the first three – the stunning outdoor Mishawaka Amphitheatre in Colorado, the outdoor courtyard of The Well in Brooklyn, and an amazing warehouse space in San Francisco.

Each has its own unique character and vibe, and we'll be putting in extra touches to make the events even more special.

We're also changing the format of the events to create a more expanded musical journey. I'll start each of these shows with a 2-hour warmup set – then our special guest Luttrell will take over, before a 3-hour closing set from me."
One thing is for certain – these special shows are absolutely not to be missed and are sure to be filled with surprises. We simply can't wait to see what Lane 8 does next.
Are you planning to join Lane 8 at one of his Summer Gatherings? Hit the comments and let us know!
---
Catch Lane 8 at one of his "This Never Happened Summer Gathering" dates:
Saturday, July 29th – This Never Happened Colorado @ Mishawaka Amphitheater
Saturday, September 9th – This Never Happened New York City @ The Well
Saturday, September 23rd – This Never Happened San Francisco @ Secret Warehouse (SOLD OUT)
Sunday, September 24th – This Never Happened San Francisco @ Secret Warehouse
---
Follow Lane 8 on Social Media:
Website| Facebook | Twitter | SoundCloud | Instagram | YouTube