Insomniac just released the festival map for EDC Orlando 2017, featuring a major increase in size!
---
While many are getting ready for Halloween events around the country, others are counting down the days until the Insomniac Team heads to Tinker Field for EDC Orlando this year! This year's edition of the festival is primed to be one of epic proportions on just the music side of the spectrum on November 10 & 11 as Headliners groove out to beats from Armin Van Buuren, Bonnie X Clyde, Kaskade, and more.
Not sure what to expect at EDC Orlando this year? Read about the experience that Jessica had in 2016!
Having already announced the three stages and inclusion of the boombox ARTCAR, the wonder as to how this year's edition will stack up to past years. As one of the most-attended editions of Electric Daisy Carnival, and now the only edition on the East Coast, the number of headliners in attendance is expected to increase once again. This left many wondering what changes to the layout might be made by the team at Insomniac this year and how they intend on handling more headliners.
Well, today our questions have been answered as Insomniac just dropped the festival map for EDC Orlando 2017. Encompassing a larger amount of Tinker Field than ever before, there definitely will be plenty of space for headliners to dance their rave booties off next month. Scroll down for the new and improved layout for this year's edition of EDC Orlando, and get hyped with their official playlist!
Don't have a ticket yet? Don't worry! Tickets can be purchased over at orlando.electricdaisycarnival.com/tickets/. Both GA and VIP are available with the option for you to buy two day or single day tickets. Saturday tickets sold out last year, so make sure you jump on them soon if you plan on attending!
---
EDC Orlando 2017 Festival Map: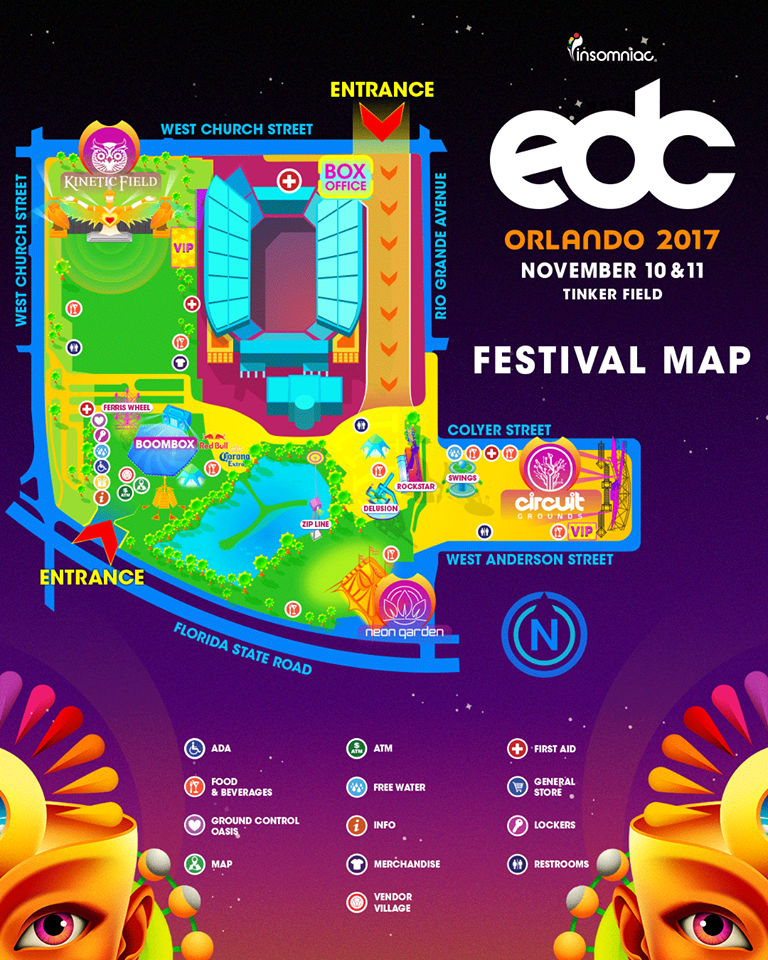 ---
Watch the official trailer for EDC Orlando 2017 on YouTube:
---
Follow EDC Orlando on Social Media:
Website | Facebook | Twitter | Instagram
Featured Photo Credit: Insomniac Events