Terravita has dominated the bass music scene for nearly a decade since the days of drum n bass. The duo tours the world playing their expertly crafted dubstep, trap and bass music to fans globally with stops recently at Global Dance Festival in Colorado and 515 Alive Festival. Jon Spero and Chris Barlow's recently released EP titled 'The Fallen' features their new sound with explicit lyrics and explosive energy with collaborations from Th3 Cats, Riot Ten, Tima Dee, BARE, and Half Empty. You can catch one of their crowd-smashing, mind-melting sets at the upcoming Safe In Sound festival or Imagine Music Festival in Atlanta!
Click HERE to stream Terravita's latest EP 'The Fallen' or click HERE to buy it today!
We were able to catch Terravita playing at the 515 Alive Festival in Des Moines, Iowa recently and were able to catch up with Jon shortly after.
---
Your tracks have ranged throughout bass music from dubstep to DnB as well as some trap and hip hop styled releases too. Is there a process behind deciding what genre to create when in the studio?
Not really, we'll go in with an idea every time but there's not a decision process, it's pretty much just going in with an idea for a song something one of us has thought about and just laying it down. We don't really like to define things by genre. A good song is a good song.
Recently playing at a world-renowned venue, Red Rocks, for Global Dance Festival, are there any dream venues you would like to play but haven't yet?
Madison square garden, The Hollywood Bowl. TD Garden in Boston, The Sydney Oprah House, to name a few. There are so many amazing venues around the world we haven't played it would be impossible to name them all.
Who are some of your early influences in music?
Some of the earliest for me were guys like Phil Collins and Sting, I grew up in the 80's so I was really diggin' all the synthpop from back then. I used to love Cyndi Lauper. *laughs* After that it was Eric B. and Rakim, Pete Rock and CL Smooth, Gangstarr, Big L, Rob Zombie, Pantera. All that type of stuff.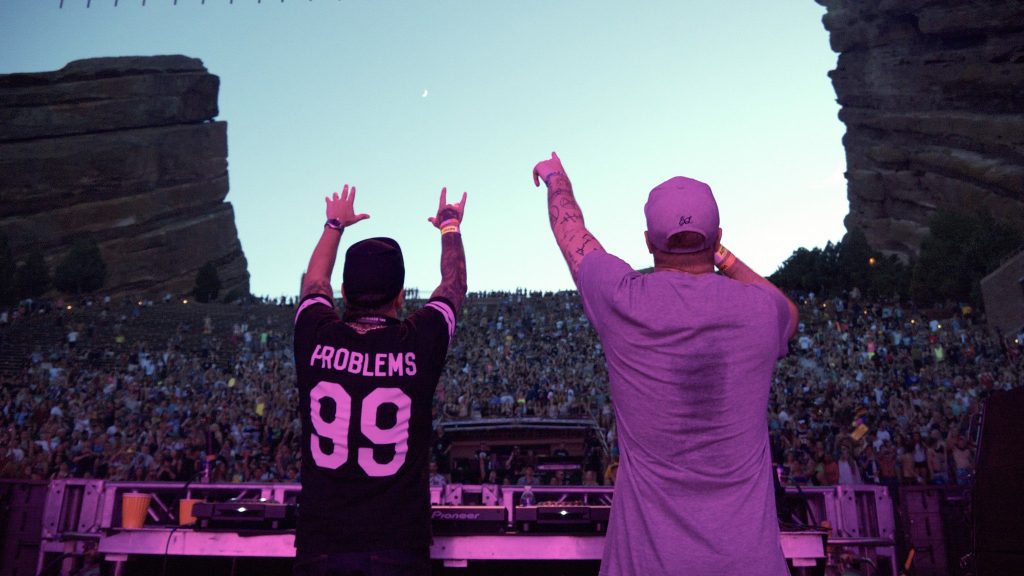 How do you feel that you have developed as artists since your first releases?
Man, so much. Obviously any artist progresses over time you get more comfortable in the studio, more confident in your abilities, more comfortable with your range. As artists we're completely different now than we were at the start. I feel that's a natural progression for anyone though.
Your latest EP, 'The Fallen', was released back in April and includes some collaborations with artists like Riot Ten & BARE. What is your favorite track off the EP and why?
My favorite track off the EP is "Bad Boy" w/ Half Empty. I really love that track because it was something that we don't normally do and it was really a chance to explore a bit more musically and have fun with something different that's not what people expect from us.
In the process of producing tracks with vocals, do you lay the vocals down and build the song around them or base the vocals off the instrumental track that is created?
Normally I like to base my vocals around an instrumental. When we receive vocals from other people it can go either way.
Are there any artists you haven't collaborated with that you'd like to in the future?
A million *laughs*
"Drop Bass Not Bombs" has powerful lyrics that talk about the current state of the world, do you think more artists should be vocal about the problems we face around the globe?
I think it's a personal decision really. When I wrote that song I was really unhappy with what was going on and the finger-pointing that everyone does thinking they're better than anyone else for the most ridiculous reasons. I don't think it's anyone's responsibility to say anything about it though. Music is a lot of different things for a lot of different people and as an artist I don't believe you have to or should talk about politics, religion, or any other sensitive subject. It's a personal decision. I was just fed up. For me I'd like to put a little more substance into certain songs though. It get's boring only talking about partying and bullshit.
Being active in the scene since 2005, do you think the bass scene has changed over the years?
It's changed drastically even year to year. I mean you have to remember in 2005 Facebook hadn't even launched to the public. Twitter wasn't a thing. The climate has changed so much. Some of todays most popular genres hadn't even been invented yet!
What can we expect from Terravita in the rest of 2016?
We're working on a full length LP and a bunch more collabs. I'm in Montreal as we speak finishing up our new song with Adventure Club, got some more stuff coming with Bare. Been working with vocalists like Adara and Tima Dee. So expect the same energy at our shows and a slew of new music as always!
What are your favorite pizza toppings?
My favorite combos are: onion, jalapeño, and hamburger. Tomato feta and spinach. And just about everything else. Just keep Pineapple off my god damn pizza.
---
Connect with Terravita on Social Media:
Website | Facebook | Twitter | Instagram | SoundCloud | YouTube