For no mere mortal can resist, the daily lineups announced for Suwannee Hulaween…
---
This year marks the fifth installment of beloved East Coast Halloween festival Suwannee Hulaween and all the ghouls are coming out to play! The festival is fast approaching, starting Thursday, October 26 and spanning the weekend. Tickets are nearing the sellout point, and car and camping passes are scarce. Needless to say, this fifth installment is shaping up to be the biggest the Suwannee has ever seen.
Get your tickets ASAP – they are selling out quick!
Hulaween has grown exponentially since its inception five years ago. From its humble beginnings to hosting Grammy Award winners like Disclosure, I have been there every year, marveling at all the magic that happens there. This festival has a little bit for everyone's musical taste buds. Die-hard Suwannee fans can get a taste of their favorite southern bluegrass, where the EDM faithful will get to shake their booties to acts like Claude VonStroke, while the Bassheads will get to see a performance their Lord and Savior Bassnectar.
Personally, I am most excited to sit on the hill overlooking the main stage, watching it all unfold. This venue and grounds are my absolute favorite of any venues I have been to worldwide. This place is home, and home is where the heart is.
The full schedule is below – which day are you most excited for? Let us know in the comments!
---
Suwannee Hulaween 2017 Schedule: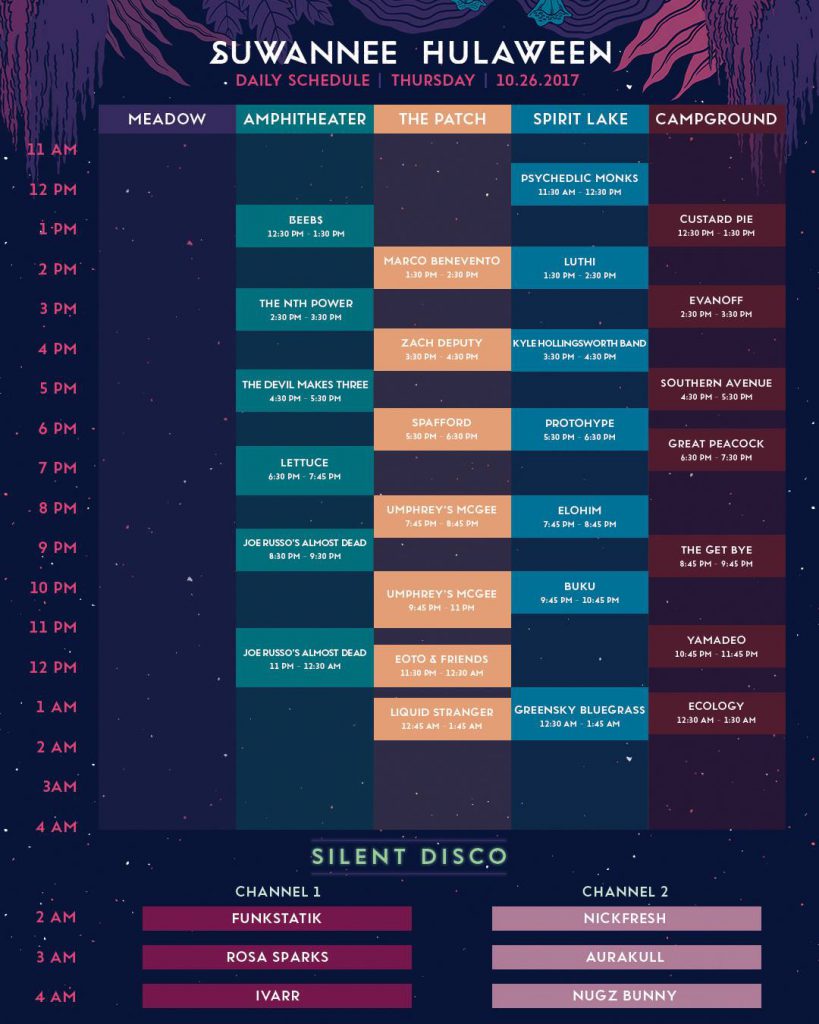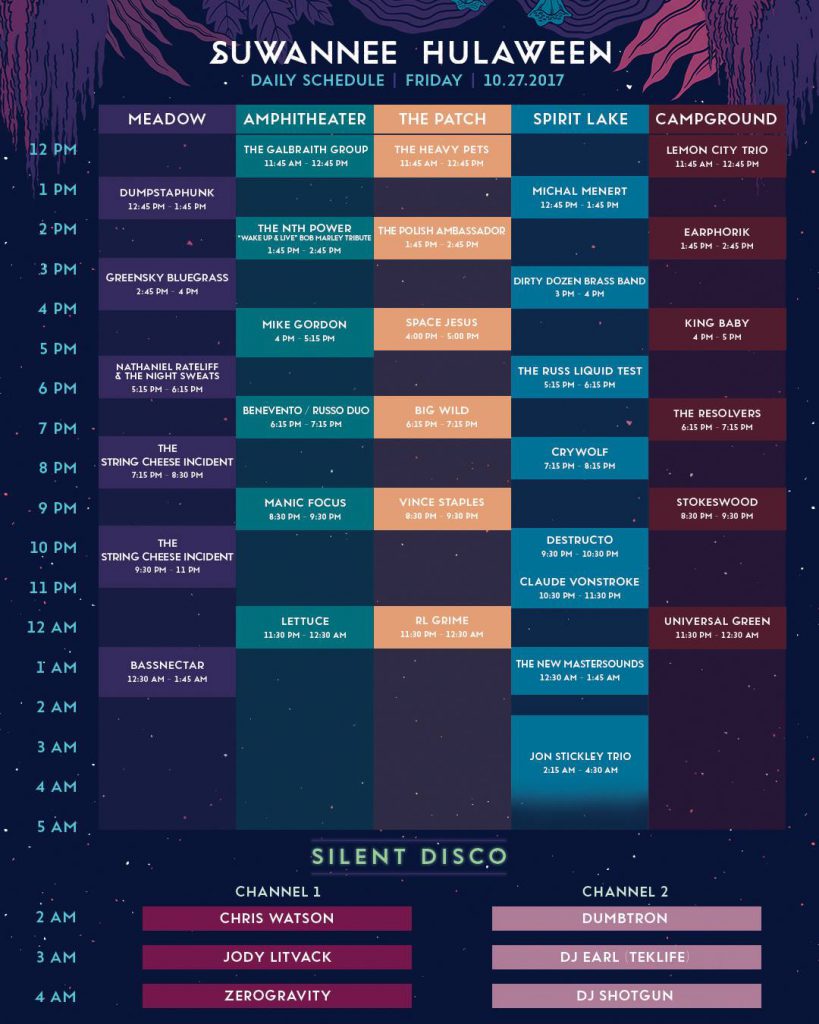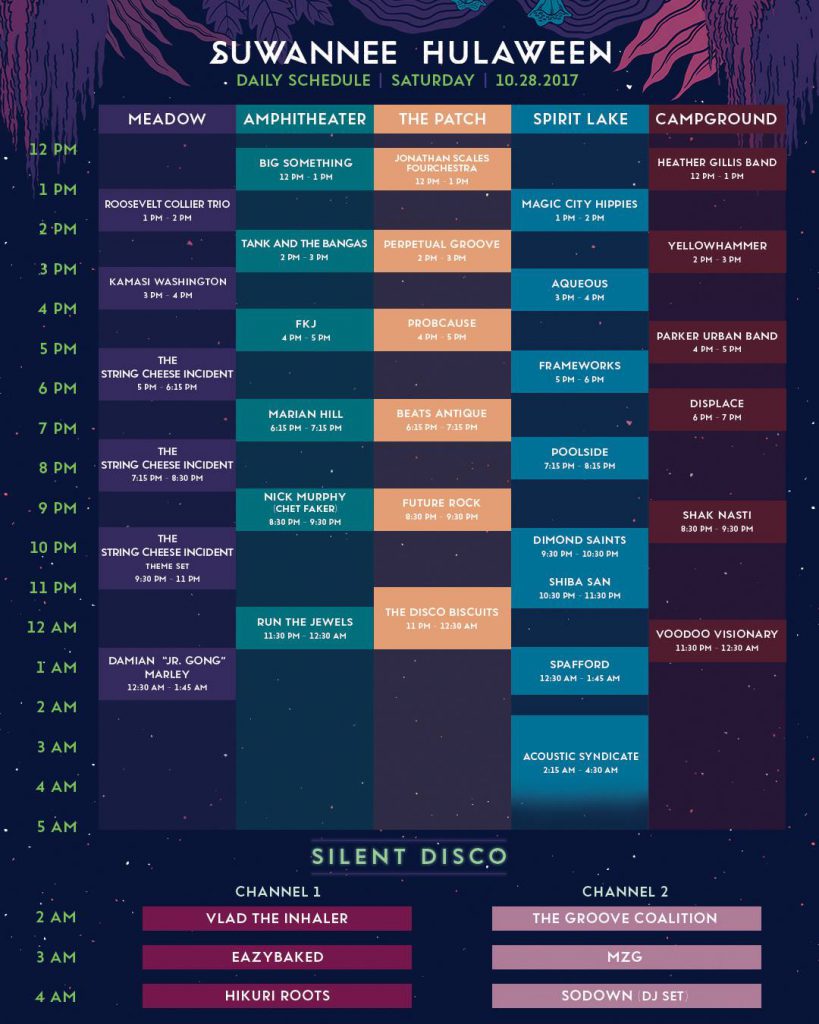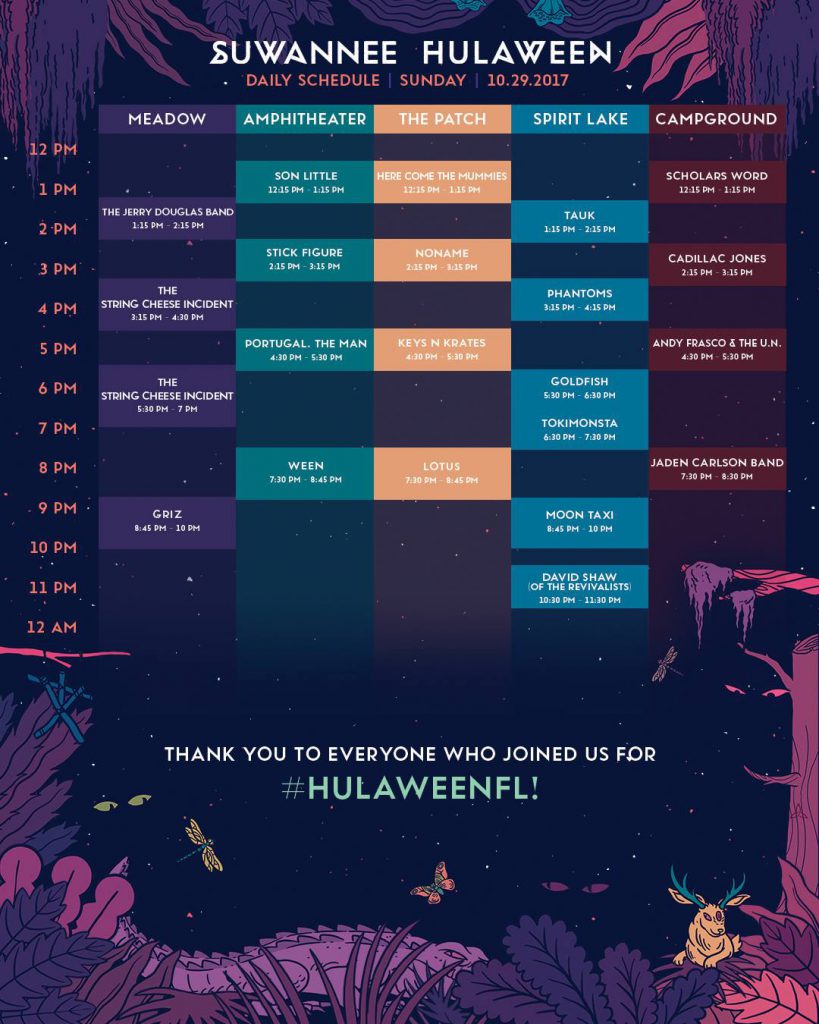 ---
About Suwannee Hulaween:
Set in the midst of 800 acres of Spanish moss-draped oak and cypress along the Suwannee River, The Spirit of the Suwannee Music Park is one of the most beautiful live music venues in the country. During Suwannee Hulaween, the space will once again transform into the annual rendition of the Spirit Lake, a visual arts extravaganza never before seen at The Spirit of the Suwannee Music Park.
Fans can expect an epic fusion of dazzling lights, art installations and performance art that morphs the Spirit Lake waterfront and adjacent forest into a vivid dream-like space that fully engages the senses. Working with some of the Southeast's most talented sculptors, fire/metal workers, painters, performance artists and lighting designers, the Spirit Lake will also host a Silent Disco and other astonishing Hulaween creations. (Veterans of The Spirit of the Suwannee Music Park should take note that portions of Spirit Lake will not be open for camping at the Suwannee Hulaween event)
"I'm extremely thrilled and honored to have been returning as the Art Director for the Spirit Lake 2017! It's a very exciting project on a remarkable chunk of land. My intention is to bring the local art community together in a way that unifies us all creatively while blowing people's minds," said Andrew Carroll.
---
Connect with Suwannee Hulaween on Social Media:
Website | Facebook | Twitter | Instagram
Featured Photo Credit: Faces of Festivals