Get to know rising star The Dub Knight in this week's Artist Spotlight!
---
Having opened for the likes of Diplo, RL Grime, Porter Robinson, and Flux Pavilion, Jake Marsh aka The Dub Knight, is no stranger to the big stage.  Jake hails from Indianapolis, IN and has been pushing out bangers from behind the decks since 2011.  From small clubs to large venues to massive festival stages, The Dub Knight has made an impact on crowds all over the Midwest.
In this week's Artist Spotlight, The Dub Knight discusses what made him want to become a DJ, his penchant for all things Batman, and his plans for 2017 and beyond.  Be sure to give his exclusive guest mix a listen too!
Stream EDMID Guest Mix 083 || The Dub Knight on Mixcloud:
---
What was your inspiration in becoming a DJ?
I've always had a passion for music and sharing it with others. It all started back in middle school when I was a lot younger. I was one of the first kids to get a CD burner on my computer so I was constantly downloading music and making "mixtape" CDs for my friends. Then in high school, my friends would throw birthday/dance parties at various community buildings and I was the one who always brought the stereo equipment and music.
That continued throughout college where I would play music at frat parties at Indiana University. It wasn't until after I graduated college (2010) that I bought my first DJ controller and taught myself how to mix after getting into electronic music.
You regularly perform decked to the nine's in Batman gear… where did that inspiration come from? How many items of Batman memorabilia do you own?
I've always been a Batman fanatic ever since I was a young kid. I grew up watching Batman: The Animated Series and collecting Batman action figures and toys. As I got older, I started reading and collecting the comic books too. I probably own around 1,000 different Batman memorabilia items between all of the clothing, comic books, artwork, toys, accessories, etc. No matter where I am or what I'm doing, I probably have some kind of Batman related item nearby.
When I started DJing, I knew instantly that I wanted to tie my DJ alias to Batman in some way. I was really big into dubstep/bass music at the time so I came up with "The Dub Knight" which is a play on "The Dark Knight".
If you could play a b2b set with any artist, who would it be and why?
I would probably have to go with Skrillex or RL Grime because we have similar styles of mixing and play the same kind of music. I've had the pleasure of meeting both and would have a blast playing alongside each of them, feeding off each other's vibes.
Do you have a favorite event that you've been able to play?
It's hard to narrow them down because I've been lucky enough to play alongside so many talented artists, but two that really stick out in my memories are the Indy 500 Snake Pit and Electric Forest. I played after Diplo and Afrojack for a few thousand Hoosiers at the Indy 500 Snake Pit back in 2013 while the race was going on. It was such a surreal experience to play for a crowd that size in my hometown.
I also played at Electric Forest in 2013 which was another humbling experience. Having attended every year since its inception, Electric Forest has always been my favorite festival to go to, so I was ecstatic to be able to attend as a performer. I was blown away by the amount of support I received from the audience and to see so many people getting down to the music I was playing.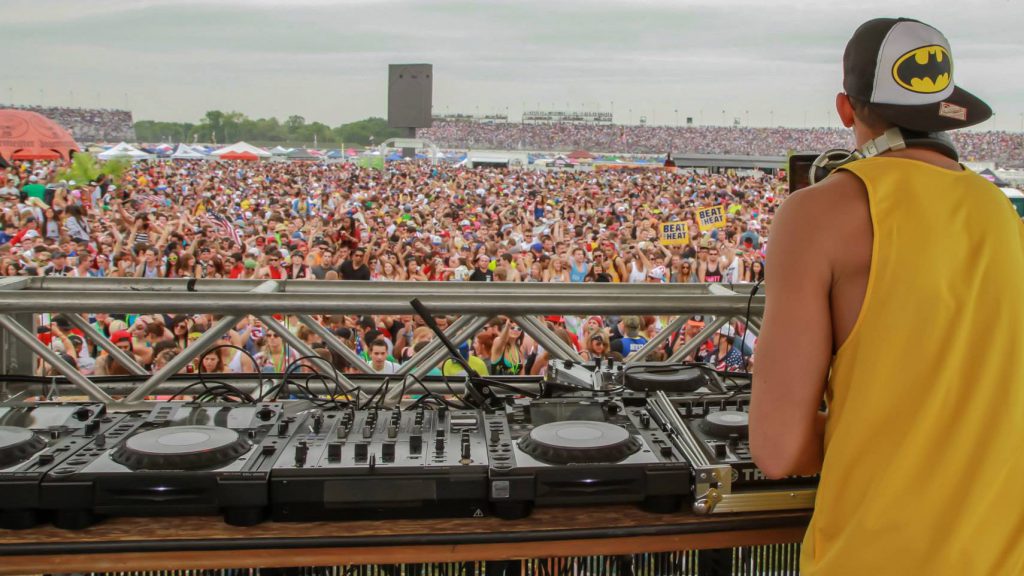 If you could pick three artists to listen to for the rest of your life, who would they be and why?
Oh man, this is a tough question. Bassnectar is definitely #1 because he's my favorite electronic artist and I love everything he does. STS9 would be my second pick because they're my favorite jam band and I love to listen to them in a chill setting. And my third pick would have to be anything by Tom DeLonge (Blink 182, Boxcar Racer, Angels & Airwaves) because I grew up listening to his various bands and his songs continue to make me feel some kind of way whenever I go back and listen to them.
Honorable mention goes to Lil Wayne however; back before he started sucking (2010 and before). I can rap just about every Lil Wayne track he's released. [Laughs]
Where is a "dream venue" that you'd like to play at?
Red Rocks is definitely my dream venue. I would probably die from happiness if that ever happened. It's so amazing on every level.
What is your favorite music festival and why?
From the festivals that I've attended, I would have to say Electric Forest is definitely my favorite as I've attended every year since 2011. It's always such a magical experience every year. I love how they curate the lineup with both electronic acts and jam bands. It's also a lot of fun to go exploring and lose yourself in the forest; you never know what kind of wonders you will find. I highly encourage anyone who has never been before to add it to their bucket list.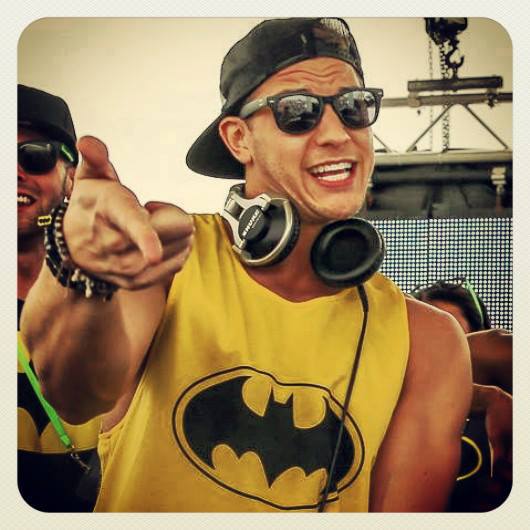 Which artist was your introduction to Electronic Music?
I discovered and listened to D-Devils, a Belgian techno group, back in college. That was probably my first exposure to electronic music. I didn't really get into electronic music though until after a buddy turned me on to Deadmau5 back in 2010. My first electronic show ever was Deadmau5 and Skrillex at the Congress Theater in Chicago in 2010. I still remember it vividly. At the time, no one knew who Skrillex was; we all thought it was some girl up on stage. He was playing the craziest music we had ever heard and the crowd was loving it.
It wasn't until several months later that I learned she was actually a he and his name was Skrillex. That was my first taste of Dubstep. I ended up becoming a huge Skrillex fan and have seen him over 20 times now to date. I was also fortunate enough to meet and hang with him on several different occasions. He's such a talented, humble, and cool guy.
Anything in store for your fans for the rest of 2017? Releases or upcoming shows we can catch you at?
Nothing in particular. Fans can catch me DJing around Indianapolis a few times a month. I may release some new mixes on SoundCloud at some point as well. I would really like to travel and play some shows in some new cities, so if anyone knows of any promoters looking for new acts to book, please direct them to [email protected]!
Crime fighting DJ extraordinaire by night, IT project manager by day; which one is the real Jake?
It's definitely a combination of both! I spend 40 hours a week working as a project manager for a software company. Much like Bruce Wayne, I tend to be a bit more polished and professional during the daytime while interacting with customers and co-workers. At night however, that's when my real persona emerges and I can be my true, unfiltered self: The Dub Knight.
Who more portrayed their role better, Christian Bale as Batman, or Heath Ledger as the Joker in The Dark Knight? Why?
Heath Ledger hands down. He transcended the concept of acting in my opinion and actually became the Joker, stealing every scene he was in. As a viewer, it was easy to forget someone was playing this character because he felt so real and mesmerizing. I've seen the movie a million times and I still get goosebumps with every scene he's in. I'm forever grateful for the performance he gave us and will always remain deeply saddened that we'll never get another chance to see it again.
Finally, what is your favorite ice cream?
Another tough question; I love ice cream! I have been on a huge Butterfinger Blizzard kick lately but I also love cookie dough or Reese's Cup Blizzards.
---
Follow The Dub Knight on Social Media:
Facebook | Twitter | Instagram | SoundCloud
Featured Photo Credit: The Saucy Monster