It's been just over a month since I returned from the Weekend 1 installment of Electric Forest.
---
While the time since my return has been filled mainly with recuperating physically and readjusting to work and everyday life, I'm already excited for next year, waiting to be back home beneath the trees of Sherwood Forest. I must say though, having attended Electric Forest the past three years, this one was the toughest overall.
If you didn't see reports from the dozens of blogs or Twitter accounts, most people have heard some sort of story about the weather over the weekend, which also continued into Weekend 2. Here's my account of how the first weekend went, and a glimpse into the true beauty that is Electric Forest.
I arrived at Forest on a charter bus filled to the brim with around sixty other like-minded, adventurous individuals.
Traveling all the way from Tampa, Florida, the 24-hour bus ride was just the beginning. I actually managed to accidentally leave my cell phone on this bus, rendering me unable to contact anyone, check the time, look up set times, or anything else, but this ended up being one of the best things that could've happened to me. Upon arrival on Wednesday with our early entry passes, we were given group camping, a feature of Electric Forest that, in my opinion, is extremely underrated.
Because of our group camping and tent only status, we were granted entry to the campgrounds through a separate entrance from GA car campers, potentially saving us hours of waiting in massive lines. After a simple security check, we carried our bags no more than 200 meters to our intended camping area, which happened to be almost directly outside the main gates of the festival.
For those who don't understand why I put emphasis on this fact, the campgrounds of Forest are massive. I learned this the hard way when I attended in 2016. In an attempt to locate a friend's campsite somewhere on the opposite ends of the grounds I unknowingly embarked on a 45-minute trek to the other side of GA camping. Imagining my friend having to make this walk to the gates every day made me appreciate the proximity of my camp tenfold.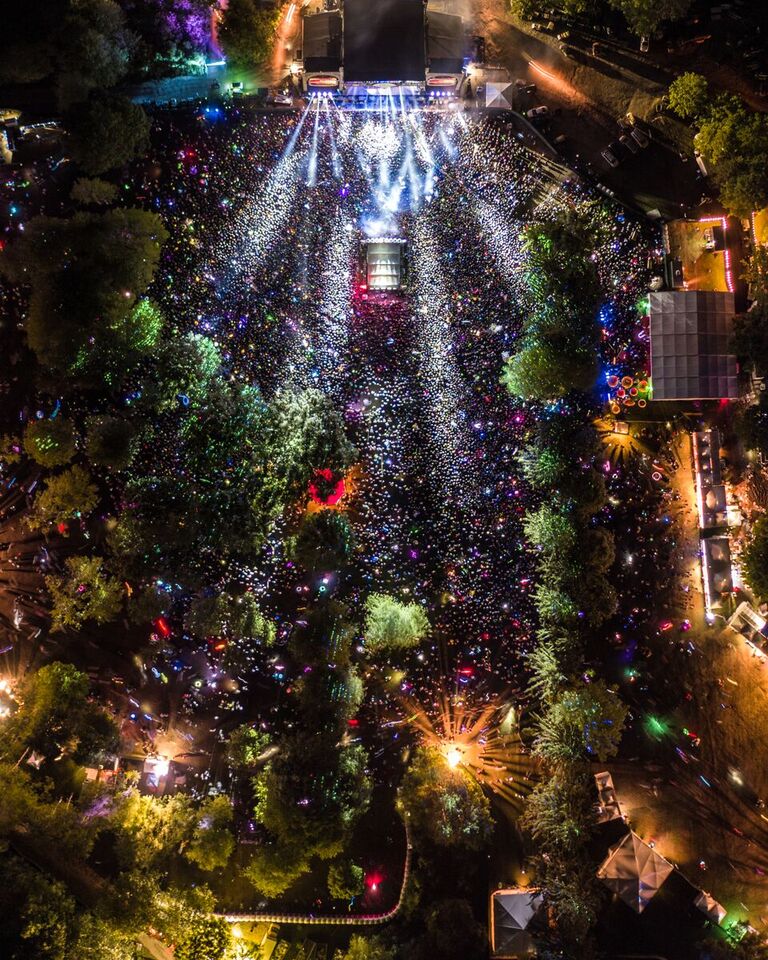 Having arrived at the Forest a day early, the festival grounds weren't open yet, so we had time to go explore the shops and food vendors on Main Street.
Main Street is the main artery that goes through the heart of the campgrounds. This year it boasted a massive shaded structure for lounging and eating under, a feature that was absent the year before. In addition the plethora of vendors both food and collectible alike was endless. The number of shops seemed to have doubled, raising the temptation to spend all of my money right then and there. All in all, Day 1, or technically Day 0 as many people call it because the festival wasn't open yet, went fairly smooth, at least until the weather hit.
In the middle of the night, my girlfriend and I woke up to a massive storm, rain beating on our tent and the flash of lightning outside, which wouldn't have been so bad if it weren't for the waterfall pouring through the roof. The next morning we awoke to a slew of similar stories: peoples' tents flooding and an entire week's supplies of fresh clothes getting drenched. Then came the mud.
When the gates opened on the first day of the festival, the ground was covered in up to six inches of mud, which thanks to the nightly rains, persisted throughout the weekend. The walks from stage to stage became more of a group slip n slide than anything, keeping us on our toes. I'd be lying if I said the mud and rain didn't dampen people's spirits a little, no pun intended.
Insomniac, however, being the amazing company they are, wasn't having it. By the second or third day, almost all the mud had been either professionally drained or covered by thousands of wood chips. The quick work by Insomniac and those affiliated truly enhanced the experience and saved the day when it came to dealing with the weather.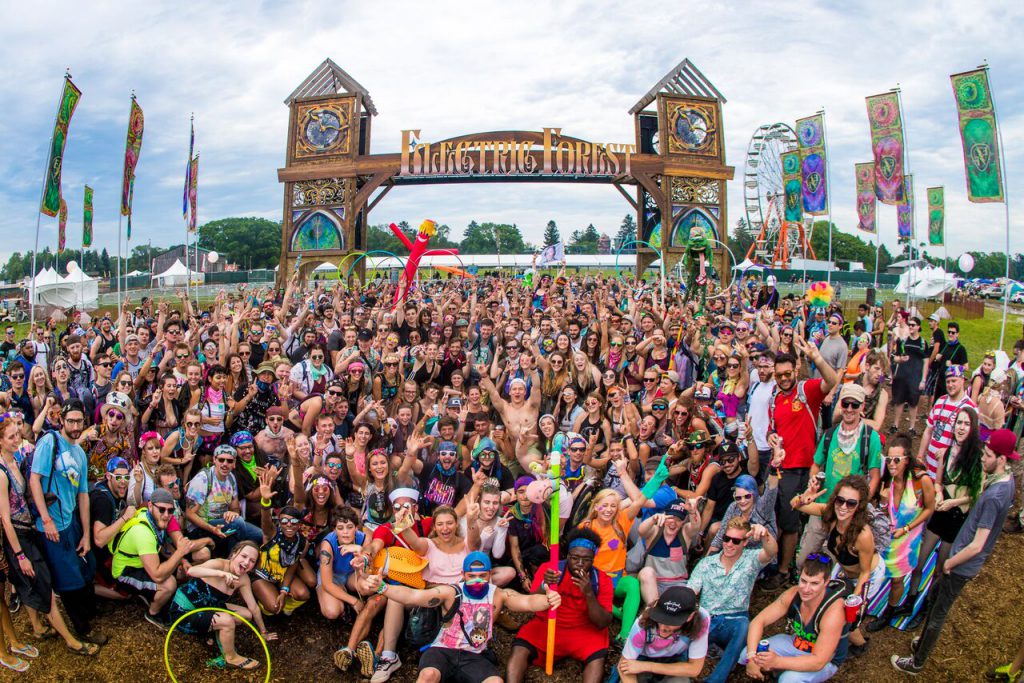 As far as the festival itself goes, it was a complete sensory and emotional overload from start to finish as usual.
Those who have attended Forest before will tell you there is nothing else like it in the country, and maybe even the world. An incredible lineup, featuring artists spread across multiple genres including Bassnectar, Odesza, 12th Planet, and Above and Beyond, backed by an environment that emulates unity and freedom, results in the perfect recipe for happiness. From the Tripolee stage with its giant stone statues looking down at you to the ranch arena with blimps flying overhead and insane laser and sound quality to the actual Sherwood Forest itself, every inch of this festival is magical.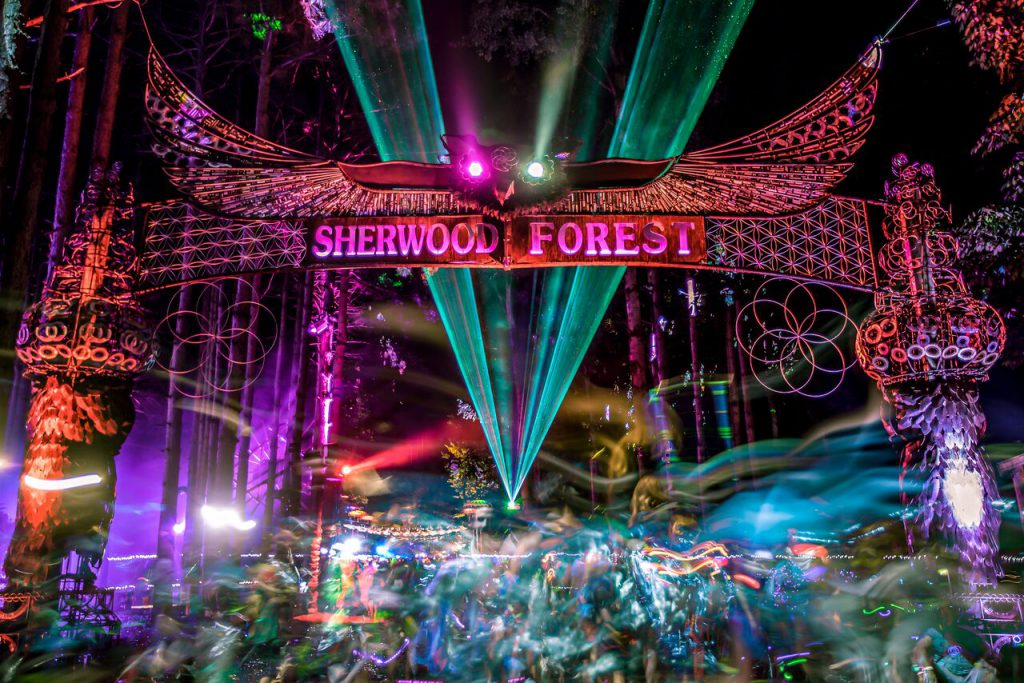 I mentioned earlier that I was without my phone for this entire festival, and I was actually glad that ended up happening.
Losing my phone let me completely unplug from the outside world of news, internet, Twitter, and more. I once saw a picture of a sign or tapestry hung over a camper's tent at Forest that read "There's no WiFi in the forest, but we promise you'll find a better connection," and I'll allow you to interpret that as you may. The atmosphere of this festival is just as important, if not more than the actual lineup.
I tell people all the time you could spend all four days of the fest just exploring the forest and none of the four main stages, and you still won't see everything packed within those mysterious trees. Spend some time exploring and you could find yourself at a forest silent disco, a wedding chapel run entirely by clowns, educational courses, storytelling, hammock chill zones, giant robots, tree houses, gardens, and secret sets nowhere to be seen on the lineup.
Speaking of secret sets, the This Song Is Sick secret set has become a highly anticipated tradition at the forest.
In 2012 they hosted a secret set including three previously separate artists: Big Gigantic, Griz, and Gramatik, unknowingly creating the funky super group Big Grizmatik. Since then these sets have brought together crazy mixtures of artists for sets no one would ever see anywhere else. Unfortunately, I missed the TSIS secret set this year, which included Illenium, Ekali, and Big Gigantic, bringing a show never before seen and blessing the forest with yet another legendary set that will probably never happen again.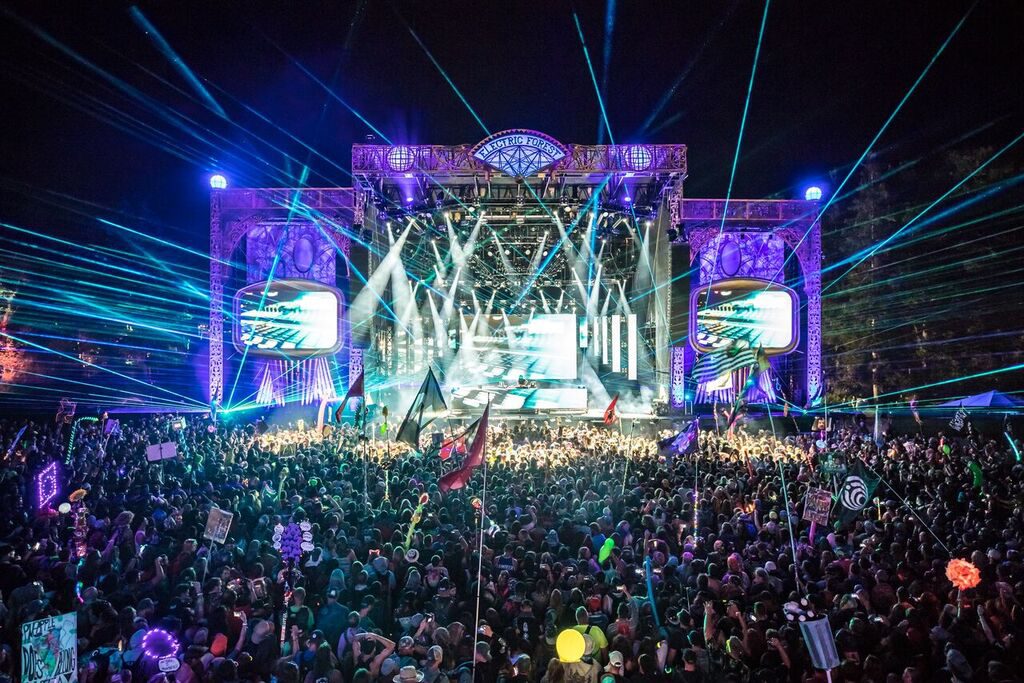 In addition to secret sets, another feature of Forest that you'll only find out about through word of mouth is the water park. Yes, I just said water park.
To the left of the main gates of the festival is a small sign that says water park pickup. Wait there long enough, usually about 15 minutes or so, and a school bus arrives. Hop on this free shuttle and it takes you off the grounds about two miles down the road to Double JJ's resort, where for $20 you have access to a pool, several water slides, a lazy river, and my personal favorite, a massive hot tub.
In addition to the water park, there are free hot showers and a buffet that has food much less expensive than inside the festival grounds. Stay as long as you'd like, then hop on the next bus back to the festival. The water park is in my opinion, Electric Forest's best-kept secret.
All in all, Electric Forest was a truly beautiful experience and comes in at #1 on my list of must see festivals.
Boasting seven incredible stages, the massive Sherwood Forest, a water park, amazing staff and security, weather that you just can't beat, and endless surprises, Forest will have you waiting in eager anticipation all year long.
---
Connect with Electric Forest on Social Media:
Website | Facebook | Twitter | Instagram | YouTube
Featured Photo Credit: Electric Forest