GTA comes to Schimanski, one of the newest venues in Williamsburg
---
This Saturday GTA will be taking the stage at Schimanski and it is shaping up to be one of the highlight after parties of The Meadows 2017. Earlier this year, he released a self entitled album that boasted some pretty big names including Vince Staples and What So Not.
The electronic duo from Miami specialize an eclectic sound sanpling from, house, electro house, trap, hip-hop and everything else that tickels their fancy.  The boys will be taking stage on the Queeens BLVD Stage at The Meadows on Sunday from 2:15pm – 3:00pm. Shall we dance?
Opened back in October 2016, Schimanski in Williamsburg, Brooklyn is the newest venue to host some pretty big names this Meadows weekend including Big Wild and GTA.
The club, located on 54 N. 11th street, was once known as Verboten but was taken over after some crazy scandals involving debt and fraud, put up for auction and was renivated, emerging as Schimaski (named after a German TV cop). The club boasts a Alpha Dynacord sound system, 2 seperate rooms for artist to perform, as well as a pretty rad LED wall.
Check out GTA at Ultra Music Festival 2015 for a preview of their set!
---
GTA | The Meadows Official Afterparty 2017 – Essential Info:
Date: September 16, 2017
Ages: 21+
Hours: Doors 11pm
Venue Address: 54 North 11th StreetBrooklyn, NY, 11249 United States
Tickets: HERE
Facebook Event Page: HERE
---
GTA | The Meadows Offical Afterparty 2017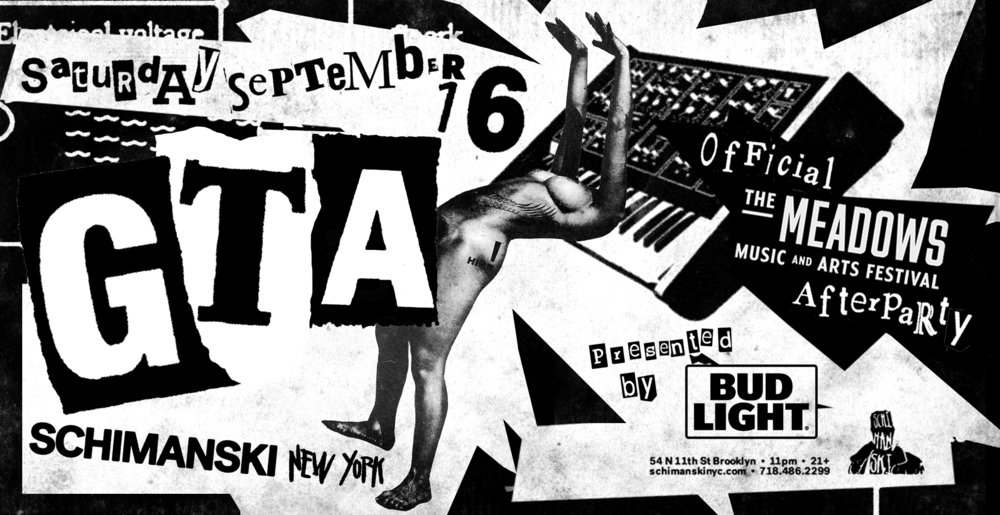 ---
About GTA:
"While their warm-ups are routine, Mejia and Toth's performances are anything but. GTA sets are musical joyrides with the guys at the wheel, as they speed from trap and hip-hop into booming electro, take unexpected detours with rock and R&B, and screech to a halt for massive bass drops. Despite GTA's wild, unpredictable sets, everything the duo does – both on stage and in the studio – is unified by a simple mission statement: death to genres."
---
Follow GTA | The Meadows Offical After Party on Social Media: