If you loved Jai Wolf's latest Kindred Spirits EP, you may have the chance to catch it live during his Fall North American Tour!
---
Jai Wolf pleasantly surprised North American fans yesterday when he announced the addition of 20 tour dates to his Kindred Spirits Tour. He's appropriately dubbed it the Kindred Spirits Fall North American Tour and will make stops in cities in the United States and Canada including Portland, Salt Lake City, Calgary, and is set to conclude in Arcadia, California in early December.
The tour wraps up a killer year for Jai Wolf, after releasing his debut Kindred Spirits EP and performing at major music festivals such as Lollapalooza, Electric Forest, Hard Summer, and more! As long-time Jai Wolf fanatics, we can't wait to catch him on tour this fall. Make sure to check out the full list of tour dates below so you can too!
Tickets for the Kindred Spirits Fall North American Tour go on sale Friday, September 8th at 10 AM local time. Click HERE to purchase them!
Listen To The Kindred Spirits EP, HERE!
Kindred Spirits Fall North American Tour Flyer: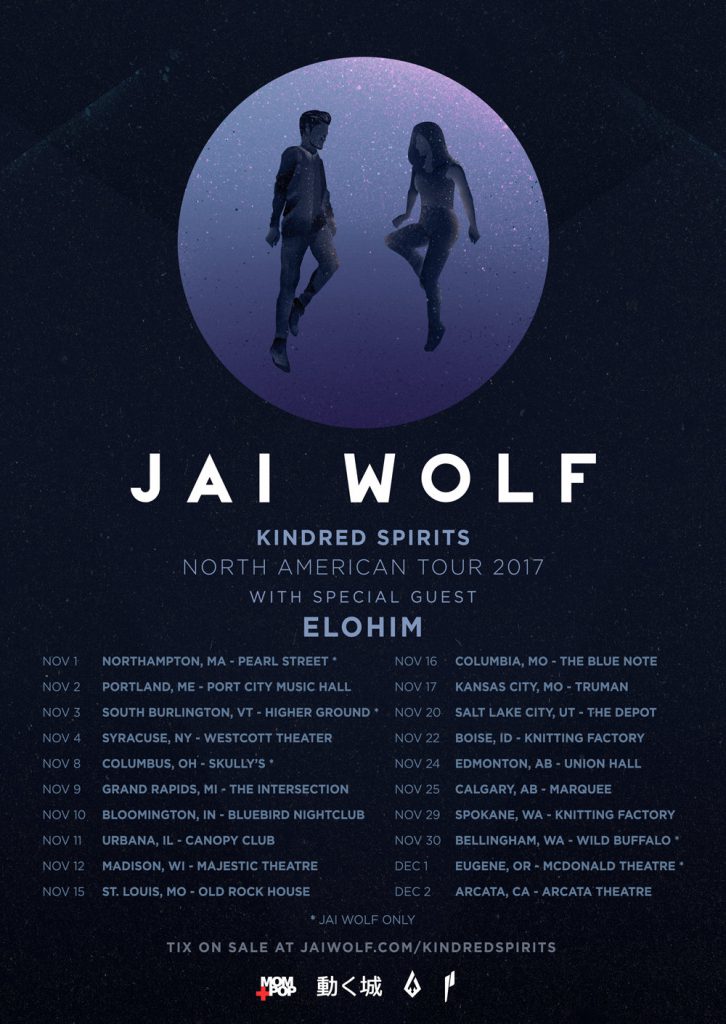 ---
Kindred Spirits Fall North American Tour Dates:
11/1/2017 @ Pearl Street – Northampton, MA
11/2/2017 @ Port City Music Hall – Portland, ME
11/3/2017 @ Higher Ground – South Burlington, VT
11/4/2017 @ Westcott Theatre – Syracuse, NY
11/8/2017 @ Skully's – Columbus, OH
11/9/2017 @ The Intersection – Grand Rapids, MI
11/10/2017 @ Bluebird Nightclub – Bloomington, IN
11/11/2017 @ Canopy Club – Urbana, IL
11/12/2017 @ Majestic Theatre – Madison, WI
11/15/2017 @ Old Rock House – St. Louis, MO
11/16/2017 @ The Blue Note – Columbia, MO
11/17/2017 @ Truman – Kansas City, MO
11/20/2017 @ The Depot – Salt Lake City, UT
11/22/2017 @ The Knitting Factory Concert House – Boise, ID
11/24/2017 @ Marquee – Calgary, AB
11/25/2017 @ Union Hall – Edmonton, AB
11/29/2017 @ Knitting Factory Concert House – Spokane, WA
11/30/2017 @ Wild Buffalo – Bellingham, WA
12/1/2017 @ McDonald Theatre – Eugene, OR
12/2/2017 @ Arcata Theatre – Arcata, CA
---
About Jai Wolf: 
Breaking the mold before it's even set is nothing new for indie-electronic artist Jai Wolf, better known to some as Sajeeb Saha. Born in Bangladesh, raised in New York City, inspired by everything from hip-hop to classical music to punk rock, both his life and music have been defined by an amorphous quality that only a third culture kid could understand. The fact that Jai Wolf never quite fit in used to be fuel for his daydreams, now it's what makes him one of the most exciting electronic artists of his generation.
---
Follow Jai Wolf on Social Media!