A very limited amount of 3-day GA tickets for Life is Beautiful will be available this Friday!
---
If you didn't get a ticket during the general sale you're in luck! Life is Beautiful has announced that due to original purchasers defaulting on payment plans the, now, unclaimed tickets will be put up for resale! There will be a very limited amount of 3-day general admission passes going on sale Friday, September 8 at 10 AM. Besides third party alternatives, this will be one of your last chances to get a legitimate ticket unless you purchase from a verified reseller like StubHub.
Life is Beautiful returns to Downtown Las Vegas during the weekend of September 23-25 and will host a variety of music, art, food, and other fun activities. This year's musical headliners include Chance the Rapper, MUSE, and Gorillaz with support from Lorde, Blink-182, The XX, Kaskade, Wiz Khalifa, and Pretty Lights, among many more talented artists. Check out the full lineup below and be sure to be available at 10 AM on Friday if you want to snag one of the resale tickets!
Daily lineups can be found HERE and tickets can be purchased HERE!
Check out Zach's review of Life is Beautiful 2016, HERE!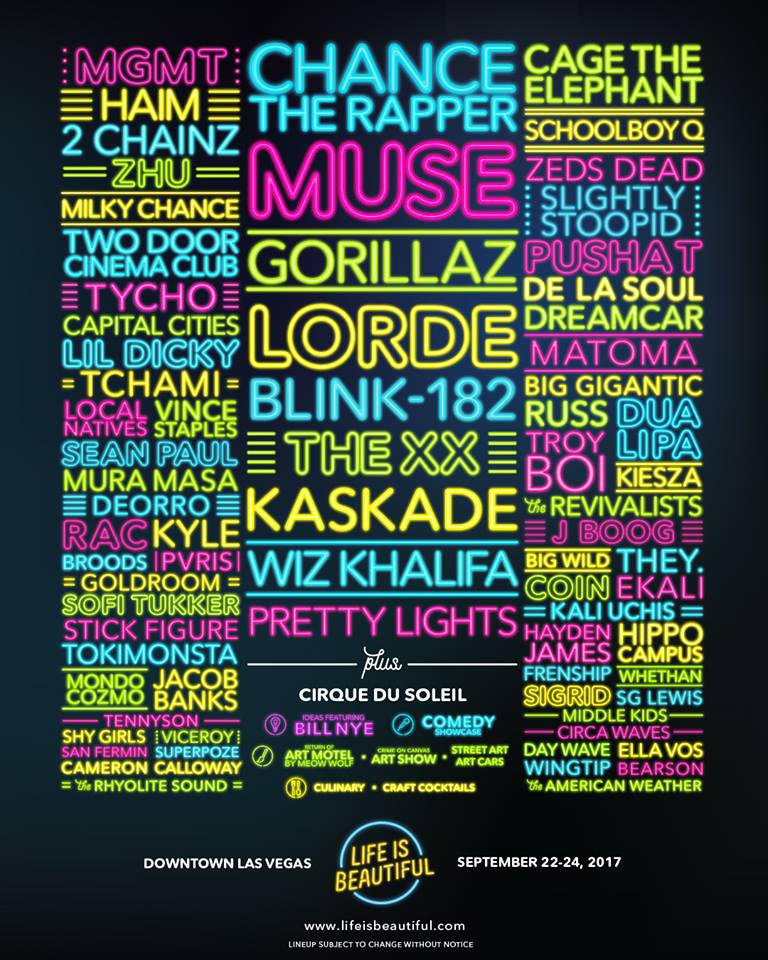 ---
Get hyped for this year by checking out the Life is Beautiful 2016 Recap Video!
---
About Life Is Beautiful:
From the moment the gates open, the Life Is Beautiful festival is a celebration, uniting people who love music, art, food, and ideas. And when you put that many like-minded individual together in the streets of Downtown Las Vegas, there's a surge of electricity that courses through the city: positivity prevails, culture and creativity thrive, and transformation occurs. Experience the stages, dance to the music, hear stories, try the food, hug a new friend, explore the art and meet people who will change your life. These are the best days of our lives.
---
Connect with Life is Beautiful on Social Media: