Get the lowdown on rising star Sage Armstrong!
---
When you talk about rising stars in the electronic music scene currently, it's is hard to ignore an artist like Sage Armstrong. Coming straight to your speakers with a blend of house, bass, and a touch of hip hop, Armstrong is the definition of an artist who is constantly evolving. "What's Yo Tempetcha?", his debut on Dirtybird back in 2015, announced the begin of his ascent to stardom and he hasn't slowed down since. Moving from Orlando to Los Angeles to pursue his passion for dance music, he has made a name for himself with releases on major labels like Fool's Gold, Night Bass, Insomniac Records, and of course more Dirtybird love too.
First catching our eye on the lineup at Dirtybird Campout 2016, we couldn't help but imagine what was to come. Fast forward to 2017 and it seems as if this season Sage Armstrong has been everywhere, playing major festivals and shows across the country. In fact, if you didn't catch him at Middlelands, he took the stage at EDC Las Vegas in June and helped close out the summer properly at Splash House in August. After his set at The Saguaro Hotel during Splash House last month is when we finally had the chance to chat with Sage about his music and more!
Stream Metronome: Sage Armstrong on Mixcloud:
---
We're sitting here with Sage Armstrong after his set here at Splash House, which was one of the most banging sets so far this weekend.
Thank you, man!
You've taken the stage at a variety of festivals ranging from Middlelands to EDC Las Vegas, and now you're here at Splash House. Has there been a show or festival that has stuck out to you more this season than the rest?
This season, I really liked Middlelands. It was interesting, medieval themed with castles. It was dope, there were people camping and stuff. It was a really interesting festival.
Since launching your career, how do you feel you've grown as an artist?
I just am constantly evolving my style and being true to what I really like when I hear something or when I play stuff it's stuff I really enjoy. Same with what I put out and play, it's like my taste just gets better and better towards what I'm making and playing, it's how I evolve. I learn things from other artists too.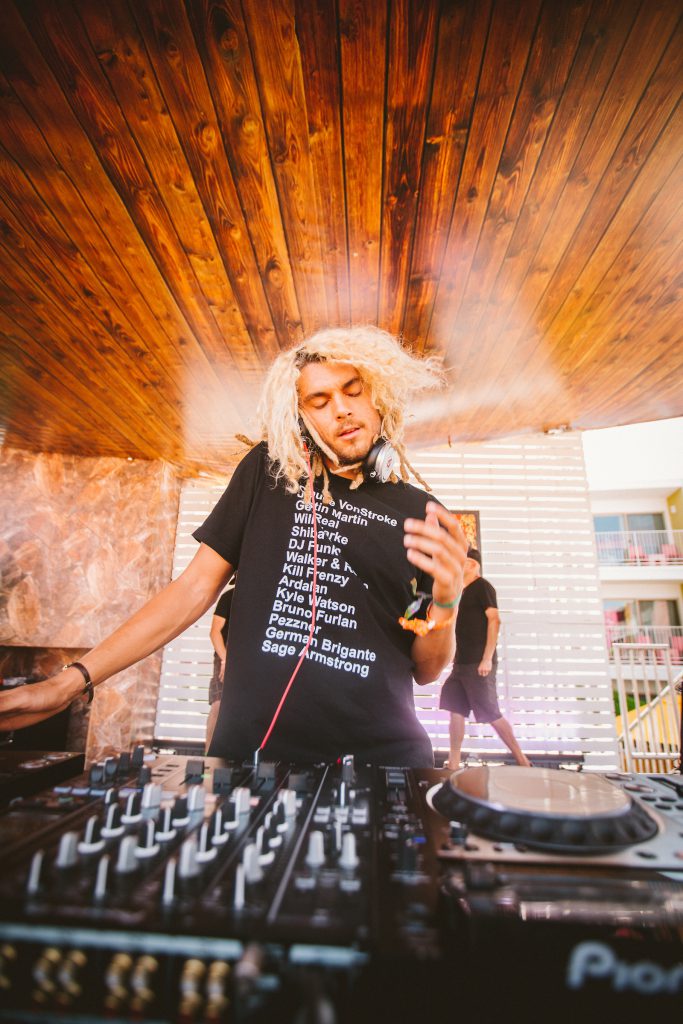 That's awesome, and your biggest struggle?
My biggest struggle is living on the opposite side of where I grew up. I grew up in Florida so now I'm on the West Coast, no family, it's all business. So just being so far from home and having that regular balance of going straight to work all the time, that's a struggle. Being away from family and my best friends. It's also the reason why I'm able to focus at the same time.
Over the past couple of years, you've worked closely with the Dirtybird Fam. What initially drew you to the label?
When I was DJing in Orlando I was already playing out a few of their songs, and the name kept popping up in my sets and stuff. I thought the label was sick and they were doing an event in Miami in 2014. I went and it was the coolest cross between hip hop, they had Just Blaze playing the sickest old hip hop, and then sick house music, like really bassy. There was BBQ and it was outside, I instantly knew at that point that I wanted to get down with them.
In the past you've worked with other labels too, so what's different with Dirtybird compared to those labels?
I would say Dirtybird is an established brand and they're working professionally. They actually pay you when they are supposed to, and everything is broken down professionally. Like with a lot of other labels, you don't hear anything unless you hit them up asking for the statements and you still might not get it. So they're very professional. Also, all the artists that are signed to the label are very compassionate, great, awesome, happy people. It's just good vibes being around any Dirtybird artist really.
You've collaborated on a lot of releases with BOT. What led to you guys working together and developing that synergy in the studio?
We ran into each other about three times in the same week, it was Dirtybird Campout, then at Night Bass, and then at Kill Frenzy's show, I think. On the third day, I just told him that I really liked what he was making and that it would be cool if we collaborated on a beat and I could rap on it. He was down for it, so it was just pretty awesome.
As an electronic artist that also loves hip hop, who are some artists in the hip hop scene that you're currently hyped on?
I really like Kendrick Lamar, I like Wintertime, I also like Travis Scott and Lil Uzi. Just a lot of creative, weird, upcoming artists. I like the whole new age scene of what's going on, I definitely like the old stuff too, but I'm into the new stuff right now.
Coming from Orlando but now living in Los Angeles, you sort of touched on it earlier, but is there anything you miss from Florida?
The climate. I'm used to being in the hot sun with humidity. When I come out West it is super dry, like a dry heat, and my hair gets all dry and everything. So I miss the Florida climate, and also the food and the cultures, it's what I'm from. When I go back I'm like, wow, I came from a place where people look like this and sound like this, and it's just so different you know?
Yeah, when we were in Miami for music week this year we tried some legit Cuban food which we haven't been able to find out here.
Yeah definitely, that's the thing, you can't get that food out here. There are restaurants but it's just not as authentic.
What are your top tips to keep cool during the summer heat?
Drink a lot of cold water. Eat fruits and vegetables because they help your skin toughen up in sun. Jump in the water, and listen to really good music that will help take the heat away.
Finally, Splash House is known for their party vibes, awesome sets, and of course some floaties as well. If you could create any object or animal into a floaty, what would it and why?
Probably a unicorn, like a zebra unicorn, because I like the contrasting colors of black, white, and the purple. It's a cool colorway and they're magical. [Laughs]
[Laughs] Fantastic, well thanks for chatting with us!
Thanks!
---
Connect with Sage Armstrong on Social Media:
Website | Facebook | Twitter | Instagram | SoundCloud
Featured Photo Credit: Nikki Jahanforouz