Snails is taking his career to the next level with his debut album, The Shell and his Shell tour.
---
In any music genre there's always the tastemakers – artists who pave the way for the genre and make a clear mark on the scene as a whole. They create a sound so unique and so out of the ordinary, it's hard not to recognize their innate talent. In the bass music scene in dance music, Snails has clearly proved he is one of them.
His newest announcement comes in the form of his debut album, The Shell. While the album does not have a clear due date, Snails just released the first single off of it. Titled "Into the Light", it features vocalist Sarah Hudson and combines light airy vocals with Snails' trademark "vomitstep" sound. It's filled with spinning synths, a strong bassline and of course lush vocals from Sarah Hudson. It's the perfect song to announce the album!
Along with the release of the single and announcement of the album, Snails is also going on his "Shell Tour." This tour will feature some great names in bass music such as Space Laces, 12th Planet, and Bro Safari. Further, it will be featuring the Shell stage design and 150,000 watts of PK sound. Tickets can be bought HERE for the upcoming tour!
Since his debut on the scene in 2012, Snails has made a huge impression. His style of music, dubbed "Vomitstep," has gotten him to the very top of dance music. He's worked with legends such as Flux Pavilion, Pegboard Nerds and was even on Jack U's Grammy winning album on the song "Holla Out." By himself, Snails also has a slew of hits.
We can't wait to see what's in store for Snails' tour and his debut album!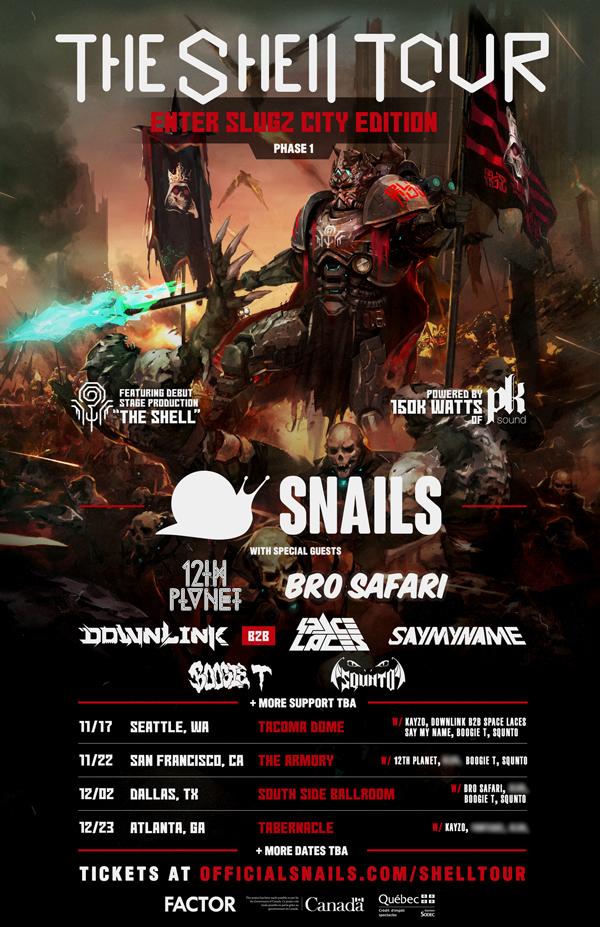 ---
The Shell Slugz City Edition Tour Dates
10/6 – Morrison, CO – Sluggtopia Red Rocks w/ NGHTMRE, JOYRYDE, MUST DIE! b2b Laxx, Boogie T., Squnto
11/17 – Seattle, WA – Tacoma Dome w/ Kayzo, Downlink B2B Space Laces, Say My Name, Boogie T, Squnto
11/22 – San Francisco, CA – Armory w/ 12th Planet, tba, Boogie T, Squnto
12/2 – Dallas, TX – Southside Ballroom w/ Bro Safari, tba, Boogie T, Squnto
12/23 – Atlanta, GA – Tabernacle w/ Kayzo, tba, tba
---
Follow Snails on Social Media:
SoundCloud | Facebook | Twitter | Website