Memorial Day Massive 2017 was a fun day filled with an impressive variety of bass music artists in Omaha, Nebraska.
---
Set in downtown Omaha, Memorial Day Massive 2017 was the perfect beginning to the summer festival season. The lineup featured a variety of bass music artists: PRXZM, Boombox Cartel, ARMNHMR, and Snails. This event revitalized my hope for the Midwest scene to continue to expand its taste beyond dubstep and increase the PLUR vibes I have found on the West Coast. Even though there was rain earlier in the day, it didn't put a damper on the crowd as they were able to headbang, mosh, and dance to hours of music.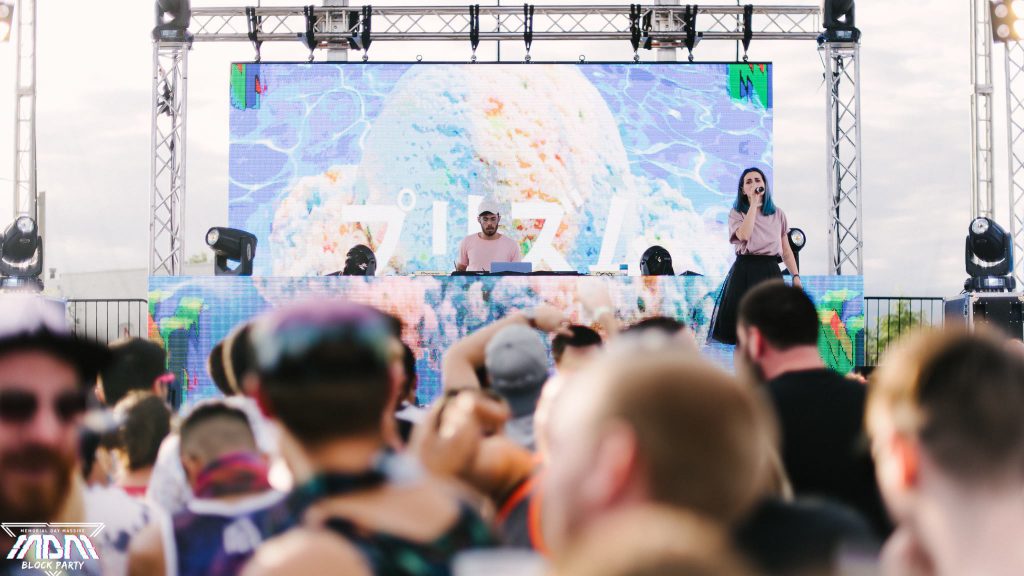 When I arrived at the venue, PRXZM had taken to the stage. They are a duo from Indiana who play electronic synth-pop. The live vocals by Emma combined with the live drums by Nick, something that I've seen Illenium and Galantis also utilize well in their sets, made them the perfect warm up set with their easy listening tracks.
If you're a fan of Porter Robinson, I would recommend checking out PRXZM. They were less of a DJ set and more like a live EDM act. Even though the sun hadn't set yet, their video game inspired graphics with Japanese writing on the LED walls added to their atmosphere. My favorite song that they performed live was their collaboration with Virtual Riot called "In The Air." The song features powerful vocals and catchy synths, which you can listen to below.
Next up to play was ARMNHMR, the duo from Los Angeles. They combine infectious melodies and heavy bass drops with fun stage presence to get the party atmosphere started. ARMNHMR doesn't limit themselves on genres; they range from dubstep to trap to future bass. When they played their remix of The Chainsmokers & Coldplay's "Something Just Like This," the crowd absolutely ate it up. My favorite track they dropped was San Holo's track "Light."
During their set, I decided to walk around the Memorial Day Massive venue a bit as we were getting closer to sunset. It's always interesting to see what new fashion trends have emerged for the summer festival season. This year I noticed women were donning purple and pink hair, while men were choosing to dye their hair blue. Space themed clothing, such as hoodies, tanks, and pants, was plentiful throughout the festival. Since this was a festival featuring Snails, there was also a lot of trippy and acid melting fashion pieces, something you would expect to see at a festival like Electric Forest.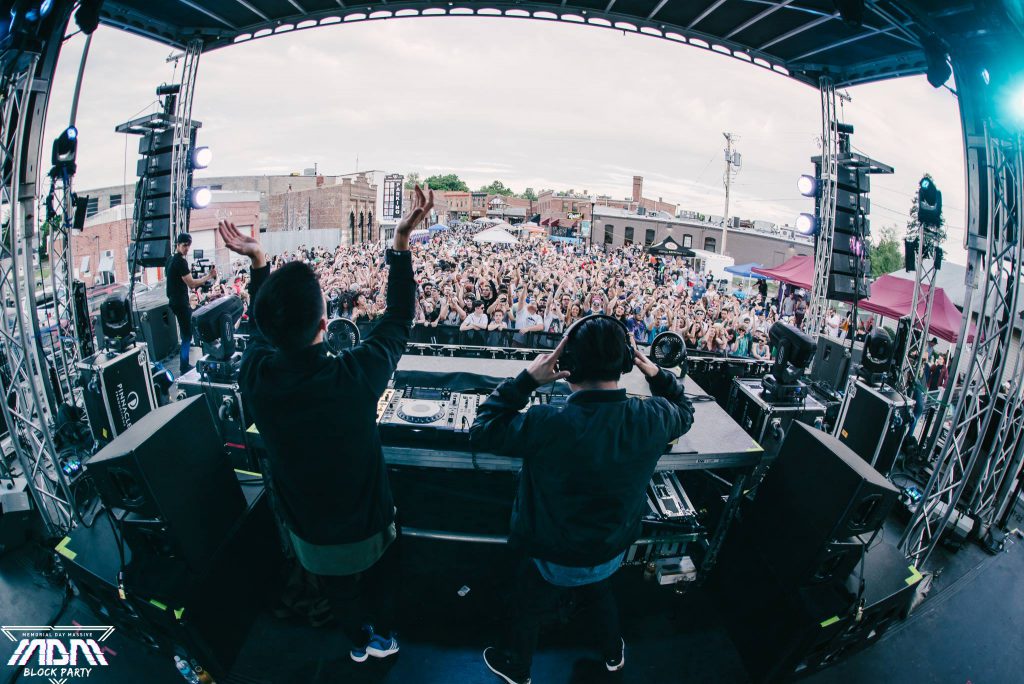 I also wandered to the merch booth to check out if there was anything fun or interesting being sold. It was almost all Snails related merchandise, but this wasn't surprising. The flag with the Snails logo and the sports jersey-inspired t-shirt tempted me the most. I do wish there had been at least a shirt or pin from PRXZM or Space Jesus, though.
On my way back towards the stage to wait for Boombox Cartel, I was approached by a rave family to join them for the night after noticing I came to the event alone. This was a welcomed atmosphere as I didn't have high expectations for friendliness since the event was held in a college neighborhood. One of the rave family members, in particular, was a big fan of Boombox Cartel, only adding to the hype that I already had for them. Once the stage lit up with Boombox Cartel across the LED screens, the Skrillex remix of "Cinema" by Benny Benassi started playing and got the crowd dancing immediately.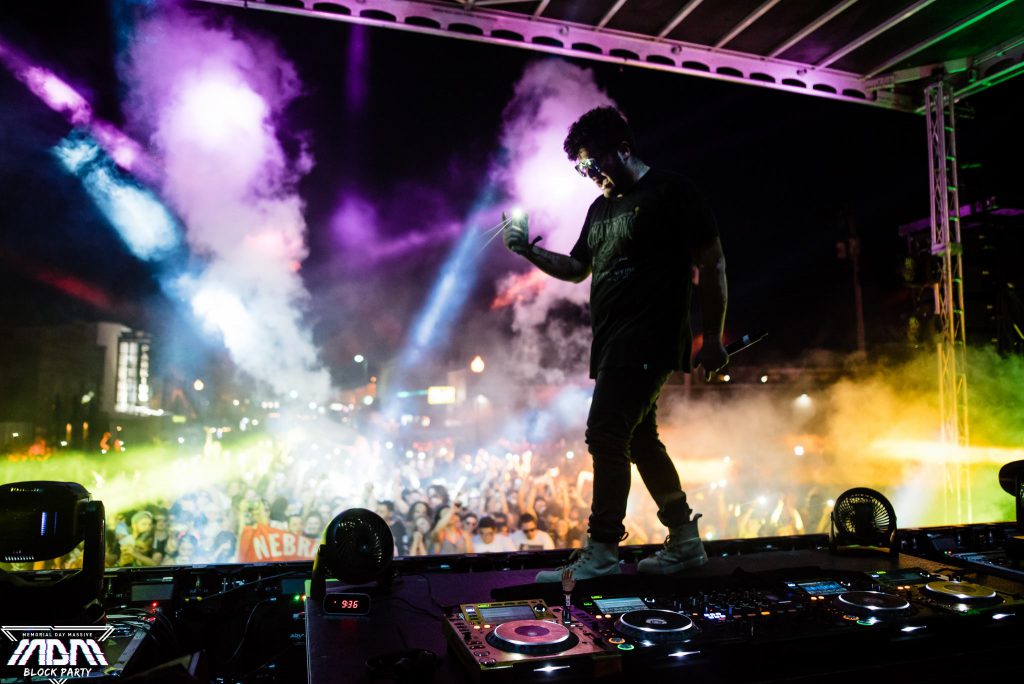 The sound system at the Memorial Day Massive handled songs like Boombox Cartel's "Supernatural" perfectly making it sound full and powerful no matter where you stood. Of course, Migos' "Bad and Boujee" ft. Lil Uzi Vert was played, which ended up being a fun break before we went back into powerful trap drops they're known for. One of the most interesting things about Boombox Cartel, besides their music, is their visuals. Images would flash between skulls, bones, and other horror inspired imagery. The scariest of their visuals had to be the image of President Trump melting on the screen repeatedly throughout the set. Overall, there was a perfect balance of energy held throughout that entire set making me wish they got to play longer.
After an impressive set by Boombox Cartel, the Vomit Squad was ready to see the main headliner of the night, Snails. I can best describe Snails as the true contender to Excision. If brostep is described as listening to Transformers mating, then Snails' Vomitstep is role playing as Optimus Prime. The unique basslines found in his productions were at the top of the list for things I wanted to hear at Memorial Day Massive. They did not disappoint; the bass was slimy and grimy, while the kicks were strong and crisp. To end the festival, Snails played the heartfelt song "I Will Always Love You" by Whitney Houston.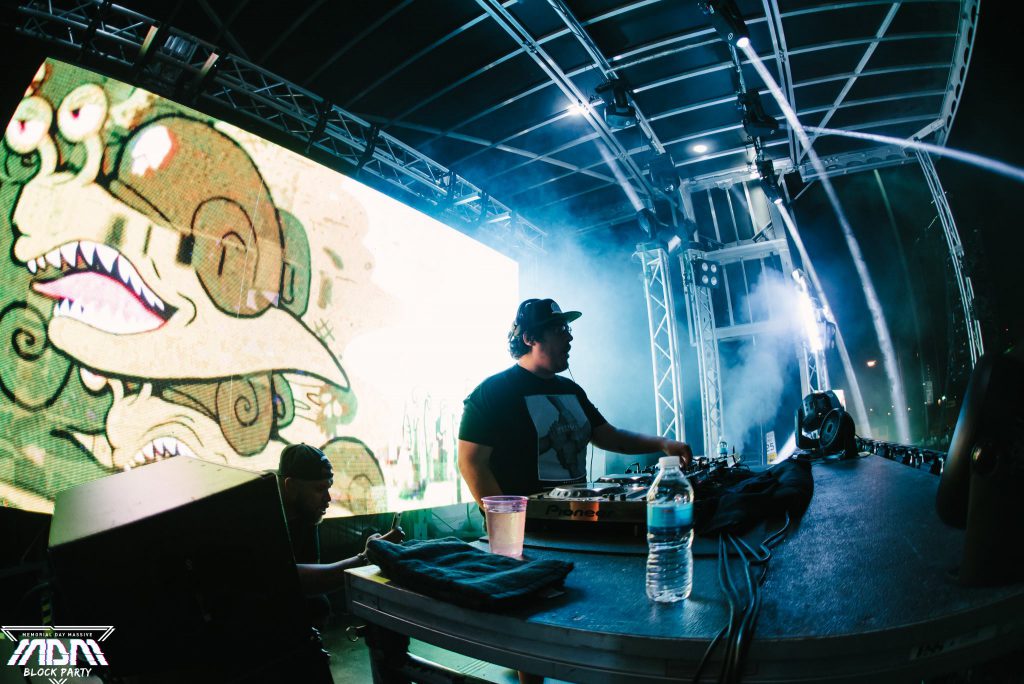 One of my major complaints about the Midwest scene has been its inability to expand its tastes past your mainstream dubstep music played by likes of Excision. Memorial Day Massive 2017 revitalized my hope for our scene to blossom and showcase more of the ever-expanding genres that EDM has to offer. The festival was able to take us through a journey of different musical tastes. There was a large contrast to what had started off as a playful, easy-listening set by PRXZM to the dark trap and bass party set by Boombox Cartel. Memorial Day Massive 2018 should be on your list of events to attend if you're into electronic dance music in the Midwest.
---
Follow Memorial Day Massive on Social Media:
Facebook | Twitter | Instagram
Featured Photo Credit: Mike Hall