Costa Rican bass alchemist JLEON is piercing the North American bass music realm with his newest EP Nerve Damage, out today on Sleeveless Records.
---
The merciless Nerve Damage EP by JLEON features seven groovy, pulsing tracks that are unlike the record label's other releases. It's a seductive, bass-heavy soundscape uniquely rooted in hip hop, West Coast bass and interlaced with his own Costa Rican "jungle" flavor. Sleeveless Records is proud to top his exciting festival season with this heavy-hitting finale.
JLEON is unabashedly forging a space for himself, despite being relatively new to the bass music scene. He's collaborated and performed with artists like BUKU, Luminox, Alix Perez, and Sleeveless Record's very own mix-master Stylust Beats. He's risen forth from the underground and is taking to our bass music scene without apology.
The entire album is chill and dark, whilst rhythmic and groovy. 
The first track "ENDLESS MATTER" jumps starts the EP's dark, dank universe with an upbeat midtempo cacophony of rhythmically interlaced multilayered sounds, underscored with a groovy hip hop beat. The title track "Nerve Damage" begins like a psychedelic rock song with a cheeky synthy melody, before metallic bubbles flutter up into a glitchy, bass-ladden groove sprinkled with 8-bit sprites and pulsing accoutrements. My personal favorite "I Just Told You It's Enough" features deep, beckoning vocals, encircled in multi-harmonic barks, and abrasive, scraping leads.

Bass music lovers of all creeds should have no qualms upon delving into the grimy underworld that he deftly portrays. Those who like dark bass noises like that of Shlump, Bleep Bloop or Perkulat0r will certainly dig the subterranean grime that JLEON is planting.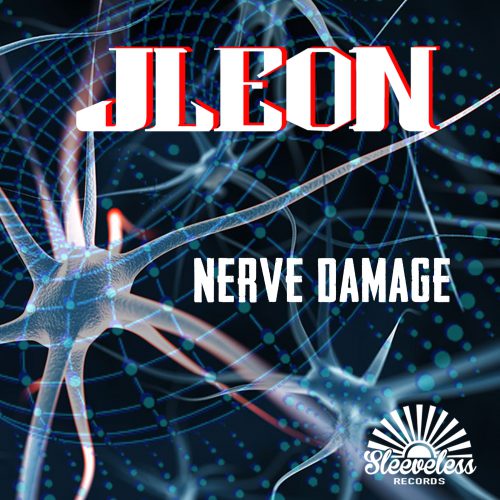 ---
JLEON – Nerve Damage EP Tracklist:
Acid Drop (3:24)
I Just Told You It's Enough (3:47)
NERVE DAMAGE (3:45)
PIANO (3:55)
PRESSURE (3:45)
THE FLU [feat. ESQUINA] (3:04)
ENDLESS MATTER (3:21)
---
Follow JLEON on Social Media:
Facebook | Instagram | SoundCloud
Follow Sleeveless Records on Social Media:
Website | Facebook | Twitter | SoundCloud