Gunz For Hire talk about their Mysteryland set, the impact of raw hardstyle, and more!
---
Ran-D & Adaro, better known as Gunz For Hire, produce some of the best euphoric and raw hardstyle tracks in the scene. Currently on their "Armed & Dangerous" tour, they continue to travel the globe donned in mysterious masks and guns playing some of the biggest stages in the world, including Mysteryland, Tomorrowland, and EDC Las Vegas.
Gunz For Hire stays fresh with their pounding reverse bass, hands-in-the-air melodies and ready-to-be-screamed vocal lines. They are perfect examples of hardstyle being a way of life.
Watch Gunz For Hire – "Armed & Dangerous" World Tour Preview on YouTube:
---
You're playing the Q-dance stage at Mysteryland 2017 – do you have anything special planned for fans since you're closing out the first night at the stage?
The Mysteryland gig is part of our "Armed & Dangerous" tour and we have worked very hard in the studio before the tour to make lots of new tracks and you can hear them all on Saturday, combined with some classics and unexpected oldies!
For fans who are new to the scene, what tracks would you suggest best represent your dark and raw hardstyle sound?
Well, with Gunz For Hire we don't have 1 sound that's only dark. We also create a lot of party tracks with a raw edge. For the new hardstylers, if you like it more melodic, then check out Plata O Plomo, Bolivia or our bootleg of Warriors by Imagine Dragons. If you like it more raw than check out our latest bombs like Armed & Dangerous, Welcome to Deathrow or last year's tour anthem No Mercy.
Do either of you have any pre-show rituals or traditions before you take the stage at an event?
No 😉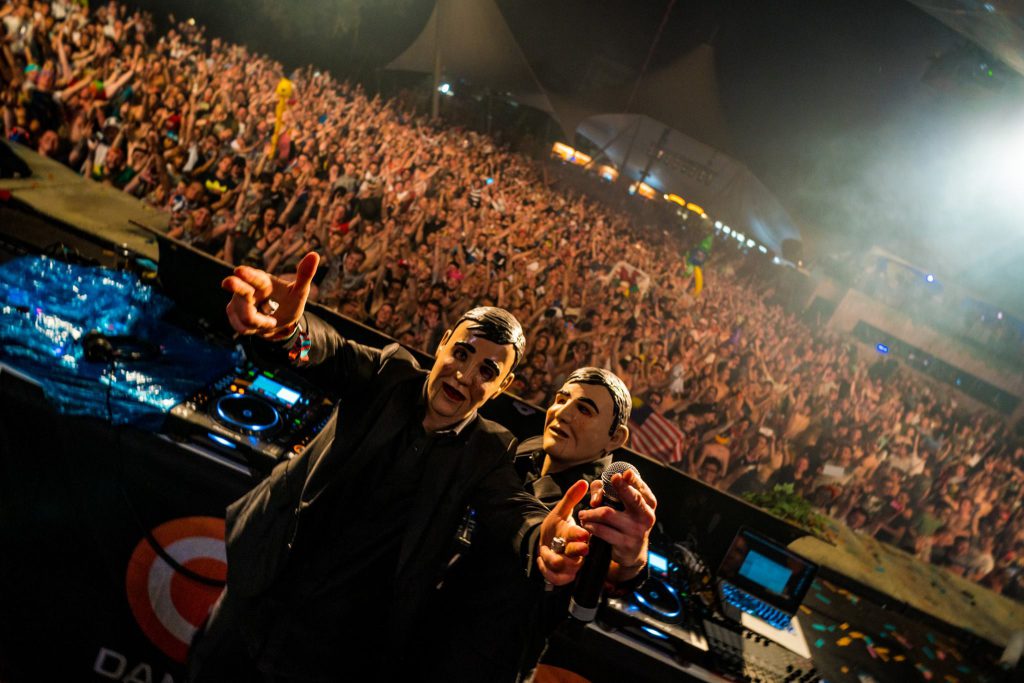 The 'No Mercy' tour incorporated mini-movies and visuals to tell a story throughout the set. What were the crowd reactions to the enhanced experience?
The crowd reactions were great! We were the first to do this in our scene, and the majority of the reactions were like, "We've never seen something like this!", that was awesome. With the new tour you can again witness a visual spectacle!
Gunz for Hire has toured with themes such as 'Gangsters Paradise' and 'Armed & Dangerous' – why does hardstyle play together so well with the crime and mafia theme?
Well, the whole theme of Gunz For Hire is built around the gangster world and crime, so a lot of our tracks have connections with this theme. It's rough and raw and that's why it fits with the raw music.
You've been releasing productions under the Gunz For Hire alias since 2011. How has the hardstyle scene, in terms of music production, changed over the years?
With the popularity of the raw scene the last few years the kicks became much harder. And since last year with the influence of psytrance and other genres, there became more variety in the sounds of kicks. Anything is possible now and it makes it way more interesting for us as producers. You can also see a change in sound, raw is becoming more varied and the scene is on the way back to more melodic music again, a great development in musical and creative point of view.
Do full-length albums still play an important role in the hardstyle scene?
It's still important in the hardstyle scene because we have a real dedicated scene and our fans still buy albums. An album can give a boost your career, because you are setting yourself in the picture and it's a great tool for your marketing. The downside is that there is an overkill in artist-albums so the impact is less and shorter than a couple of years ago, but the overkill also gives chances to stand out with a great album.  With Gunz For Hire we're not planning an album at the moment, we are dropping single tracks with accompanying videos.
Has there been any pressure to make more radio-friendly tracks to increase popularity for the genre?
No, absolutely not. That's not the task of Gunz For Hire, we don't care that we are not on the radio. Our music is not for the mainstream masses, but for the hardstyle crowd.
Finally, what are your favorite horror movies?
We both like the good quality horror movies, in the latest years, for example, The Conjuring movies and we are looking forward to the remake of IT.
---
Connect with Gunz For Hire on Social Media:
Website | Facebook | Twitter | SoundCloud | YouTube