In the wake of another festival cancellation, our rave family turned a potential disaster into an incredible weekend.

---
It seems as if 2017 has been hit with a very real case of the cancellation bug with events like Mysteryland USA, Pemberton Music Festival, and Fyre Festival all going the way of the dinosaur. Just this past week, my worst nightmare would finally come to fruition with Married To The Rave at Woodstock Orlando.
Set to be a smaller gathering, but with a lineup boasting some of trance's finest like Neptune Project, Kristina Sky, and Indecent Noise, I had to be there. We hit the road and we felt the excitement build as the festival organizers teased us with posts about the stage preparation for the trance patio. We were officially on our way to celebrate dance, life, and love the best way we knew how!
As we awoke the next morning, my stomach dropped to the floor after we learned there was a problem with the festival.
It was soon revealed that the event would not go on and for hours, attendees, artists, and promoters alike would be scrambling to figure out what was happening and how we were going to salvage the day.
As expected, social media was beginning to light up, passing the buck from promoter to the venue, back and forth in a heated, "who's to blame" scenario. But among all of the chaos, one thing was clear: there was still the opportunity to gather up all the performing DJ's and figure out a way to make a party happen.
---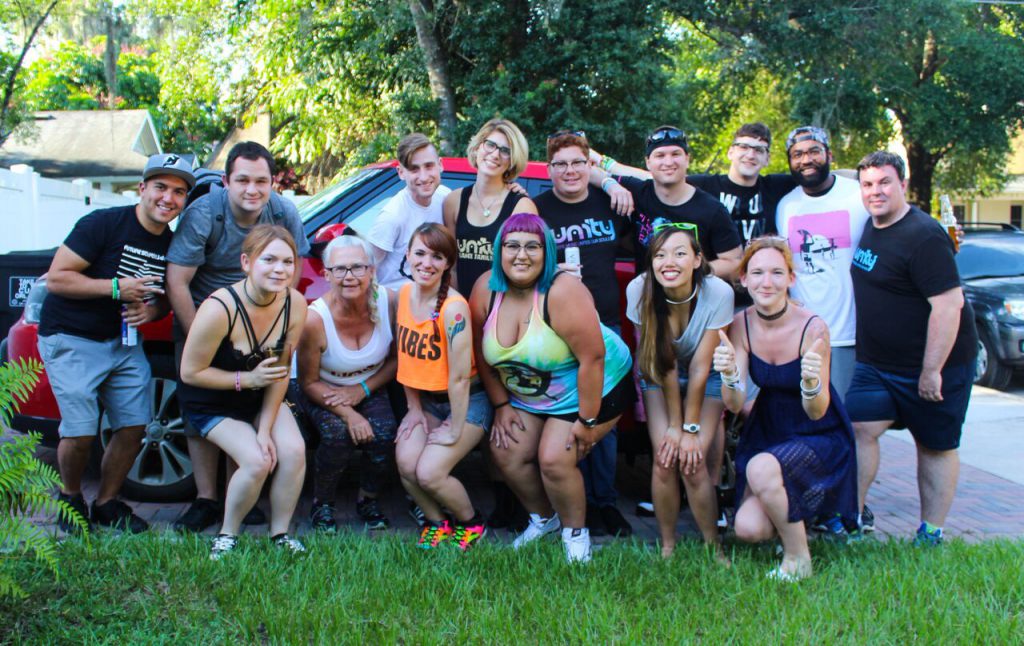 All we wanted was for the music to live on in the face of this unfortunate event.
With my beautiful trance family waiting for me just across town, we headed out to join ranks and discuss plans for moving forward with the day. Surrounding yourself with your dance music family is one sure way to shake off the blues, and my incredible Unity Trance Family and some new found friends took the opportunity to kick back and relax, keeping the good vibes flowing as best we could.
Monoverse and Niko Zografos even went the extra mile for their fans and dropped by for a quick visit. It was a wonderful lesson in itself, reminding us that had we given up, packed up, and headed home, we would have missed out on a wonderful opportunity to share the same space with two incredible rising stars.
---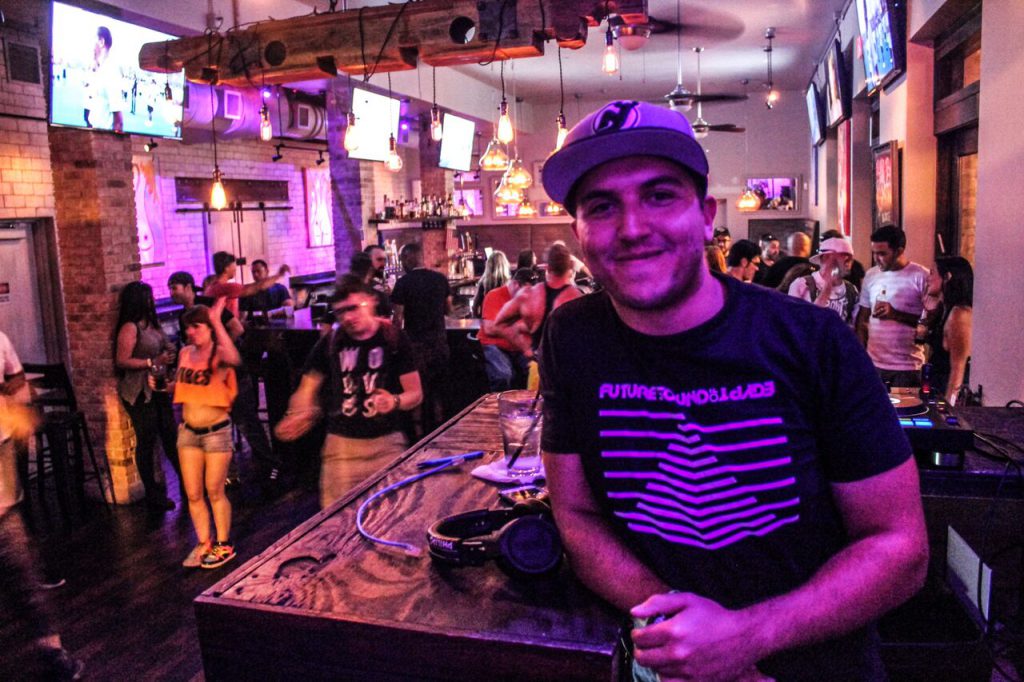 Through the incredible efforts of some passionate dance family members and promoters, the MTTR lineup would find a home at three venues in the heart of downtown Orlando.
Being that I am a trance fan to the core, my friends and I would eventually make our way to Bar B, which turned out to be a small venue with a whole lot of heart. With the trance family filing through the doors and Monoverse, Niko Zografos, Magnus, Kristina Sky, Neptune Project, and Indecent Noise ready to hit the decks, I knew that all was right with the world once again!
And oh did we dance! Monoverse and Niko took us on an energized journey of ethereal bliss, even partnering up for some back to back action, and the cancellation seemed to fade away into oblivion. There is much to be said about the gratitude that we all felt. The artists could have simply called it a night and refused to play at a venue barely equipped for a lineup of this caliber. At the end of the day, it was about uniting us all in dance, regardless of location. And for that, I have found a new respect for all who stepped on that stage.
---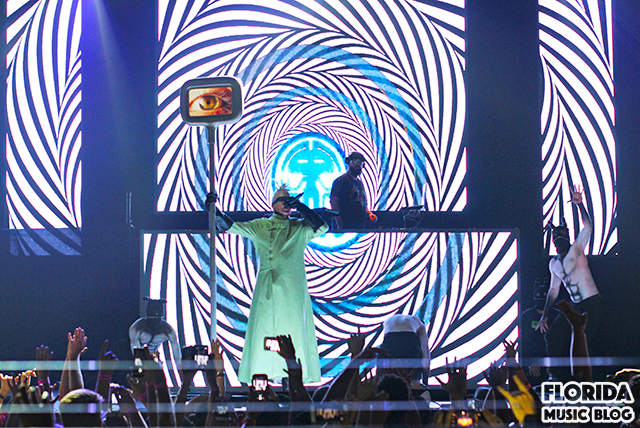 Through all of the confusion and panic that ignited earlier that day, my husband and I came up with a plan B to check out Rabbit In The Moon at House of Blues.
This plan would take us on a new journey across town to a "little" gathering at House Of Blues where Rabbit In The Moon was booked for the evening. And this is where the true lesson begins: when life gives you lemons, you don't give up! Instead, you refocus and set your sights on a brand new journey. For me, the journey would mean opening up my mind to something outside of my little trance bubble and dropping me into one of the most exciting performance art experiences that I have ever had the opportunity to witness.
As we arrived at House Of Blues I was blown away by the heavy techno and house beats being laid out by Dirtybird's bearded player, Will Clarke. As I got lost in the groove little did I know that what I was about to witness was nothing short of a 1980's acid trip come to life. All I knew about Rabbit In The Moon was that Bunny, a name I knew from my years of chasing the Insomniac brand, was part of the group. I knew that there was no question that this would be a unique experience, but I had not mentally prepared for what I actually witnessed!
With an industrial flair and the most gritty soundtrack pounding through the speakers, Bunny took to the stage boasting a diverse selection of costumes, CO2 blasters, and LED lights. He belted out tunes from his collection, plucking me out of my consciousness and dropping me into a trippy goth centric world full of sexualized darkness and insanity. One of the highlights of the show was when he invited a young girl up onto the stage where he adorned her with a metal mask and took a grinder to her head, sending sparks flying high above the crowd. It was a spectacle I will never forget!
---
Even when don't things go the way they planned, always follow your heart, don't give up, and let a new journey unfold before your eyes!
As the weekend was wrapping up, I remember sitting back and having quite the rousing laugh with my husband as we realized how unbelievably random the whole weekend had become!
In those first moments when it became clear that Married To The Rave was not going to happen, we could have packed it up right then and there and headed home. But we chose another way. We chose to gather our friends close, shake off the disappointment, and go with the flow. Sometimes we can get so caught up in our schedules and the glitz and glamour of the festival life that we can lose ourselves the moment something like a cancellation rears its ugly head.
But, remember. Your original plan does not have to be the be all end all. Make room for changes in your life because they can and will come. And sometimes plan B can end up being leaps and bounds greater than plan A. And no matter what happens… just keep on dancing!