Prepare to have your mind blown when Gareth Emery debuts Laserface – a marriage of lasers and trance!
---
If you have attended a Gareth Emery set in the past year and a half, you've probably noticed something new. No, it's not just the fact that "Saving Light" is still dominating and bringing fans to tears. It's that his laser productions have gotten better and better. A lot of this is due to Anthony Garcia, the laser wizard who joined Team Emery and dramatically kicked up Gareth's laser game. Garcia, who also doubles as Emery's US Tour Manager, is one of the youngest laser technicians in the field but this hasn't stopped him making a huge impact very quickly. Now, they're bringing you a stunning show, Laserface, which will be highlighting Garcia's talents completely.
Want to know more about Anthony Garcia? Check out our interview with him!
Lasers are a massive part of the electronic world. Of course, the most important part of any show is the music, there's no denying that. However, good production is the key for a memorable set. When music and production are in sync, the end result fulfills all your sensory needs. If there is doubt about this, check out any video from an Eric Prydz EPIC set or even Dreamstate Australia's amazing trance light shows. Unfortunately, the production and specifically the lasers are often executed poorly. This leads to elements that are out of sync or don't flow right which negatively affects the quality of the show.
This is why Laserface is so important. It is a show that has been in the works for over a year and is ALL ABOUT THE LASERS! This special set will be home to a record-breaking amount of lasers in Terminal 5 doing things you've never seen before. Honestly, anyone who is able to attend this epic show should prepare to have their minds blown and faces melted.  If you're a fan of good production and Gareth Emery, this is a show not to be missed!
---
Laserface Set Times: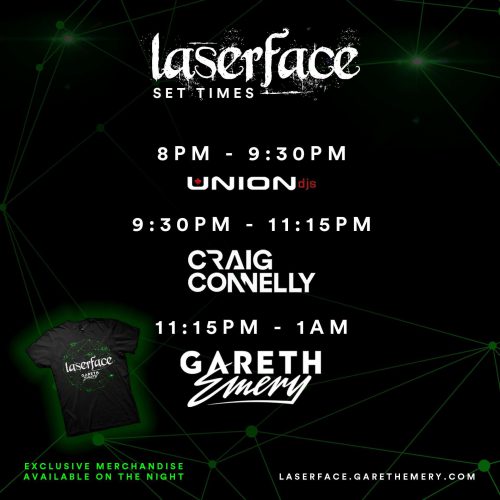 To buy tickets, pre-register at http://laserface.garethemery.com! Tickets go on sale on August 24.
Watch the Laserface announcement video on YouTube:
---
Gareth Emery presents Laserface @ Terminal 5 – Event Information:
Date: Saturday, November 18, 2017
Hours: 7pm – 11pm
Ages: 18+
Venue Address: Terminal 5 – 610 W 56th St, New York, New York 10019
Tickets: HERE
Facebook Event Page: HERE
---
Laserface by Gareth Emery – Event Flyer: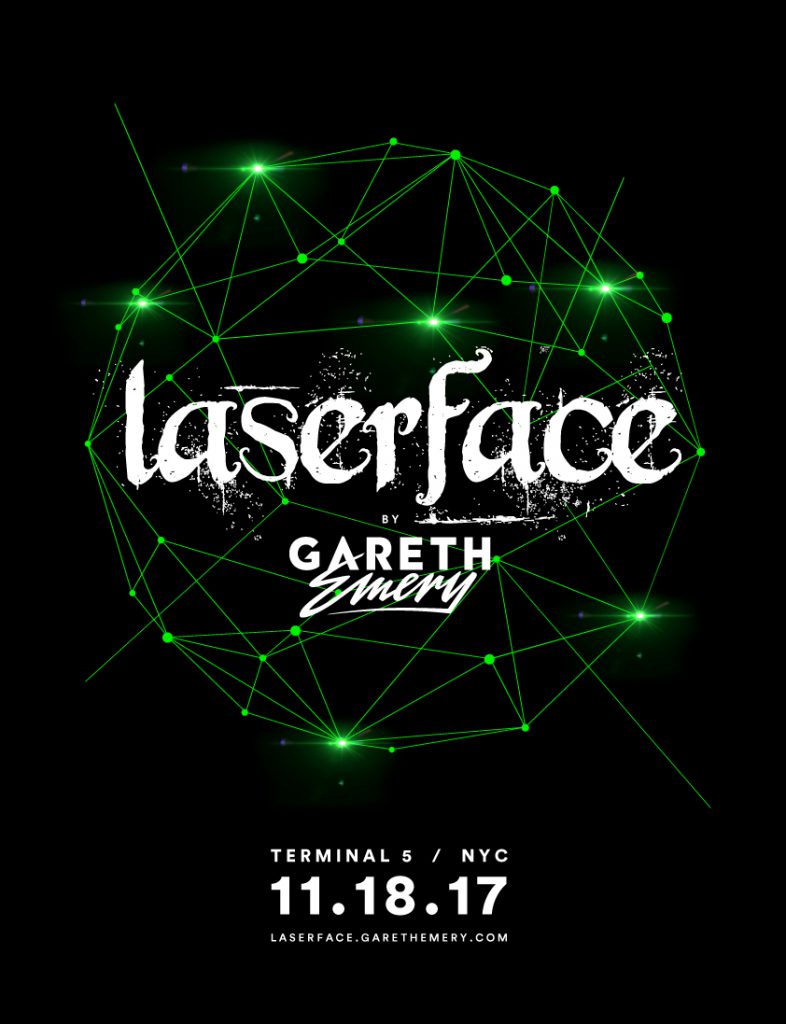 ---
Connect with Gareth Emery on Social Media:
Website | Facebook | Twitter | Instagram | SoundCloud