The party never ends at Electric Zoo with the newly announced afterparty headliners! Feed your inner dance animal with more fun and music in Manhattan or Brooklyn.
---
After weeks of waiting, EZOO released their afterparty lineup today with headliners Deadmau5, Excision and more! Unlike most events, Electric Zoo ends early enough during the night leaving plenty of time to hit up New York Clubs for afterparty shows.
Currently, Electric Zoo's afterparty tickets are available only to festival ticket holders. Check out the full afterparty lineup below and start planning now. If you haven't yet seen this year's Electric Zoo lineup or stage designs, make sure you check out those too!
Electric Zoo's afterparties will be held in Manhattan and Brooklyn:
The Manhattan Afterparty lineup features SNAILS on Sept 1st, EXCISION on Sept 2nd, and Yellow Claw on Sept 3rd with more acts to be announced. The address for the Manhattan shows is 637 W 50th Street (formerly SpaceIbizaNY). According to Google Maps, the afterparty location is about 7 miles away from Electric Zoo's location.
The Brooklyn Afterparty lineup includes Aly & Fila and Spencer Brown on Sept 1st, Hi-Lo and Drezo on Sept 2nd, and Deadmau5 on Sept 3rd with additional acts to be announced as well. These parties will be located at Output, 74 Wythe Avenue. Depending on which path you take, Google Maps estimates getting to Output from the festival to be about 8 to 10 miles away.
Electric Zoo 2017 Official Afterparties: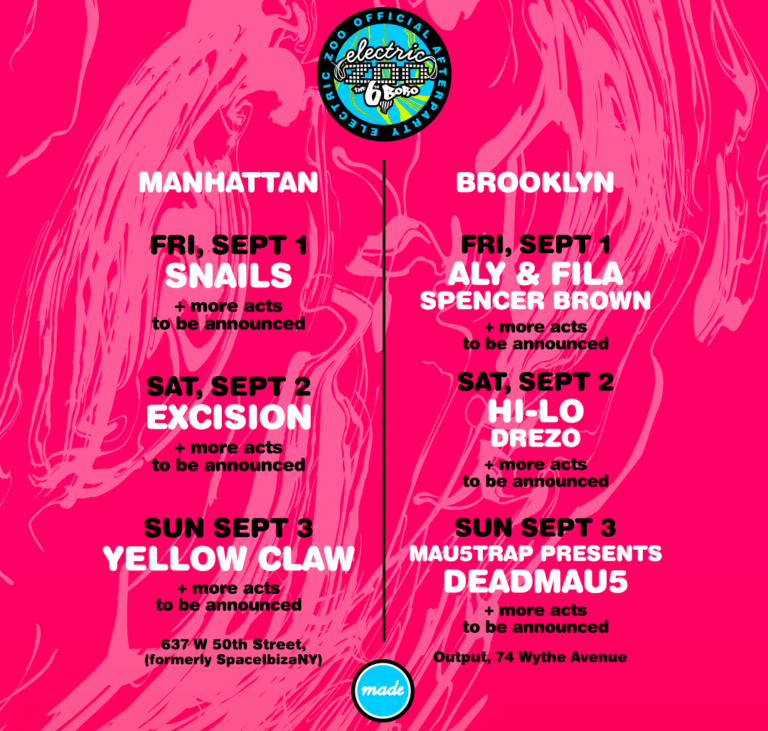 Early Bird Electric Zoo ticket holders can access the afterparty tickets today, August 17th. Make sure to check your email if you already have Electric Zoo tickets. It contains a unique voucher code to be able to purchase tickets. You may buy two tickets for each festival pass purchased. Those who purchased Electric Zoo tickets after early bird ticket holders get access to the sale starting August 18, 2017.
Want access to the afterparty ticket sales? Purchase your Tickets for  Electric Zoo Festival! Get your tickets today and we'll see you there!
The link to the afterparty ticket can be purchased HERE!
---
Connect with Electric Zoo on Social Media:
Website | Facebook | Twitter | Instagram | SoundCloud