On August 24, Thursday Night Service at The Church Nightclub will be conducted by a true grand master: El Maestro himself, Hernan Cattaneo!
---
Next week, Thursday Night Service will be held once again at The Church Nightclub, much to the delight of the house music faithful in Denver. The latest edition will be headlined by Argentina's own Hernan Cattaneo, with American house DJ Chris Fortier kicking things off. As before, Thursday Night Service is a collaboration between several Denver promoter groups, including Whirling Dervish Productions, The Brown Elvis Presents, The Fantastic Hosts, and Dreamweavers.
Hernan Cattaneo is a man who needs no introduction. Over the last three decades, he has toured relentlessly around the world, bringing his signature progressive house sound to the masses. As the head of his own Sudbeat label, he has championed the productions of exceptional new talent, including names like Guy J, Henry Saiz, and Nick Warren. Known throughout the scene as one of the founding fathers of the underground house scene, his pre-Burning Man set in Denver is certain to take listeners on a journey unlike any other through lush soundscapes from start to finish.
Chris Fortier is returning to The Church's Thursday Night Service after an extremely successful opening set for John Digweed last time around. Much like Cattaneo, he has made his career in the underground scene, and he is evolving and getting better all the time. With another opportunity to dazzle the Mile High City, he will surely impress with his varied sets that are not limited to one style alone.
Listen to Hernan Cattaneo – White Ocean – Burning Man 2015 (Sunrise set) via SoundCloud:
---
Hernan Cattaneo @ The Church Nightclub – Essential Info:
Date: August 24, 2017
Ages: 21+
Hours: 8 pm – 2 am
Venue Address: 1160 Lincoln Street, Denver, Colorado 80203
Tickets: HERE
Facebook Event Page: HERE
---
Hernan Cattaneo @ The Church Nightclub – Announcement Flyer: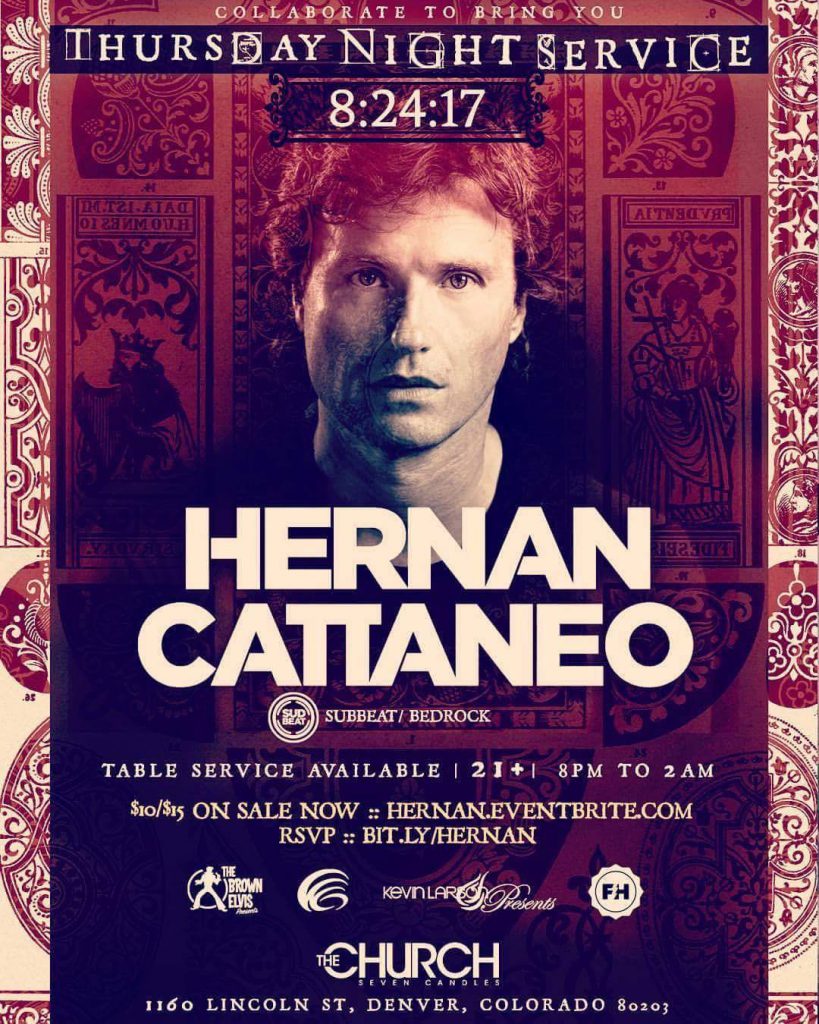 ---
About The Church Nightclub:
Completed in 1889, this former church is now home to dance worshippers and gets pumping Friday through Sunday. The high-beamed Gothic architecture & stained glass windows are accompanied by new state of the art lighting design and the top-rated Void Acoustics Incubus Sound system. This is Denver's premium dance club experience that draws the best international DJs and cutting edge talent weekly.
---
Connect with Hernan Cattaneo on Social Media:
Facebook | Twitter | Instagram | SoundCloud
Connect with Chris Fortier on Social Media:
Facebook | Twitter | Instagram | SoundCloud
Connect with The Church Nightclub on Social Media: