Married To The Rave Music Festival 2017 Set Times, Pre show information, & More!
---
In Orlando, Florida on August 19, 2017, talent both new and established will take over the grounds at Woodstock Orlando, ready to take you on the ride of your life for a celebration dubbed, Married To The Rave Music Festival 2017! Sitting on multiple acres of land, the festival boasts a massive mainstage where you can get down and dirty with some of the wildest bass acts ready to send your mind and body into a tailspin! The festival also features a lounge inside that will feature the groovy sounds of house to get those feet moving and shaking, an outside patio where the biggest names in trance will take us all on a ride to ethereal bliss, two VIP cabanas, three bars, eight vendors, and two food trucks. Married To The Rave Festival 2017 will be your one-stop shop to satisfy all of your dance music desires.
Check out my top five trance must-sees at Married To The Rave right here! And if you are into the bassier side of things check out Christopher's top picks right here!
Now, what makes this event extra special is that from 2 – 6 pm, The Lounge will come to life for a very special open deck extravaganza. All you have to do is bring your USB/Flash Drive and for 15 minutes you will be in the driver's seat, taking the crowd on your very own personal journey! This is first come first serve and open decks are only for those who use CDJs. Other than that, the genre selection and experience is all your own! And the news just keeps on getting better! Not only will this festival come correct with the very best in lighting, sound, and production, but they will also be streaming live inside The Lounge!
I hope you will join me on the dance floor as EDM Frontlife celebrates their third birthday in style! For some last minute preparation, we have got you covered with all of the essential information that will help you get ready for an event that you will never forget!
Tickets for Married To The Rave Music Festival 2017 are on sale now and can be purchased right here!
Married To The Rave Music Festival 2017 Essential Info:
Dates: August 19
Show times: 1pm – 2:30am
Venue Address: Woodstock Orlando: 500 N Orange Blossom Trail, Orlando, FL 32805
Ages: 18 +
---
 Married To The Rave Music Festival 2017 Set Times: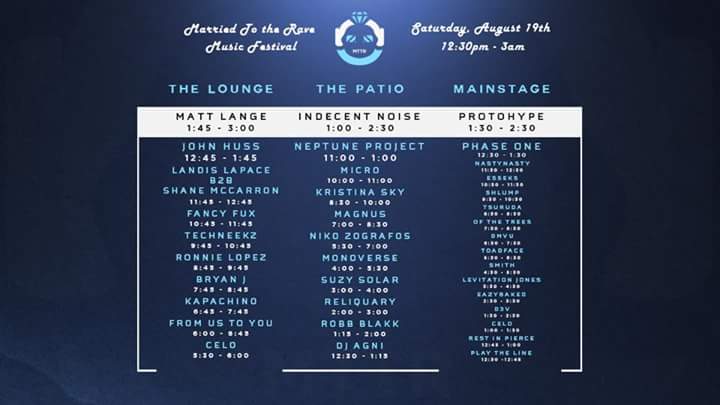 ---
Married To The Rave Music Festival 2017 Pre Party Info: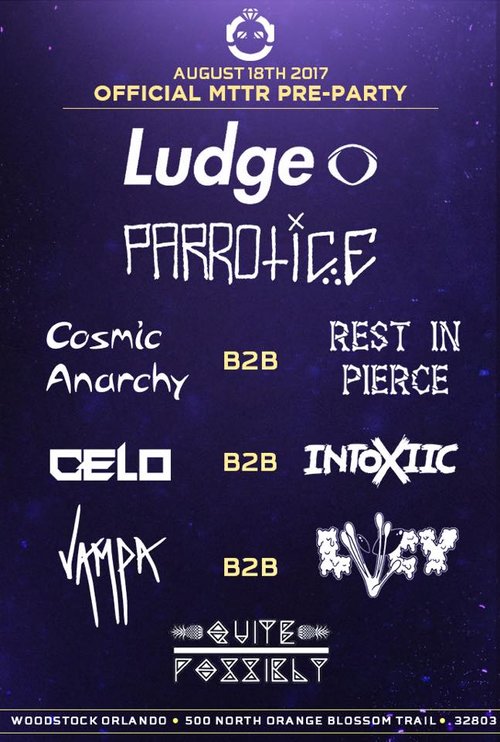 Married To The Rave will host their official pre party the night before the main event for those holding a ticket for Married To The Rave. Kicking off at 9 pm on August 18, 2017, the party will take place inside the lounge at Woodstock Orlando. There will be free cover all night long with great drink specials to prep you for Married to the Rave Music Festival taking place the following day! You do not want to miss this very special celebration of dance, packed full of back to back sets that will blow your mind!
Married To The Rave Music Festival 2017 Pre Show Lineup By Act:
Ludge
Parrotice
Cosmic Anarchy B2B Rest In Pierce
Celo B2B Intoxiic
Vampa B2B Lucy
Quite Possibly
---
Reminder To Mind Your Belongings
Unfortunately, many people have reported pickpockets, bag slashings, and theft of wallets, smartphones, purses and other valuables during this festival season. While this small number of bad apples in the bunch doesn't define an entire crowd, there are opportunistic people who come to these events to take advantage of unsuspecting party goers and it's important to be mindful of your valuables while at Married To The Rave Festival 2017.
Pay attention to who's around you and what's going on around you. Keep your wallet and phone in your front pocket(s) if you can. Treat your phone the same way you would treat cash; don't set it down on a table or bar and look away. If a friend isn't standing behind you in a crowd, be careful of your backpack or purse, and don't put valuables in a pocket that could easily be unzipped by someone behind in a crowded spot without you realizing.
Festivals, in general, are a very densely populated place, nd are a well-known place where pick-pocketing of unsuspecting people occurs. It's easy to find yourself in a crowded environment in a line, at a stage in the festival, elevator, or even out on the street where someone could slip your wallet or phone our of your pocket or bag in a matter of seconds. Stay alert, be careful, and make sure to not carry more than what you need!
---
Married To The Rave Zero Tolerance Policy
This is a zero tolerance event when it comes to drug use. Security will be searching thoroughly as they will have police officers on site for everyone's safety. This is about you and the city of Orlando. MTTR is excited to make its first ever stop in Orlando, Florida!
---
Connect with Married To The Rave Music Festival 2017 (EDM Frontlife) on Social Media:
Website | Facebook | Twitter | Instagram | Facebook Event Page