Panorama NYC: a gem in the Concrete Jungle of New York, and sweeter than honey.
---
Goldenvoice, the visionaries who bring the West Coast the beloved Coachella, brought something special to Randall's Island in Upper Manhattan. Panorama NYC combines elements from so many spectrums of live music, creating something monolithic within an already iconic city.
In its infancy as a festival, Panorama really has taken from its older sibling Coachella, and in so doing brought its attendees one of the most memorable weekends of 2017. This was my first Panorama NYC, Goldenvoice production, and festival in New York City.
The City of New York already plays host to so many known festivals and venues from Governors Ball to the beloved and iconic venue Webster Hall. It was amazing to me just how well the city's elements seem to mold so symbiotically with the production and overall feel of Panorama NYC. Let's talk about a few of my favorite parts…
---
The venue was next-level.
New York City is known for its various boroughs and islands spread across the city, so it is only fitting for Panorama NYC to take place on the waterfront of Randall's and Wards Island on the upper part of Manhattan. Access could be gained to the island in a few ways, all of which I tried and experienced.
The first way to get to Randall's Island was a walk across a bridge connecting the island to East Harlem. The walk really was not a bad one, and it allowed you a pretty cool view of East Harlem and the Hudson. You could also take an Uber (for the low price of $50-100) if you were willing to chance the traffic and wanted to enjoy air conditioning because it was definitely a hot weekend.
The festival also provided $3 bus transportation from the train station in East Harlem but only if you were willing to be packed like sardines with your fellow festival-goers on a bus. The last option, which I got to experience during my grand finale Sunday night, was a ferry that went from the Island down to 33rd street in Manhattan. It was probably the most beautiful way to experience travel through the city. It was also the most hilarious, as all the attendees on board that Sunday night seemed to be Game of Throne Fans and were spouting hilarious quotes and comments. WINTER IS COMING!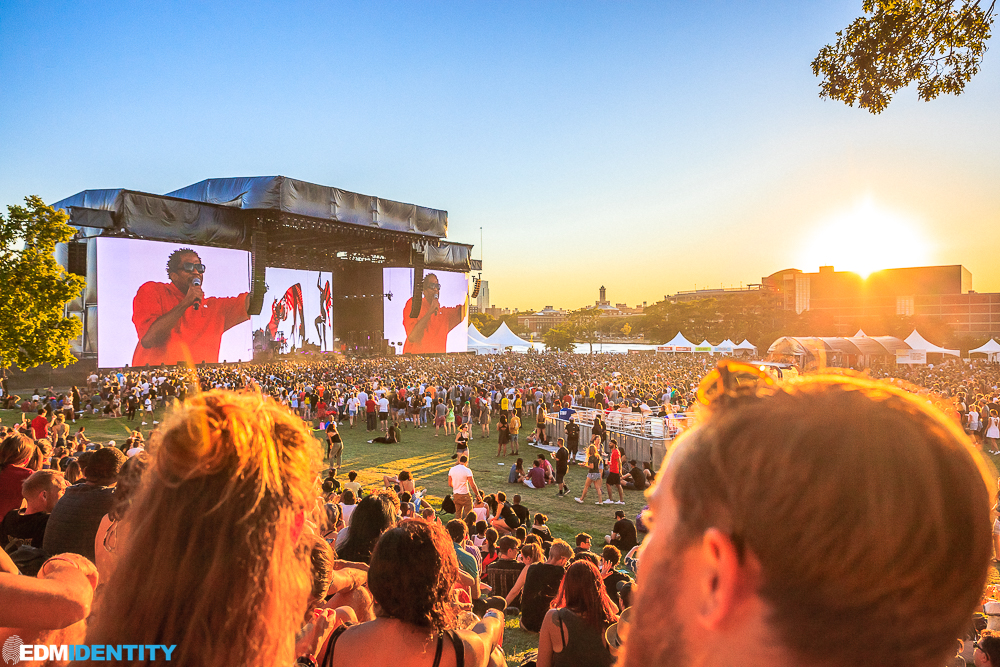 The Island's location itself offered an amazing backdrop behind the Main Stage where the festival closed out every night. It was something awe-inspiring to see such iconic artist as A Tribe Called Quest as the sun set over East Harlem with the city of dreams in the background, hearing the hustle and bustle of millions as they go about making dreams come true.
The weather played a key role in those aesthetics; each day the sunsets were killer, as the burn as the sun hit the horizon and gave us all a true spectacle to behold. Each night we were able to exit the venue and walk across the bridge or take the ferry, giving us beautiful lit of views of The City That Never Sleeps.
---
The array of artists and genres was awe-inspiring.
I have a pretty short attention span. My mind craves stimulation, whether auditory or visual or informative. Going from set to set at Panorama NYC, I did not feel like I was merely making my way from one CDJ to the next CDJ, which is a feeling that I have felt going to many electronic-heavy festivals.I saw everyone from Alt-J to Matoma, each of them bringing their own version of A Game, each one ending in a cascade of applause and each one leaving me such a welcome new appreciation for the artistic talents and sound. At Panorama I would go from one genre, one sound, performance to the next and it would be on a WHOLE OTHER SPECTRUM.
I saw everyone from Alt-J to Matoma, each of them bringing their own version of their A-Game, each one ending in a cascade of applause, and each one leaving me such a welcome new appreciation for their artistic talents and sound. At Panorama NYC I would go from one genre, one sound, one performance to the next and it would be on a whole other side of the spectrum.
For example, the first night, a friend told me randomly as we sat in front of the Main Stage enjoying Frose (which would be a theme for the weekend) that we had to jet over to see Girl Talk before ending the night with Frank Ocean. I had heard Girl Talk's mixes before, so I was familiar with his blend of 80's music with today's most popular mainstream music, but I was not prepared for what I was about to be a part of. Girl Talk was an absolute party. It was every song I loved from childhood and 90's montages blended with today's biggest hip-hop and trap songs. His production was so over the top but in the most enjoyable way: from his giant inflatable Nike Jordans to having 40-50 people from the crowd on stage with him the whole set, he was clearly on a mission.
Once that was over we went back over to the Main Stage as Frank Ocean serenaded us in some of the most heartfelt R&B I have ever seen and felt. His production was subtle and artistic – the complete opposite of Girl Talk. But still, the two styles had their own grandiosity to them that satisfied my senses.  Panorama's over all feel stayed with that vibe all weekend and did not let us down at one moment.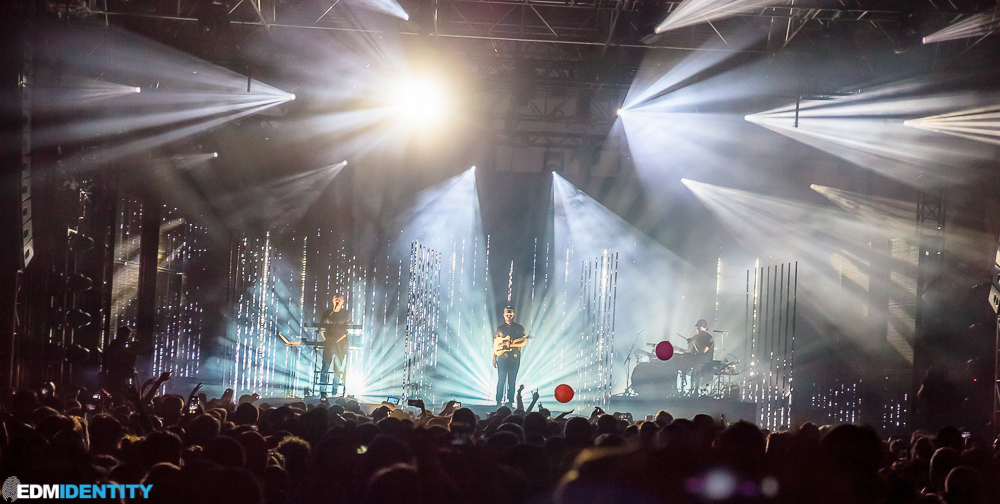 ---
I experienced my first-ever front row show.
Rail Riding… a daunting idea for me. As a photographer I have the pleasure of being in the photo pit, the area separating the "rail riders" and the artist they have been sitting there for hours waiting for. People come three to five sets prior to their favorite artist coming just so they can have the honor of experiencing front row (Bassnectar homies stand up!).
I myself always preferred to have a good viewing point in the direct line of sight but with an area large enough to dance. However, this year at Panorama NYC, I experienced the rail. On the last day, electronic music godfathers Justice performed on the Pavilion Stage, the second largest of the four stages. They performed shortly after Cashmere Cat and just as A Tribe Called Quest was ending, which was going to be a tricky schedule change.
I, of course, had to see the Cashmere Gato (Spanish for Cat) cause I love that homie's vibe and sound. He did not disappoint. A few in his crowd, however, did: for some reason, young kids who attend electronic sets still think it's "cool" to splash water all over people while yelling "get the f*** down." Nevertheless, it provided me a perfect moment to walk away, giving me a chance to run over to A Tribe Called Quest's sublime sunset set.
While there I was informed by my little festival group they'd secured a front row spot just in time for Justice. I think my photographs will illustrate much better than my words:
---
The attendees brought their fashion A-game.
The West Coast's Air & Style Festival and Lightning In A Bottle were easily the best-dressed festivals I have ever been to. Since coming back, I have had a few conversations with friends about how fashion varies from coast to coast. Everyone is a critic of east vs. west, and we all have loyalties and arguments. I bring a new bit of evidence to the argument: Panorama NYC Music Festival:
Festival-goers from all over  Manhattan, surrounding boroughs and even out of continental America came and showed their own individualistic styles. I myself went with the very stealth  "LA DJ Starter Kit," consisting of a lot of blacks. In hindsight, with all the walking and sun exposure, it may not have been my best.
From what I saw the New York state of mind was definitely a more conservative vibe: no pasties, no glitter boobs. Instead, you saw a lot of urban chic combined with bohemian and even leather jackets in some cases, bringing back that grunge greaser vibe. There were the occasional butterflies fluttering around in glee or monkeys carrying drunk guys on their shoulders, so we had a nice blend of fabulous and hilarious.
---
The Lab, HP's brainchild and contribution to Panorama NYC, was most certainly a highlight of my experience at the festival.
The vision of HP, The Lab consisted of seven different interactive rooms with visual and auditory stimulation of different kinds contained with them. In one room you could find yourself encased by mirrors and LED lights, above, below, and side-to-side, creating a world within a world within a world. As you proceeded, you could find yourself in front of a blob that when touched would stimulate patterns and colors out of dreams. If you continued still further, you'd find full VR set ups.
The sole purpose of The Lab was to stimulate and inspire the mind. This was easy to see as I went from room to room, photographing the awe in peoples' eyes. The Lab was a much talked about addition from last year's Panorama and therefore was much anticipated this year. We have seen this rising trend in interactive art installments throughout the festival world.
Music can be felt and, of course, heard. Music has the power to retrieve memories long forgotten; it has the power to tickle the skin. It is one universal connection that every culture can share. With music being one of the primary stimulations of the mind, it was only natural that we would see festivals using attractions like The Lab to accent the experience.
---
What were your favorite things about Panorama NYC this summer? Did we leave anything out? Let us know in the comments!
Make sure to check out Christopher's full photo galleries from the event: Day 1 | Day 2 | Day 3
---
Follow Panorama NYC on Social Media:
Website | Facebook | Twitter | Instagram | YouTube
Featured Photo Credit: Bearlosophy