NGHTRME and Slander's one-night festival, Gud Vibrations, was a huge success. Over 10,000 attendees, unbelievable stage production, and relentless bass made for an unreal night.
---
While I was expecting this event to be larger than the average show, I wasn't prepared for the actual scale and scope of Gud Vibrations. More a festival than anything, the six-artist event on July 29th housed a whopping 10,000 people, each person raging just as hard as the next. The surprise of the size of the event was welcome; my group and I were ecstatic to walk in and see an enormous festival tent and spacious open festival grounds. Getting in was swift and painless as security kept things moving quickly and efficiently as we entered.
The venue, NOS Events Center located in San Bernardino, CA, has a beautiful body of water near the entrance with fountains of graceful water shooting upwards as well as lights twinkling off the reflective water. Around the water was a relaxing grassy area which was a perfect place to chill and regroup.
The grounds also included a Gud Vibration's merchandise shop towards the back, plenty of port-a-potties, food and beverage vendors, and of course, ample water refill stations. After checking out the merchandise, we danced our way inside the tent, which was way more lit than I anticipated! It felt just like a stage at EDC in there: people raving with their totems, trading kandi, and overall just having an awesome time.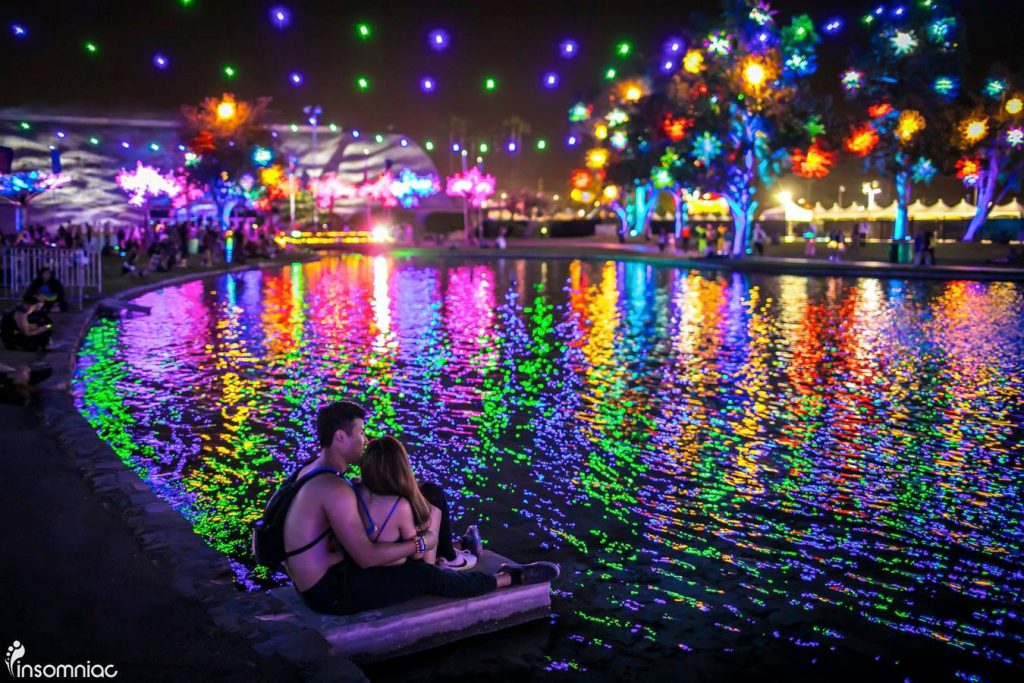 ARMNHMR were about halfway through when we jumped into the crowd.
I was definitely impressed by ARMNHMR's set. They brought the energy on stage and the crowd followed suit. Half of their drops were bass-heavy and the other half were heaven trap with synth-ridden style. They kept things hype throughout the entirety of the set that I saw.
One thing that was a bit of a bummer was the curtain covering the stage during the openers set's, which weakened the vibe a little. If they'd even brought in a projector and put some sort of visuals behind the artists, I think it would've made the overall experience a little better, although it did make for a dramatic unveiling of The Atom when it was finally time. There were two LED screens on each side of the stage with some visuals, so it wasn't completely without.
The crowd's energy levels were skyrocketing as ARMNHMR ended and went nowhere but up as Habstrakt took the stage.
"Uncle Habby", as he was called on screen, absolutely destroyed it, playing some heavy house music that had everyone in the crowd shuffling. I can still hear everyone screaming the words to "Chicken Soup" as Habstraskt dropped his huge Skrillex collaboration. He went pretty hard with some house tracks and even got into some dubstep, getting everyone ready for the insane bass of G Jones and of course NGHTMRE and Slander.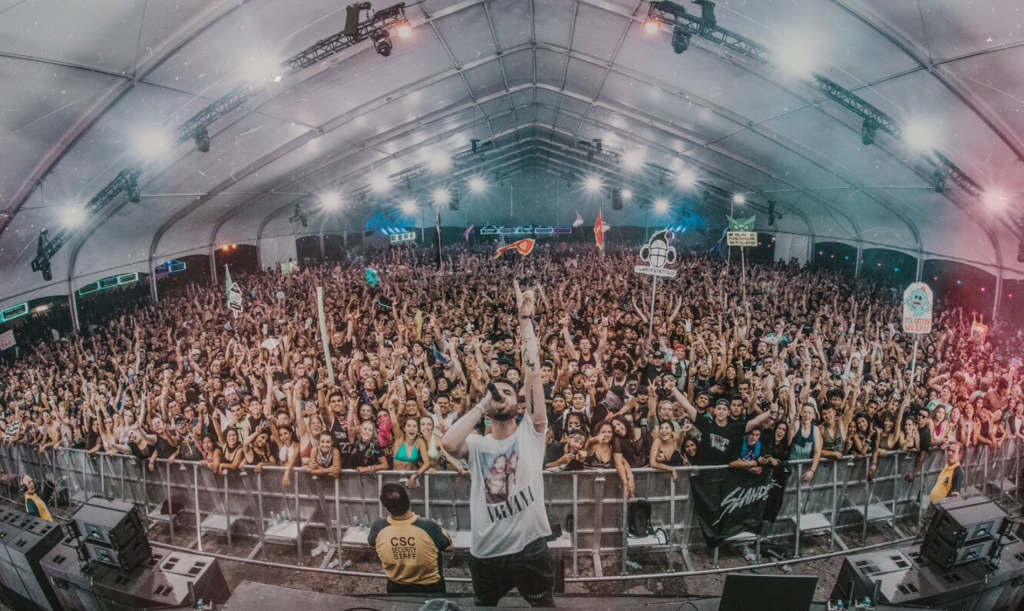 While NGHTMRE and Slander have to take the cake, G Jones is right up there for the best set of the night.
I admittedly had no idea who G Jones was before Saturday and had no idea what to expect from his set. It was everything I could want and more – he came out with this dark, contorted, heavy bass that I couldn't get enough of. His sound is a twist on Bassnectar's iconic style, and I realized later in the set that they had a ton of collaborations together. G Jones is definitely on my radar now as one of my top artists. I've been obsessively listening to his music in the days since Gud Vibrations!
At last, the time had come for the main event: NGHTMRE B2B Slander.
An old Linkin Park track began playing, a tribute to Chester Bennington, and tension built as we waited for the big reveal. As the track dropped, so did the curtain, and a gigantic improved version of The Atom was finally visible for attendees to gaze at in amazement. The three circular rings of The Atom surrounded the DJ booth, where NGHTMRE and Slander stood with their hands up ready to rage. The entire Atom was covered with LED screens and lit up with the most insane lights and visuals, and the rings moved up, down, and around throughout the set, so the stage always had a new look to it.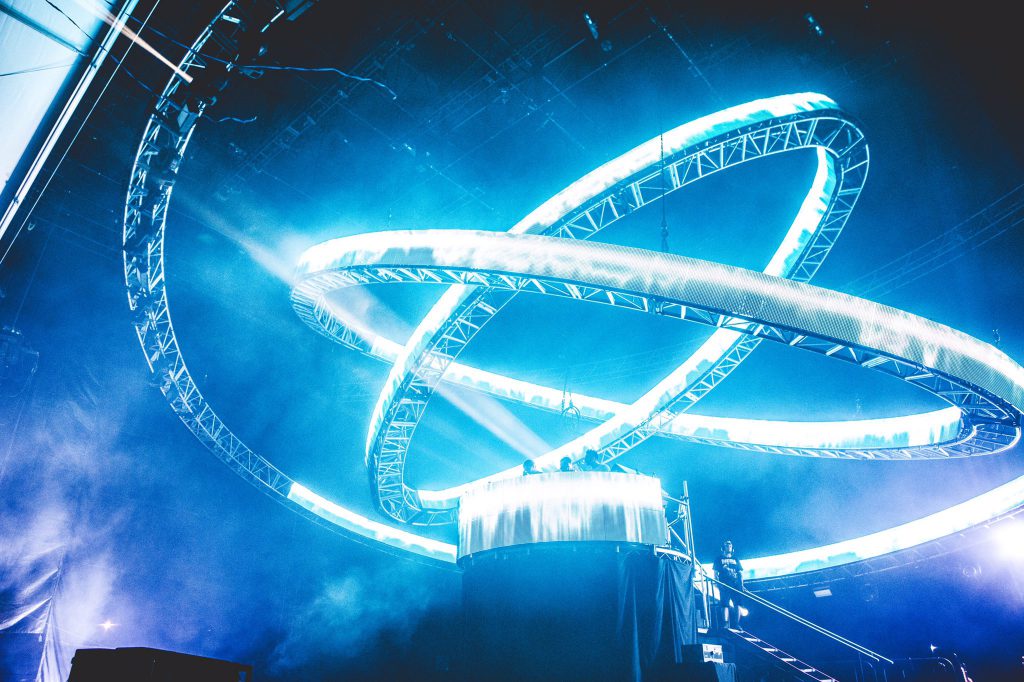 Lasting two hours, a majority of the music was heavy bass and trap, but they surprised me with dope segments of drum and bass, hardstyle, and house.
Throughout the entire set, their crowd manipulation was on point, expertly bringing our heart rates up and down and keeping us dancing.They played together most of the time but also had their solo moments of about 20 minutes each where it was pure NGHTMRE then pure Slander.
I was anxious to see if they would bring out any surprise guests. Last year at their Gud Vibrations two-night show at the Palladium, they were joined by Alison Wonderland, The Chainsmokers, Dillon Francis, and JOYRYDE. They didn't disappoint this year in the slightest, bringing out Kayzo for a wild B2B as they played out their new collaborations. As they brought up Kayzo they told us how they all went to the same production school back in the day and here they are, playing for a crowd of 10,000 people. It was so cool to see their friendship and camaraderie up there; they deserve all the success they've come into.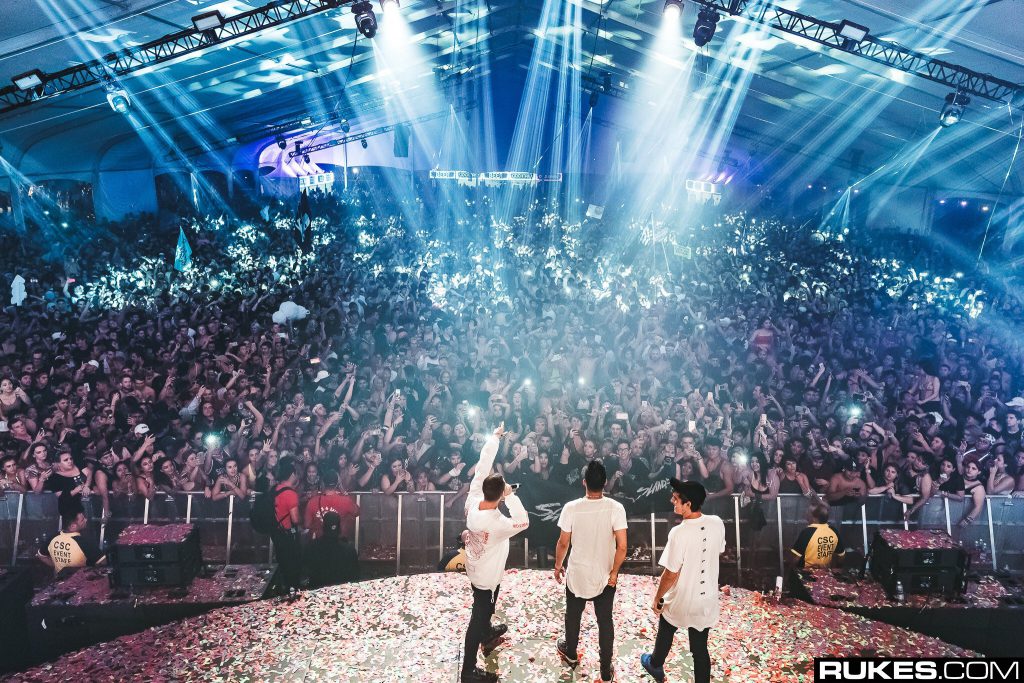 No Slander show is ever complete without some good old heaven trap at the end, and that's exactly how they finished things off at Gud Vibrations.
I love how they structure their sets – the euphoric, emotional heaven trap is so perfect after raging to their insane bass. In the many times that I've seen them, they've only played their track "'Love Again" for a select few crowds. When I heard the opening chords, I knew it was a special night. They closed things out with "Love Again", thanked us for an amazing night, and left the stage.
But of course, there had to be an encore! NGHTMRE and Slander retook the stage, this time climbing down from The Atom and coming up to the crowd. Yelling something along the lines of, "If we're gonna do this we're gonna do it right – open up the pit!" The crowd didn't need to be told twice, opening up an enormous pit that went down the entire middle of the stage. They dropped their craziest song to date – "After All", a collaboration with YOOKiE ft. Jinzo and madness ensued, yielding one of the craziest mosh pits I've ever seen!
Overall, I was very impressed by this event.
Insomniac never disappoints when it comes to stage production and festival organization, and they also made sure everyone was safe with their Ground Control team constantly monitoring the crowds and having water refill stations readily available. All of the opening sets were top of the line, getting the crowd ready for the fire that NGHTMRE and Slander dropped when they finally took the stage. I'm beyond happy to have been able to attend the artists' first ever festival. I'm definitely hoping for another Gud Vibrations next year!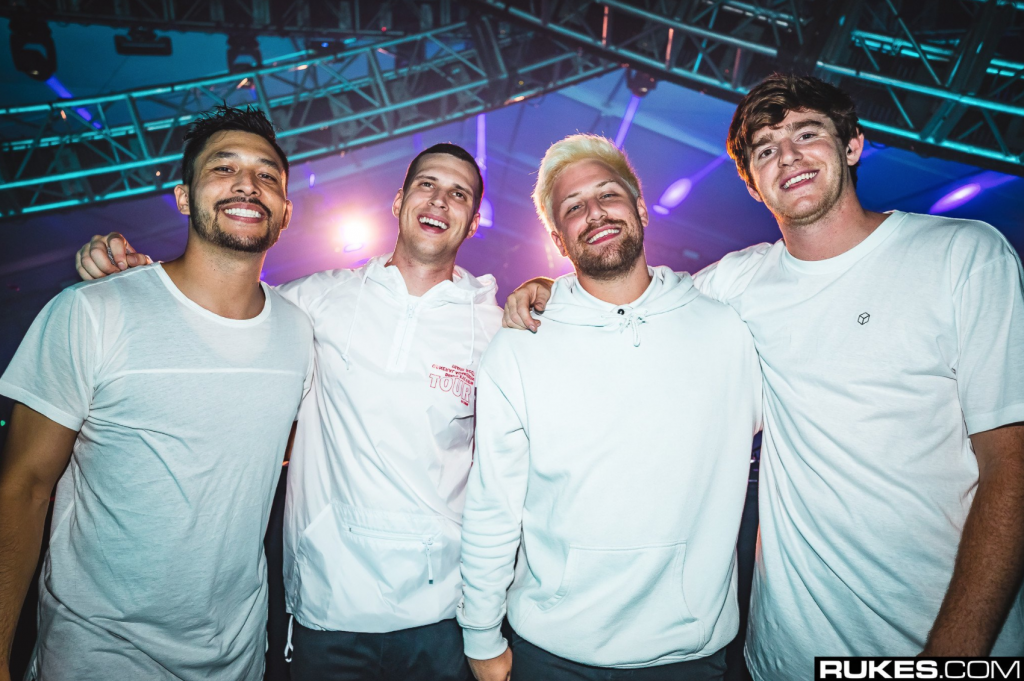 ---
Connect with Slander on Social Media:
Facebook | Twitter | Instagram
Connect with NGHTMRE on Social Media:
Facebook | Twitter | Instagram
Connect with Insomniac on Social Media:
Website | Facebook | Twitter | Instagram | SoundCloud | YouTube
Featured Photo Credit: RUKES